 November 17, 2020
Cape Breton Island, NS – After an overwhelming response for submissions, the Cape Breton Partnership's Connector Program has chosen six finalists for the Hire Me Cape Breton Pitch Competition that showcases Cape Breton Island's top talent. Originally intended for five finalists, the high-quality submissions inspired the selection panel to choose six individuals to advance to the final round of the competition.
The top six pitches have been chosen by a selection committee of local professionals. Starting November 16th, the contest is now in its final phase and voting is open to the public to choose who will win the top three prizes of $1,000, $300, and $200 respectively. The online voting will close on Monday, November 23rd at 11:59 P.M. ADT.
"We are very pleased with the amount of high-quality submissions that we've received," says Carla Arsenault, President and CEO of the Cape Breton Partnership. "Although it was difficult to narrow down the finalists, this only proves the amount of talent that exists on our Island. It is a great opportunity for these six individuals to gain exposure that will help them establish their professional networks here in Cape Breton."
Hire Me Cape Breton highlights Cape Breton's top talent through exposure to Cape Breton employers by inviting students approaching graduation, new graduates, newcomers, and job seekers to submit a 60 second video pitch. Using the video to tell local employers why they should be their next hire, participants uploaded video submissions to YouTube and submitted the video link through the official submission portal at www.HireMeCapeBreton.com.
"We know that, in spite of the global pandemic, we have new graduates and hopeful job seekers ready to connect with Cape Breton companies," says Cape Breton Connector Program Coordinator Robyn Lee Seale. "Hire Me Cape Breton is an opportunity for them to showcase their talent to the entire Island and for the Island to see just how much talent we have."
To watch the top six video submissions and cast your vote, visit www.HireMeCapeBreton.com The Cape Breton Partnership also launched the Cape Breton Job Board this summer for local employers looking to promote vacant jobs or job seekers looking for employment on Cape Breton Island. The job board can be found at www.capebretonjobboard.com.
-30-
Media Contacts:
Mark Inglis
Cape Breton Partnership
902-578-2482
Mark@capebretonpartnership.com
About the Cape Breton Partnership:
The Cape Breton Partnership is Unama'ki – Cape Breton's private sector-led economic development organization that supports companies and entrepreneurs by promoting our island as a great place to live and invest; growing a culture that values and celebrates creativity, innovation, and entrepreneurship; and connecting entrepreneurs and companies to the resources they need to succeed. For more information, visit https://capebretonpartnership.com.
---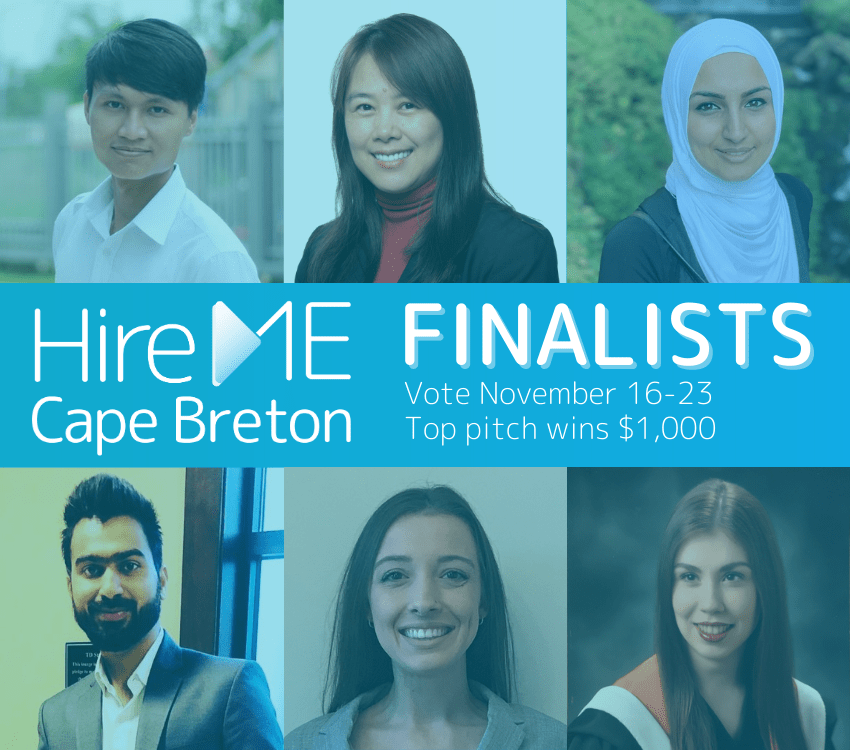 All six candidates, from left to right are
Top: Brian Dang, Tham Le, Ayha El-Darahali
Bottom: Chandrayog Yadav, Rachel Leck, Kelly MacIsaac