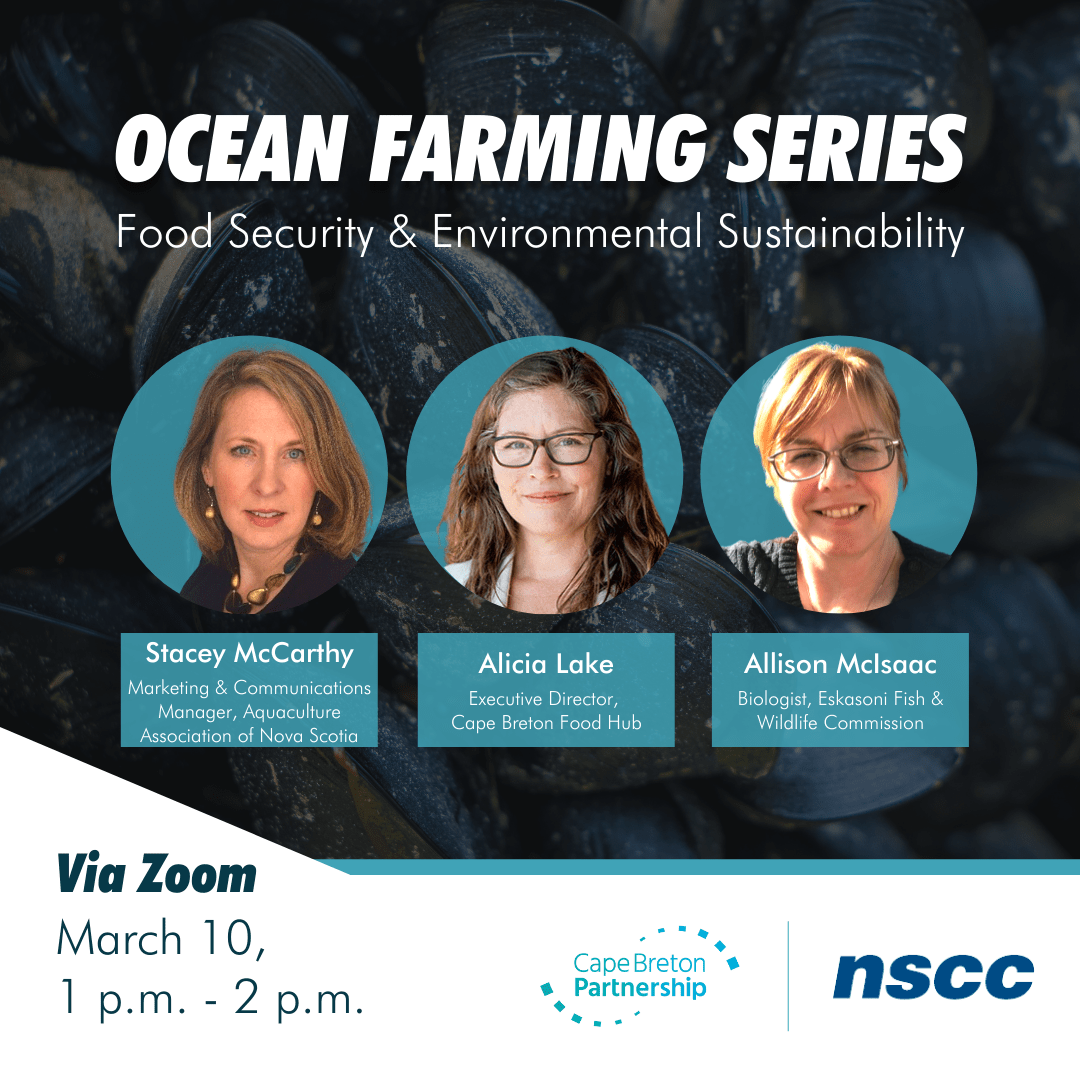 March 10, 2022
Held on March 10, 2022, this is the second session of the Ocean Farming Series held by the Cape Breton Partnership and Nova Scotia Community College: Ocean Farming – Food Security & Environmental Sustainability.
The session featured panel presentations and discussions with Stacey McCarthy, Marketing & Communications Manager, Aquaculture Association of Nova Scotia, Alicia Lake, Executive Director, Cape Breton Food Hub, and Allison McIsaac, Biologist, Eskasoni Fish & Wildlife Commission. The session was moderated by Amanda Mombourquette, Community Innovation Lead at Nova Scotia Community College.
This event is part of the Cape Breton Partnership's and Nova Scotia Community College's Ocean Farming Series, bringing our local Unama'ki – Cape Breton business community together to hear from industry experts on a range of topics important to the success and growth of the ocean farming sector on Cape Breton Island.
Future topics include: Pathways to Entry & Regulations, Innovation & Readiness, and Quality & Capacity.
For more information:
Carly Appleton
Cape Breton Partnership
902.562.0122
carly@capebretonpartnership.com
Amanda Mombourquette
Nova Scotia Community College
902.227.7836
Amanda.Mombourquette@nscc.ca


About the Cape Breton Partnership:
The Cape Breton Partnership is Unama'ki – Cape Breton's private sector-led economic development organization that supports companies and entrepreneurs by promoting our island as a great place to live and invest; growing a culture that values and celebrates creativity, innovation, and entrepreneurship; and connecting entrepreneurs and companies to the resources they need to succeed. For more information, visit https://capebretonpartnership.com.
About Nova Scotia Community College
NSCC is committed to building Nova Scotia's economy and quality of life through education and innovation, transforming Nova Scotia one learner at a time. NSCC offers more than 130 career-oriented programs throughout the province at our 14 campuses, including our online eCampus. Learn more at https://www.nscc.ca/.