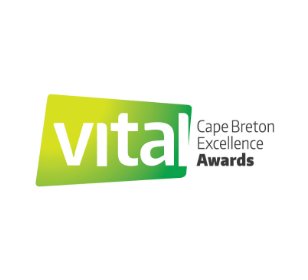 November 14, 2014
The Cape Breton Partnership is proud to host the Vital Cape Breton Excellence Awards at Centre 200 on November 20 from 5:30 p.m. to 9:30 p.m. The Awards were created to honour young Cape Bretoners and local employers who are making a significant impact in their community or workplace through their commitment to making Cape Breton-Mulgrave a better place to live, work and play.
The Vital Awards capture the essence of Cape Breton's up-and-coming generation, with the event bringing together like-minded people who are doing great things for Cape Breton-Mulgrave. The Partnership invites you to attend a vibrant evening that will highlight the achievements made by individuals and organizations that are helping to make Cape Breton a more rewarding place to live and do business.
The 2014 Vital Cape Breton Excellence Award Winners:
Vital Excellence Award Winners:
Shannon and Ryan Costello – Groovy Goat Farm and Soap Company
Erin Pyke-Forsey – Cape Breton District Health Authority and Healthy Living Activist
Amanda McDougall – Main-A-Dieu Community Advocate and Volunteer
Bryan Picard – The Bite House, Head Chef
Rob Calabrese and Erika Shea – The Turnip
Leah Noble –Dream Big Cape Breton Blogger, and Horizon Achievement Centre Employee
Alyce MacLean – CBC Mainstreet Contributor, Board Member of New Dawn Enterprises and Community Volunteer
Robyn Cathcart – Tenor, Stage Director and Voice Teacher
Dawn Beaton – Artistic Director, Celtic Colours International Festival and Ambassador of Cape Breton
Jenni Welsh – Videographer and Community Volunteer
Frankie MacDonald – Weatherman and Cape Breton Ambassador
Melanie Beaton – Mabou Community Playground Committee Chair and Volunteer
Peter and Ben Leblanc – Scenic Valley Farm
Vital Employer Award Winners:
Stephen Lilley – President, Protocase
John MacNeil – Partner, Grant Thornton
Carol Pendergast – Executive Director, Horizon Achievement Centre
Darren Gallop – Marcato Digital Solutions
Ben Cowan-Dewar – Cabot Links
Vital Employee Award Winners:
Gavin Andrews – Research and Development Manager, Protocase
David Farmer – Life Work Centre Director, Breton Ability Centre
Danielle Johnston – Manager of Annual Giving, Cape Breton Regional Hospital Foundation
Krista Lee – Youth in Action, Port Hawkesbury YMCA
Joline Vassallo  – Financial Services Officer, Sydney Credit Union
Join us for a casual celebrations reception with hors d'oeuvres and live music. DJ Wobblefish will be spinning some of his original remixes and electronic beats throughout the awards ceremony and folk-rock group The Jordan Musycsyn Band will close out the evening.
Tickets can be purchased for $20 + tax online, or by calling the Partnership office at 902-562-0122.
Date: Thursday, November 20
Location: Centre 200, Sydney
Time:5:30 p.m.  – 6:30 p.m.     Reception with DJ Wobblefish
6:30 p.m. – 8:00 p.m.      Awards
8:00 p.m. – 9:30 p.m.      Live Music with Jordan Musycsyn Band
This is an all ages event.
For more information visit the Vital Cape Breton Excellence Awards website or phone 902-562-0122.