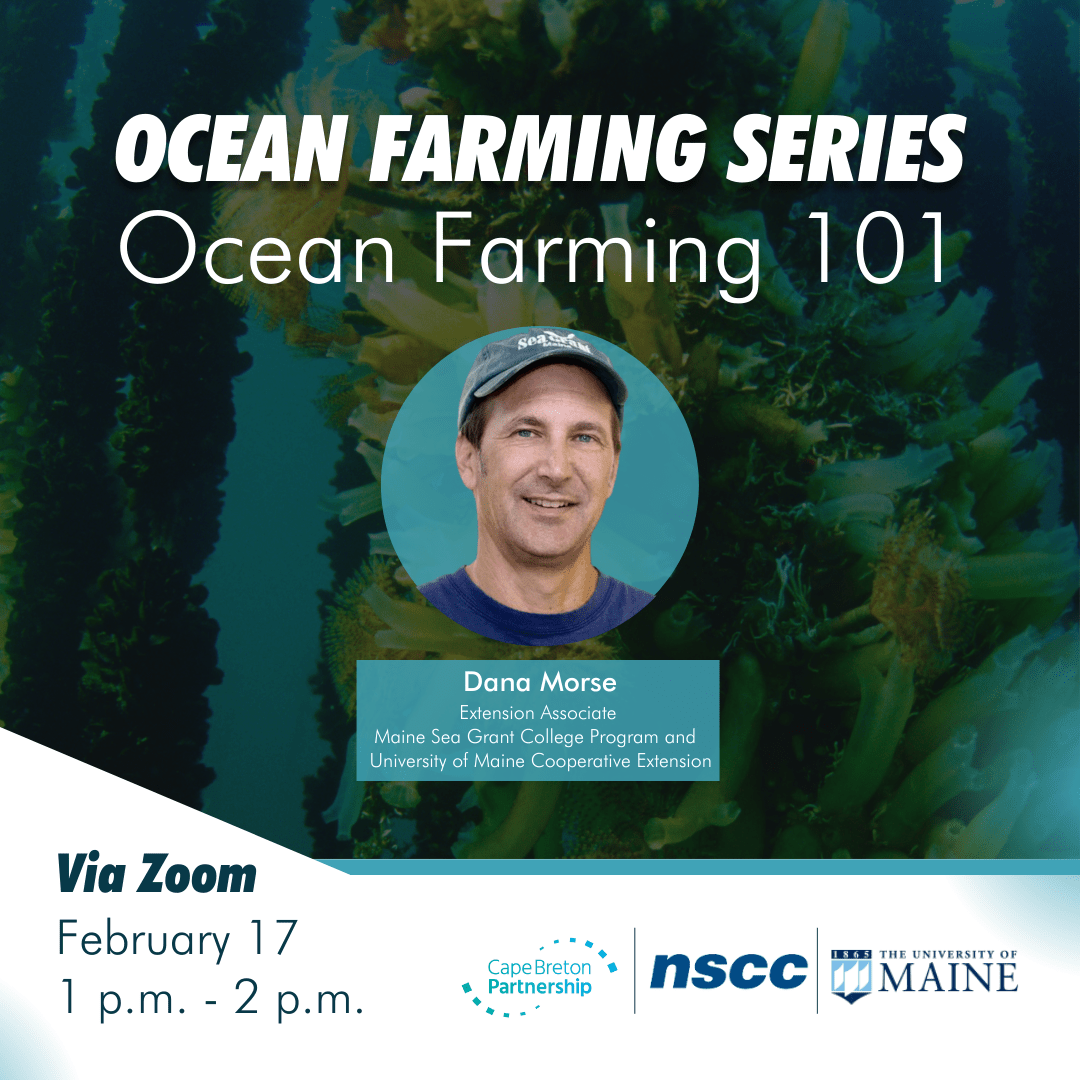 February 18, 2022
The first session of Ocean Farming 101 was held virtually through Zoom, and featured Dana Morse, Extension Associate at the Maine Sea Grant College Program and the University of Maine Cooperative Extension. Morse's talk touched on the basics for beginner ocean farming enthusiasts, current trends and cultivation of species.
Ocean Farming 101 is the first in the five-part Ocean Farming Series presented by the Cape Breton Partnership and Nova Scotia Community College. The series focuses on bringing the local Unama'ki – Cape Breton business community together to hear from industry experts on a range of topics important to the success and growth of the ocean farming sector on Cape Breton Island.
Future topics include: Food Security and Environmental Sustainability; Pathways to Entry and Regulations; Aquaculture Development Areas; and the Nova Scotia Quality Seafood Program.
For more information:
Carly Appleton
Cape Breton Partnership
902.562.0122
carly@capebretonpartnership.com
Amanda Mombourquette
Nova Scotia Community College
902.227.7836
Amanda.Mombourquette@nscc.ca


About the Cape Breton Partnership:
The Cape Breton Partnership is Unama'ki – Cape Breton's private sector-led economic development organization that supports companies and entrepreneurs by promoting our island as a great place to live and invest; growing a culture that values and celebrates creativity, innovation, and entrepreneurship; and connecting entrepreneurs and companies to the resources they need to succeed. For more information, visit https://capebretonpartnership.com.
About Nova Scotia Community College
NSCC is committed to building Nova Scotia's economy and quality of life through education and innovation, transforming Nova Scotia one learner at a time. NSCC offers more than 130 career-oriented programs throughout the province at our 14 campuses, including our online eCampus. Learn more at https://www.nscc.ca/.