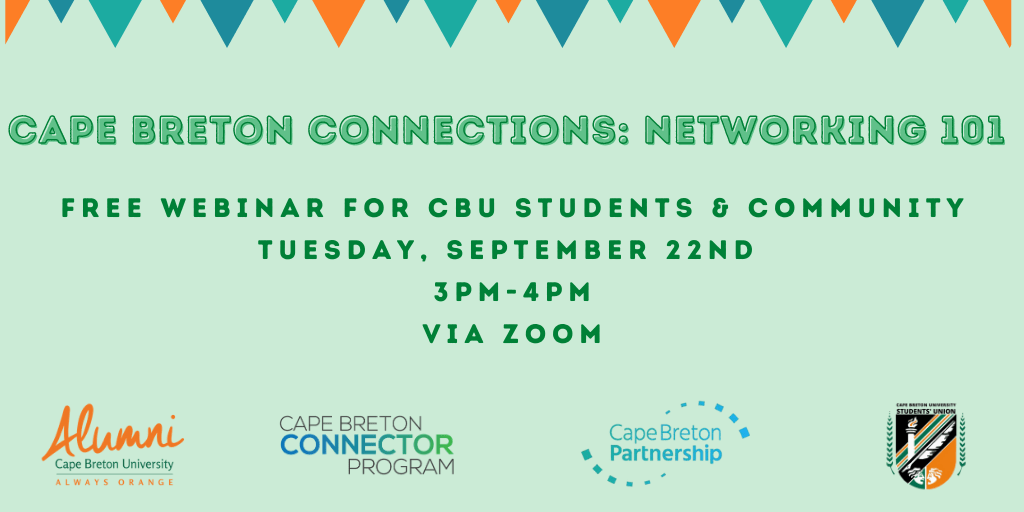 September 23, 2020
---
Cape Breton Connections: Networking 101 is brought to you by the Cape Breton University Students Union, the Cape Breton University Alumni Association, the Cape Breton Partnership, and the Cape Breton Connector Program as part of CBU's Adulting 101 Week.
This webinar introduces viewers to the Cape Breton Connector Program and how it can help you enhance your networking skills and expand your professional networks. Did you know that only 20% of jobs are ever advertised? This webinar can help you begin expanding your professional contacts so that you can access the 80% of jobs that aren't advertised and connect with companies who need your talent in Cape Breton.
The slide deck for this presentation is available here.
Adulting 101 Week is for Cape Breton University students to gain skills that they can take with them in their future endeavours. This includes resume building, cooking class, connecting with students and alumni and learning how to network! CBU and CBUSU want to ensure that students gain the skills they will need in life beyond their studies at CBU.
For more information, email
Cape Breton Connector Program Coordinator Robyn Lee Seale at connector@capebretonpartnership.com or visit https://capebretonpartnership.com/initiatives/connector/.