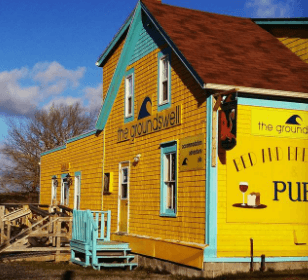 January 15, 2015
Ten years ago Damian Phillips visited Nova Scotia on a trip to see his extended family. It was on that trip that Damien fell in love with the province and made a vow that he would find a way to come back.
Originally from the United Kingdom, Damian spent some time after his initial visit to Nova Scotia traveling across the rest of Canada. Nearing the end of his trip Damian ended up settling in Calgary where he started a window washing business to make some extra cash. With no experience, Damian spent the next eight years building his business from the ground all the way up to washing high rise windows in some of Calgary's tallest buildings.
After spending eight years in Calgary and expanding his business from one to eight employees Damian felt it was time to move on. Although he enjoyed being close to the Rocky Mountains he knew the ocean was calling him home.
"I sold my business and headed east and I landed here in Cape Breton," explains Damian. "I was told about the great surf around Isle Madame and when I came to check it out I saw that this 170 year old house for sale I knew I had to put in an offer."
With a fresh coat of paint and a keen outlook Damian created a vision for an activity lodge that would welcome outdoor enthusiasts of all ages and walks of life. Damian was able to bring his business to life so quickly, because the entire infrastructure he needed to build his own outdoor activity lodge already existed in his new backyard. The ocean provides ideal conditions for surfing, paddle boarding, sailing, kayaking, while hiking and cycling trails are just a stone's throw away, with an ATV trail running right through the property.
"The community in D'Escousse has been so welcoming and the locals have been stopping in and offering their help in any way they can," says Damian. "I have talked about opening a restaurant and bar with the hotel and everyone has been really enthusiastic about making that a reality in the near future."
The Groundswell is on track to be officially open in another month and the restaurant and bar to be ready for business sometime in the summer. Damian has surf boards, paddleboards and wetsuits available for guests to rent and he hopes to have a few kayaks and bicycles ready to go for the spring.
Damian's brother Craig has come to Nova Scotia from the United Kingdom to help him get settled and get The Groundswell Hotel up and running. Craig has decided to make his move to Nova Scotia permanent and has plans to follow in Damian's path to start his own entrepreneurial journey.
"I have had a great experience so far and I am happy to call Cape Breton home," says Damian. "Being near the ocean is what I have always wanted and I am looking forward to sharing that with people."
Visit The Goundswell Hotel and Surf Lodge website to read more.