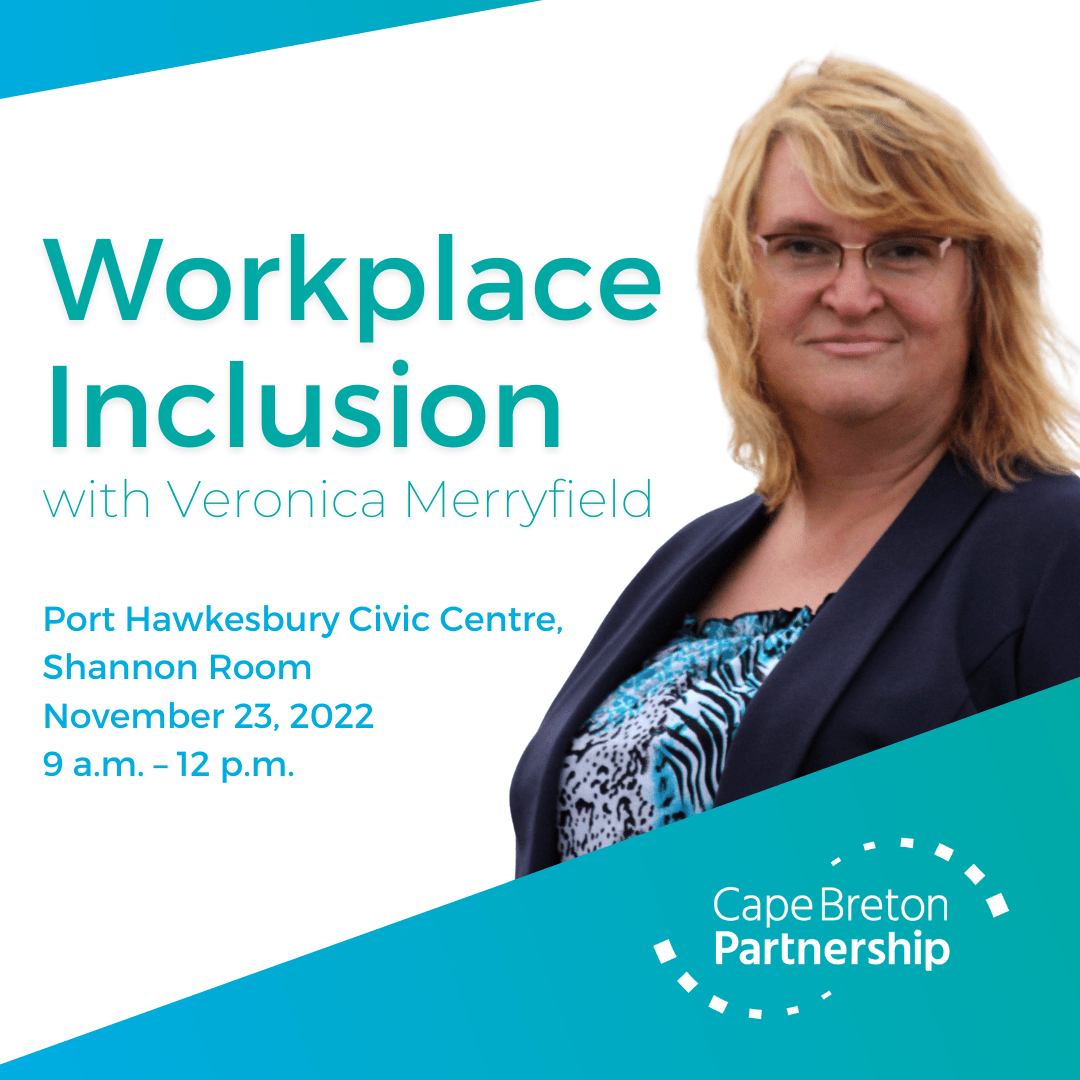 Host: Cape Breton Partnership
Location: Port Hawkesbury Civic Centre - Shannon Studio - 606 Reeves Street, Port Hawkesbury, NS
Register / Tickets: Click Here
Start: Wednesday November 23 @ 9:00am
End: Wednesday November 23 @ 12:00pm
---
The Cape Breton Partnership invites you to join us on November 23 for an employer-focused Workplace Inclusion Workshop.
Speaker Veronica Merryfield will discuss the importance of workplace inclusion and introduce Diversity, Equity, and Inclusion with a focus on the 2SLGBTQIA+ community. The second portion of the workshop will cover how employers can work towards inclusivity of the 2SLGBTQIA+ community. Veronica will also briefly touch upon specific topics of accessibility in the workplace.
We look forward to seeing you for a great morning of learning!
Agenda
8:30 a.m.: Registration opens
9 a.m.: Welcome & Introductions, light refreshments served
9:10 a.m: Part 1: Introduction to Diversity, Equity and Inclusion (DEI): 2SLGBTQIA+ community
10:30 a.m.: Break
10:40 a.m.: Part 2: Diversity, Equity and Inclusion in action: Inclusive workplace practices
Noon: Workshop wrap-up
Light refreshments will be provided.
About Veronica Merryfield
Veronica (Ms/she/her) identifies as intersex and transgender, drawing on her lived experience to provide training to various organizations on equity, diversity and inclusion. She is the Founder of the Cape Breton Transgender Network (www.cbtn.ca); chair at the Every Woman's Center and CBRM diversity committee; and is on the board at the Transition House, Cape Breton Pride, Conversion Therapy Survivors Connect, and others.
More Information
For more information, please contact Ayha El-Darahali, Manager, Workplace Inclusion Initiative, at ayha@capebretonpartnership.com.
Register Today!
COVID-19 Protocols
We are committed to the health and safety of our attendees. As such, attendance for this event is limited, so please register as soon as possible.
We further ask that if you feel unwell that you refrain from attending.
Photography Disclaimer
The Cape Breton Partnership and its event partners reserve the right to photograph its events, and from time to time we use these photos in our publications. By registering for any of our events, you understand and acknowledge that your photograph may be taken and used, per the Cape Breton Partnership's discretion.