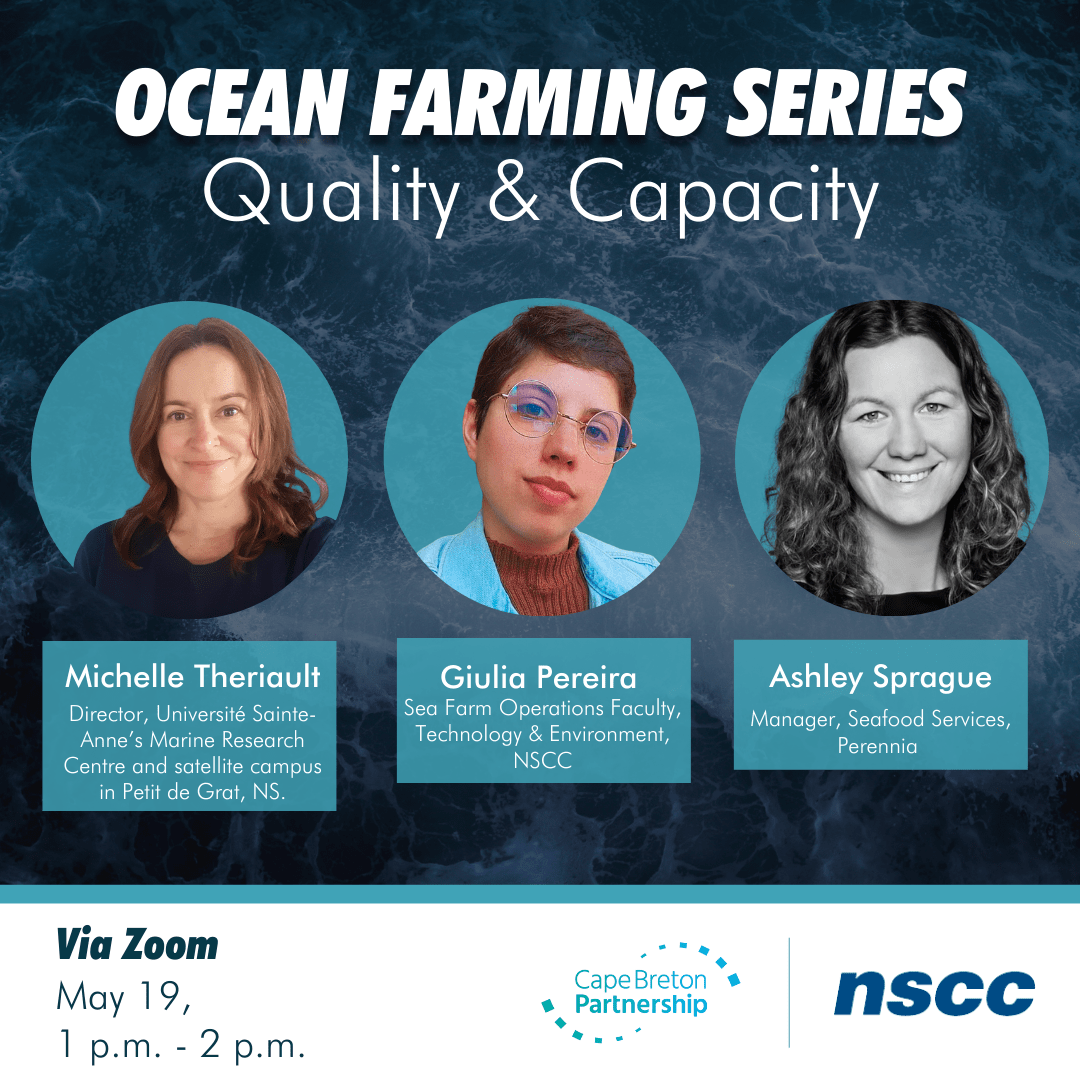 Host: Cape Breton Partnership and Nova Scotia Community College
Online Location: Click Here
Register / Tickets: Click Here
Start: Thursday May 19 @ 1:00pm
End: Thursday May 19 @ 2:00pm
---
Join the Cape Breton Partnership and Nova Scotia Community College for the fourth Ocean Farming session in a FREE five-part series: Ocean Farming – Quality & Capacity on Thursday, May 19, 2022 at 1 p.m. via Zoom.
The session will feature panel presentations and discussions with Michelle Theriault, Director of Université Sainte-Anne's Marine Research Centre and satellite campus in Petit de Grat, NS, Ashley Sprague, Manager Seafood Services at Perennia, and Giulia Pereira, Sea Farm Operations Faculty, Department of Technology & Environment at Nova Scotia Community College. The session will be moderated by Dan Lane, Interim Director – Lobster Quality Research & Innovation Centre de recherche marine, Université Sainte-Anne. He is also a Professor Emeritus at the Telfer School of Management at the University of Ottawa.
A special thank you to our partners and friends in the communities of Membertou, Eskasoni, Wagmatcook, and We'koqma'q; the Municipalities of the Counties of Richmond, Inverness, and Victoria; the Cape Breton Regional Municipality; and the Town of Port Hawkesbury. Through these partnerships and support from the Province of Nova Scotia, we are proud to be a part of Nova Scotia's Regional Enterprise Network model, which allows us to provide learning opportunities like this series, which aims to promote economic and business development in the ocean farming industry across Unama'ki – Cape Breton.
About the Ocean Farming Series
This event is part of the Cape Breton Partnership's and Nova Scotia Community College's Ocean Farming Series, bringing our local Unama'ki – Cape Breton business community together to hear from industry experts on a range of topics important to the success and growth of the ocean farming sector on Cape Breton Island. To be notified of future events, news, and updates from the Cape Breton Partnership, click here and subscribe to our newsletter and updates.
Note: Ocean Farming – Innovation & Readiness that was scheduled for Thursday, May 12, 2022 has been POSTPONED. A new date will be announced soon.