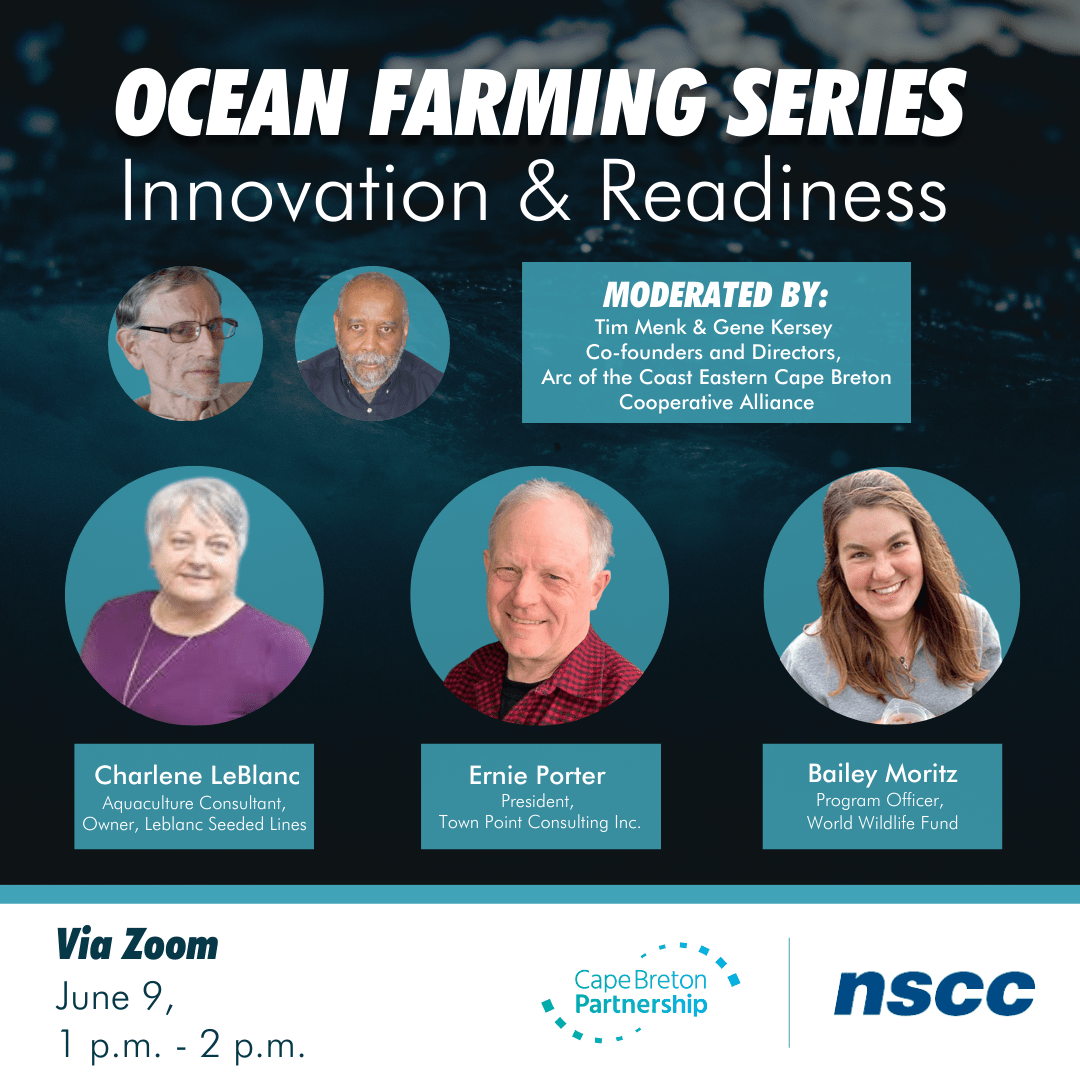 Host: Cape Breton Partnership and Nova Scotia Community College
Online Location: Click Here
Register / Tickets: Click Here
Start: Thursday June 9 @ 1:00pm
End: Thursday June 9 @ 2:00pm
---
Join the Cape Breton Partnership and Nova Scotia Community College for the fifth and FINAL Ocean Farming session in the FREE five-part series: Ocean Farming – Innovation & Readiness on Thursday, June 9, 2022 at 1 p.m. via Zoom.
The session will be moderated by Tim Menke and Gene Kersey, Co-founders and Directors of Arc of the Coast Eastern Cape Breton Co-operative Alliance, who both possess extensive knowledge of the sector in the region. Presenting panelists include Charlene LeBlanc, Aquaculture Consultant & Owner of LeBlanc Seeded Lines, Ernie Porter, Owner of Town Point Consulting, and Bailey Moritz, Program Coordinator, World Wildlife Fund.
A special thank you to our partners and friends in the communities of Membertou, Eskasoni, Wagmatcook, and We'koqma'q; the Municipalities of the Counties of Richmond, Inverness, and Victoria; the Cape Breton Regional Municipality; and the Town of Port Hawkesbury. Through these partnerships and support from the Province of Nova Scotia, we are proud to be a part of Nova Scotia's Regional Enterprise Network model, which allows us to provide learning opportunities like this series, which aims to promote economic and business development in the ocean farming industry across Unama'ki – Cape Breton.
Register Now!
About the Ocean Farming Series
This event is part of the Cape Breton Partnership's and Nova Scotia Community College's Ocean Farming Series, bringing our local Unama'ki – Cape Breton business community together to hear from industry experts on a range of topics important to the success and growth of the ocean farming sector on Cape Breton Island. Innovation & Readiness is the fifth and final in the five-part webinar series Ocean Farming. To be notified of future events, news, and updates from the Cape Breton Partnership, click here and subscribe to our newsletter and updates.