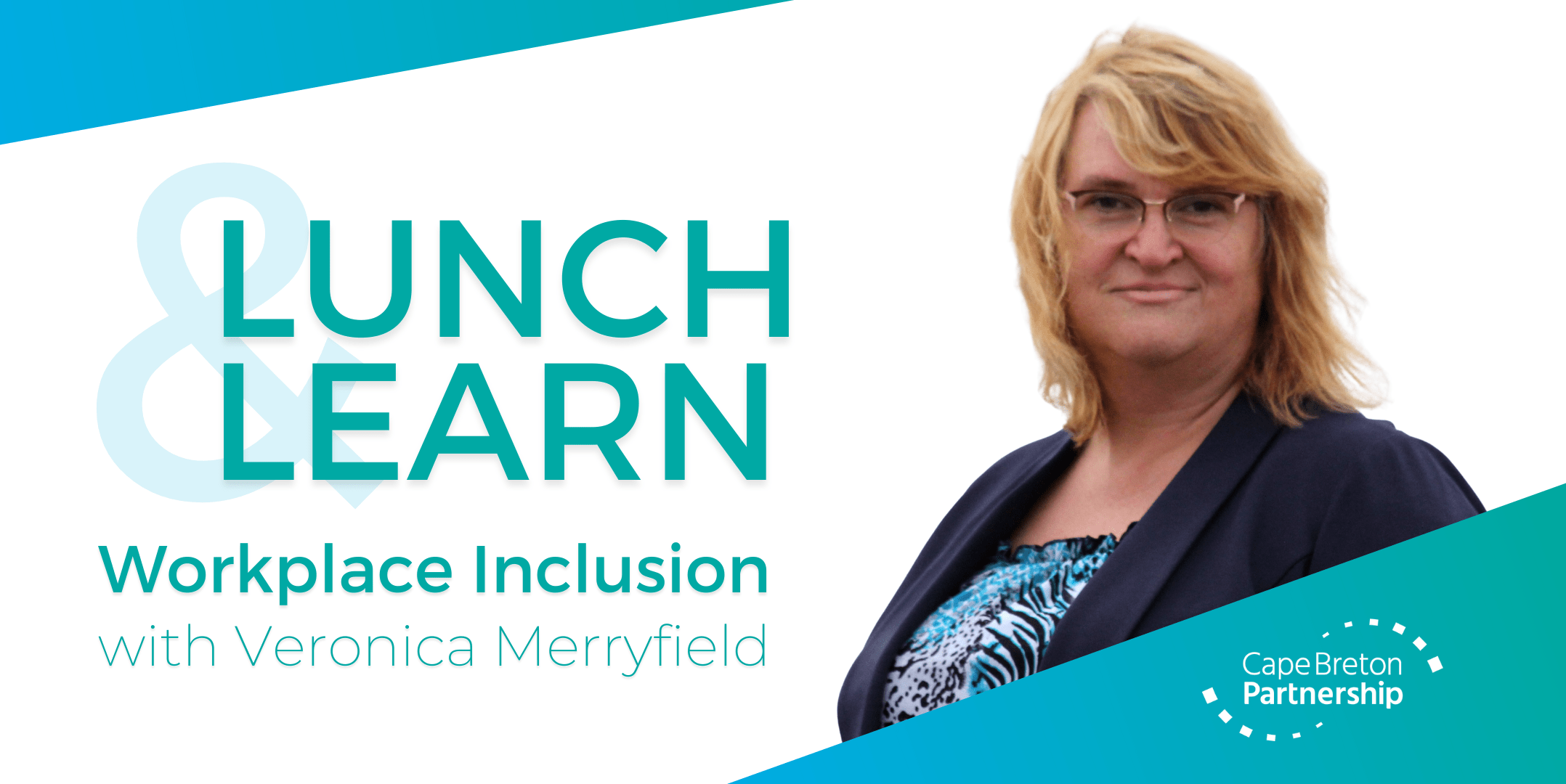 Host: Cape Breton Partnership
Location: Eltuek Arts Centre, Gallery 209, 170 George Street, Sydney, NS B1P 1J2
Register / Tickets: Click Here
Start: Wednesday August 10 @ 12:00pm
End: Wednesday August 10 @ 2:00pm
---
The Cape Breton Partnership invites you to join us on August 10 for an employer-focused Lunch and Learn on Workplace Inclusion. This session will be of interest to any employer, business owner, HR professional, or other representatives committed to making their workplace truly inclusive for everyone.
Speaker Veronica Merryfield will be presenting on the importance of workplace inclusion, allyship, safe spaces, and how employers can work towards inclusivity of members of the 2SLGBTQIA+ community to the benefit of their entire workforce and work environment.
This 2-hour event is free and includes the opportunity to network before and after the session with organizers, attendees, and Lunch and Learn speaker Veronica Merryfield.
We look forward to seeing you for a great afternoon of interaction and learning!
* Lunch is included with registration.
DEADLINE TO REGISTER: Tuesday, August 2, 2022, at 4 p.m.
Click here to register!
About Veronica Merryfield
Veronica (Ms/she/her) identifies as intersex and transgender, drawing on her lived experience to provide training to various organizations on equity, diversity, and inclusion. She is the founder of the Cape Breton Transgender Network (www.cbtn.ca); chair at the Every Woman's Center and CBRM diversity committee; and is on the board at Transition House, Cape Breton Pride, Conversion Therapy Survivors Connect, and others.
Agenda
12:00 p.m. – Registration Open, Networking in Event Room
12:30 p.m. – Welcome & Introductions, Lunch begins
12:35 p.m. – Presenter: Ayha El-Darahali, Workplace Inclusion Charter Program Manager, Cape Breton Partnership
12:45 p.m. – Presenter: Veronica Merryfield, Diversity, Equity, and Inclusion Expert and 2SLGBTQIA+ Advocate
1:25 p.m. – Question & Answer Period
More Information
For more information, please contact:
We hope you can join us!
COVID-19 Protocols
We are committed to the health and safety of our attendees and strongly encourage all attendees to wear a mask and utilize appropriate social distancing while attending this session. We further ask that if you feel unwell, that you refrain from attending this event.
Photography Disclaimer
The Cape Breton Partnership and its event partners reserve the right to photograph its events, and from time to time we use these photos in our publications. By registering for any of our events, you understand and acknowledge that your photograph may be taken and used, per the Cape Breton Partnership's discretion.