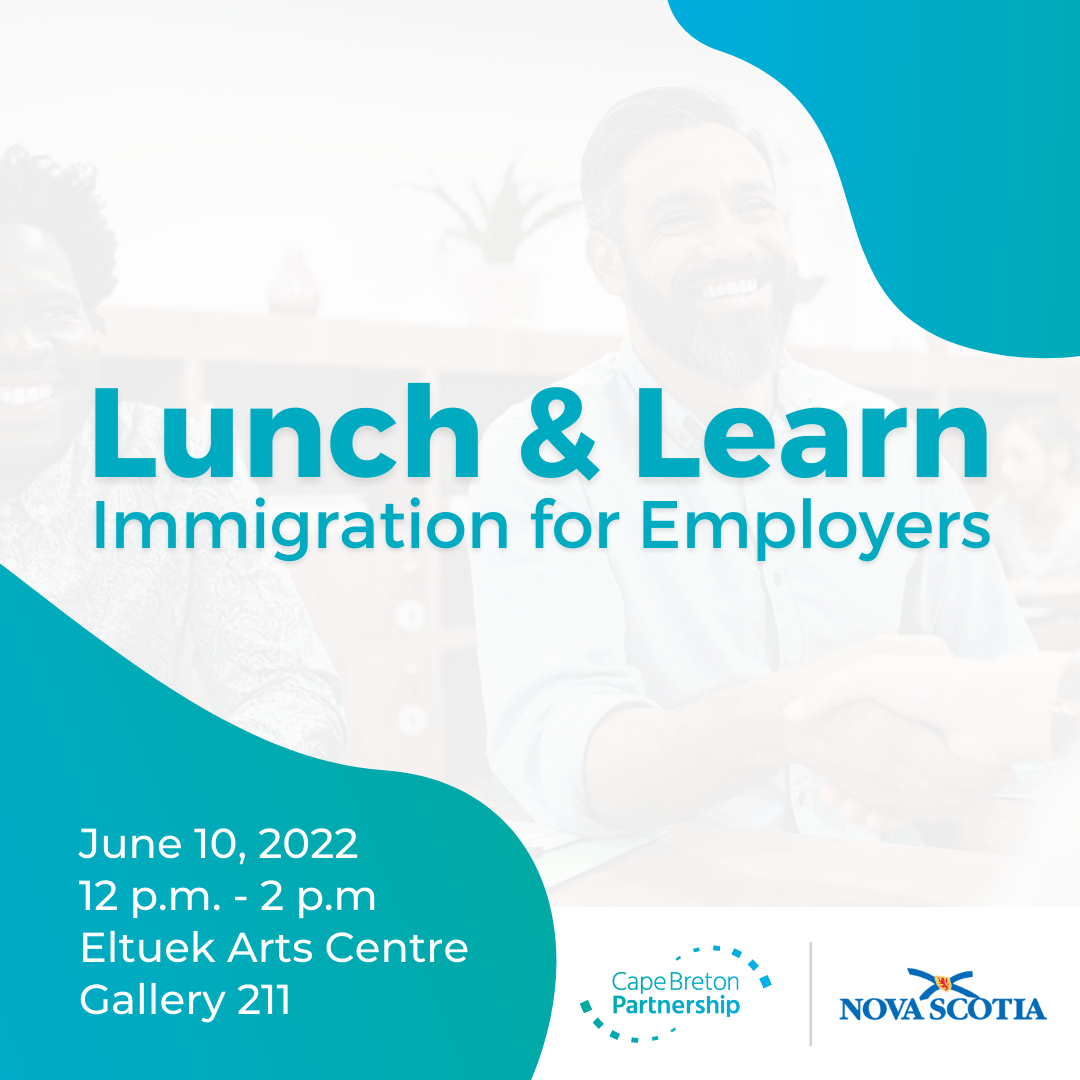 Host: Cape Breton Partnership
Location: Eltuek Arts Centre, Gallery 211, 170 George Street, Sydney, NS, B1P 1J2
Register / Tickets: Click Here
Start: Friday June 10 @ 12:00pm
End: Friday June 10 @ 1:30pm
---
Join the Cape Breton Partnership and the Nova Scotia Department of Labour, Skills and Immigration over lunch to learn how immigration helps employers meet labour needs. In this session, you will learn about immigration options to grow your business and supporting employees to settle permanently in Nova Scotia. *
Learn about roles and services with the Cape Breton Partnership that can help you fill your positions, navigate the Canadian immigration system, and support your employees and newcomers to stay in Unama'ki – Cape Breton.
Representatives of the Immigration and Population Growth Branch with Labour, Skills and Immigration will provide an overview of immigration programs, including the Nova Scotia Nominee Program (NSNP) and the new Atlantic Immigration Program (AIP). The presentation will also introduce recent policy changes impacting both programs and go over application processes, international recruitment opportunities and sources of skilled workers.
* Lunch is included with registration.
DEADLINE TO REGISTER: Tuesday, June 7, 2022, at 4 p.m.
Register Now!
Agenda
12:00 p.m. – Registration Open, Networking in Event Room
12:30 p.m. – Welcome & Introductions, Lunch served
12:35 p.m. – Presenter: Kelly MacKinnon, Labour Market & Immigration Advisor, Cape Breton Partnership
12:55 p.m. – Presenter: Leanne Bartlett, Stakeholder Liaison Officer & Employer Support, Nova Scotia Department of Labour, Skills and Immigration
1:20 p.m. – Questions & Answers Period
More Information
For more information, please contact:
Kelly MacKinnon, Labour Market & Immigration Advisor, Cape Breton Partnership, at kelly@capebretonpartnership.com
Leanne Bartlett, Stakeholder Liaison Officer & Employer Support, Nova Scotia Department of Labour, Skills and Immigration, at leanne.bartlett@novascotia.ca