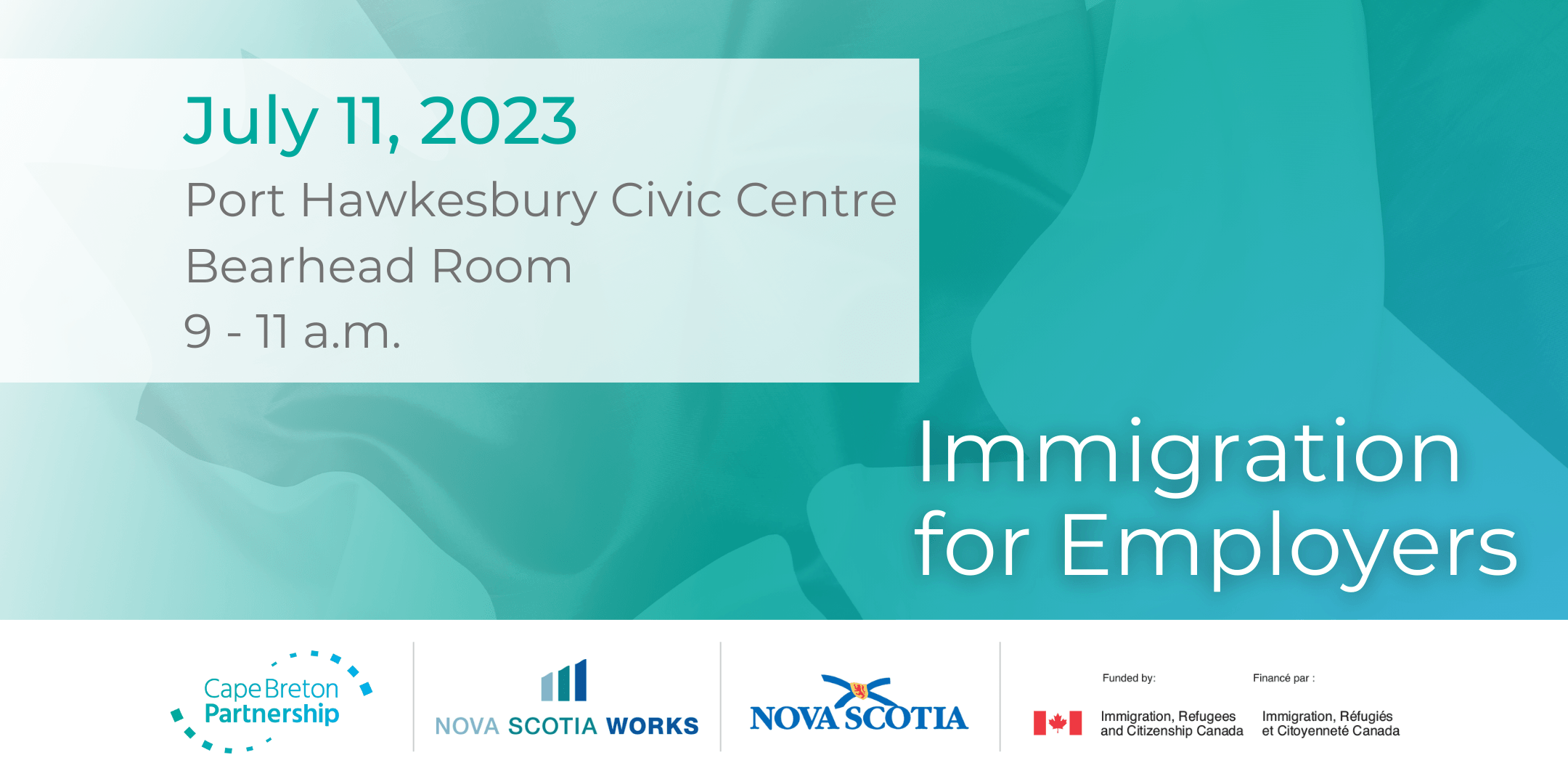 Host: Cape Breton Partnership
Location: Port Hawkesbury Civic Centre - Bearhead Room - 606 Reeves Street, Port Hawkesbury, NS
Register / Tickets: Click Here
Start: Tuesday July 11 @ 9:00am
End: Tuesday July 11 @ 11:00am
---
Join the Cape Breton Partnership, Immigration, Refugees and Citizenship Canada, Nova Scotia Labour, Skills and Immigration, and Nova Scotia Works on Tuesday, July 11 at 9 a.m. to learn how immigration helps employers meet labour needs!
Learn how to navigate the Canadian immigration system, and how to support your employees and newcomers to stay in Unama'ki – Cape Breton.
Representatives of Immigration, Refugees and Citizenship Canada will provide an overview of Federal immigration programs including:
how to hire temporary foreign workers and the work permit process;
hiring international students and how to retain them after they graduate;
resources to help you find skilled workers faster;
Francophone immigration opportunities;
and permanent residence pathways available to allow workers to stay in Canada long-term.
Nova Scotia Labour, Skills and Immigration will provide a summary of:
provincial programming including the Nova Scotia Nominee Program (NSNP) and the Atlantic Immigration Program (AIP);
international recruitment opportunities;
and retention strategies.
Nova Scotia Works will teach employers about:
HR tools;
training resources;
and wage subsidy information.
Light Refreshments are included in registration. Space is limited, please register by Tuesday, July 11, 2023, at 4 p.m.