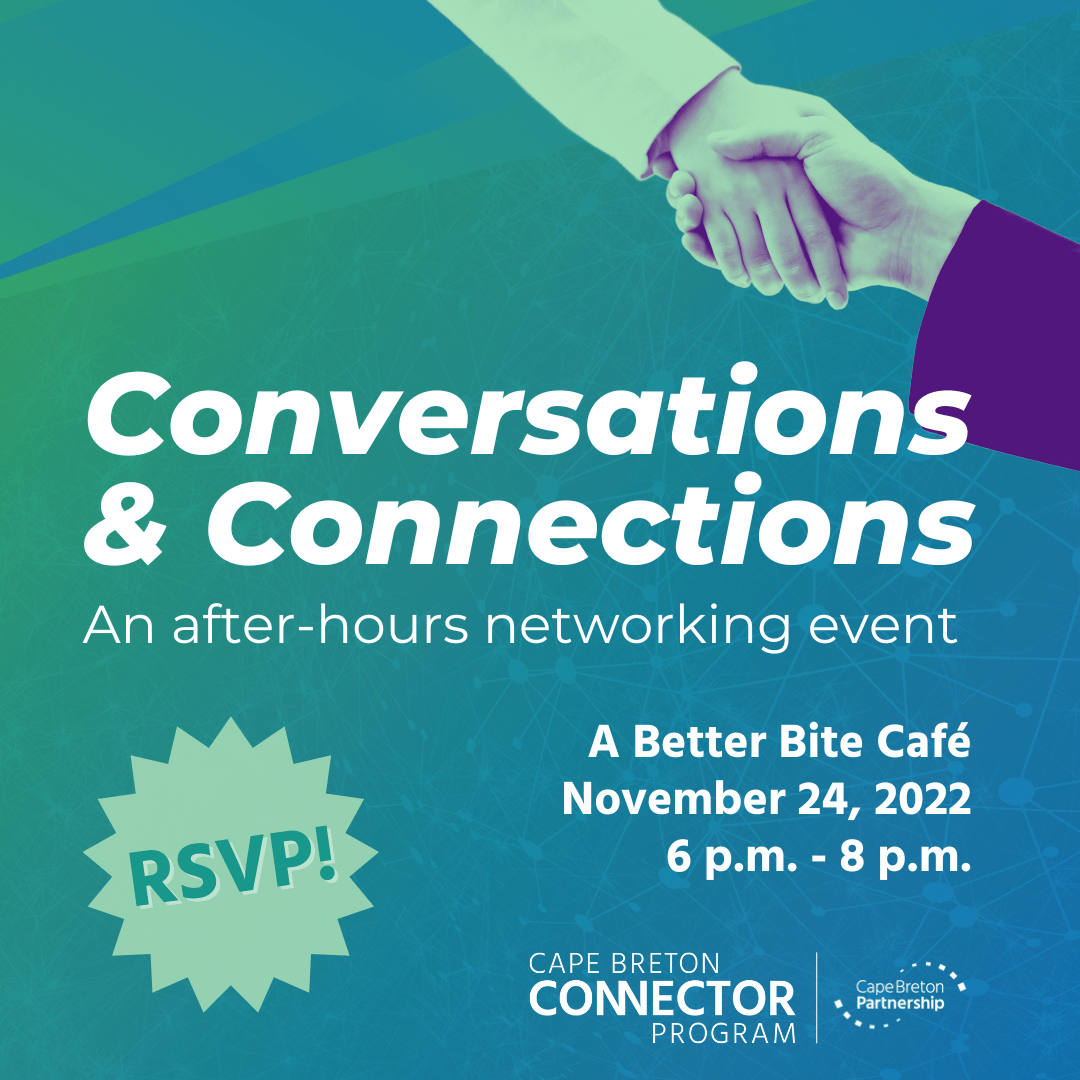 Host: Cape Breton Partnership
Location: Eltuek Arts Centre, A Better Bite Cafe - 170 George St, Sydney, NS
Register / Tickets: Click Here
Start: Thursday November 24 @ 6:00pm
End: Thursday November 24 @ 8:00pm
---
Join the Cape Breton Connector Program on November 24 from 6 to 8 p.m. for an evening of connections and conversation at A Better Bite Café. With speed networking, casual mingling, and food and refreshments, there's something for everyone. If you're a new or recent graduate or newcomer, you're encouraged to register today! Space is limited.
Please note: This event is SOLD OUT, but if you're interested, please join the Waitlist.
Event Layout:
Speed networking will take place in two rounds of 30 minutes each. There will be one community and/or business leader (known as a Connector) per table, giving participants (a new or recent graduate or newcomer; also known as a Connectee) the opportunity to build a connection and grow their network while opening doors to their future. Each speed networking pairing will get five minutes for engaging conversation.
More Information:
For more information, please contact Katie Jamieson at connector@capebretonpartnership.com or 902-217-5170.
Register Today!
COVID-19 Protocols
We are committed to the health and safety of our attendees. As such, attendance for this event is limited, so please register as soon as possible.
We further ask that if you feel unwell that you refrain from attending.
Photography Disclaimer
The Cape Breton Partnership and its event partners reserve the right to photograph its events, and from time to time we use these photos in our publications. By registering for any of our events, you understand and acknowledge that your photograph may be taken and used, per the Cape Breton Partnership's discretion.