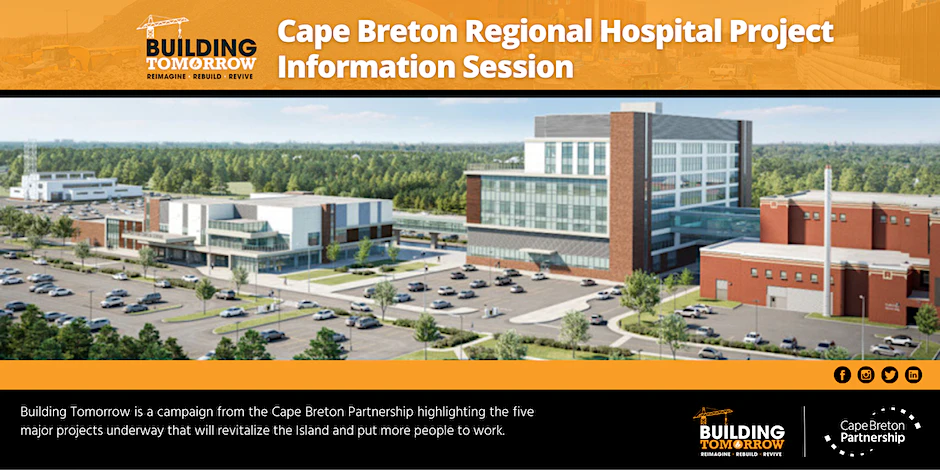 Host: Cape Breton Partnership
Location: Port of Sydney (Downstairs, Lighthouse Concourse) 90 Esplanade Sydney, NS
Register / Tickets: Click Here
Start: Thursday November 17 @ 5:30pm
End: Thursday November 17 @ 8:00pm
---
Join us for a community information session where we will be sharing updates and details on this significant project from architects and designers, as well as team members from CBRM Health Care Redevelopment, Nova Scotia Lands, Nova Scotia Public Works, Nova Scotia Construction Sector Council, and the Cape Breton Partnership.
Thursday, November 17, 2022
5:30 p.m. – 7:30 p.m.
Port of Sydney, 90 Esplanade, Sydney
Pre-registration is encouraged. For more information or to register by phone, call 902-567-6160.
Register Today!
About The Building Tomorrow Campaign
Building Tomorrow is a campaign from the Cape Breton Partnership highlighting the five major projects underway that will revitalize the Island and put more people to work. For more information, visit www.Building-Tomorrow.ca.
COVID-19 Protocols
We are committed to the health and safety of our attendees. As such, attendance for this event is limited, so please register as soon as possible.
We further ask that if you feel unwell that you refrain from attending.
More Information
For more information, please contact the Cape Breton Partnership at info@capebretonpartnership.com or 902-562-0122.
Photography Disclaimer
The Cape Breton Partnership and its event partners reserve the right to photograph its events, and from time to time we use these photos in our publications. By registering for any of our events, you understand and acknowledge that your photograph may be taken and used, per the Cape Breton Partnership's discretion.