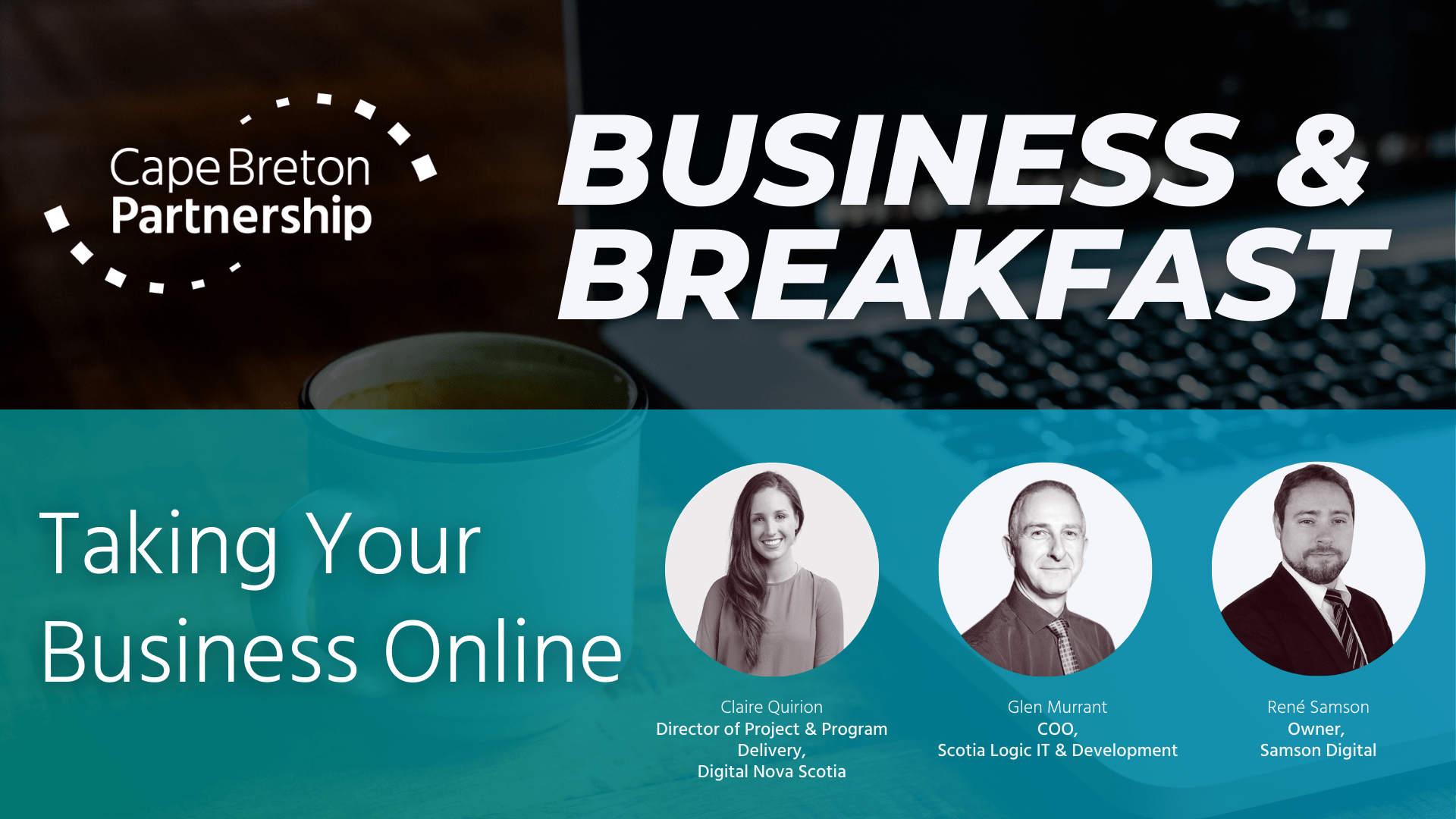 Host: Cape Breton Partnership
Location: The Island Nest
Register / Tickets: Click Here
Start: Thursday November 10 @ 8:00am
End: Thursday November 10 @ 9:30am
---
Join the Cape Breton Partnership, Digital Nova Scotia, Scotia Logic IT & Development, and Samson Digital for the next Business & Breakfast: Taking Your Business Online, to take place Thursday, November 10 at the Island Nest, from 8 a.m. – 9: 30 a.m.
Agenda
8 a.m. – Registration
8:15 a.m. – Breakfast served
8: 30 a.m. – Presentations begin
This is your chance to hear from industry experts about the importance of having an online business.
Pre-registration is required to attend.
This event is part of the Cape Breton Partnership's Breakfast & Business series, bringing our local Unama'ki – Cape Breton business community together to hear from industry experts and professionals on a range of topics important to the success and growth of businesses of all sizes. To be notified of future events, news, and updates from the Cape Breton Partnership, click here and subscribe to our newsletter and updates.
DEADLINE TO REGISTER: FRIDAY, NOVEMBER 4, 2022
Register Today!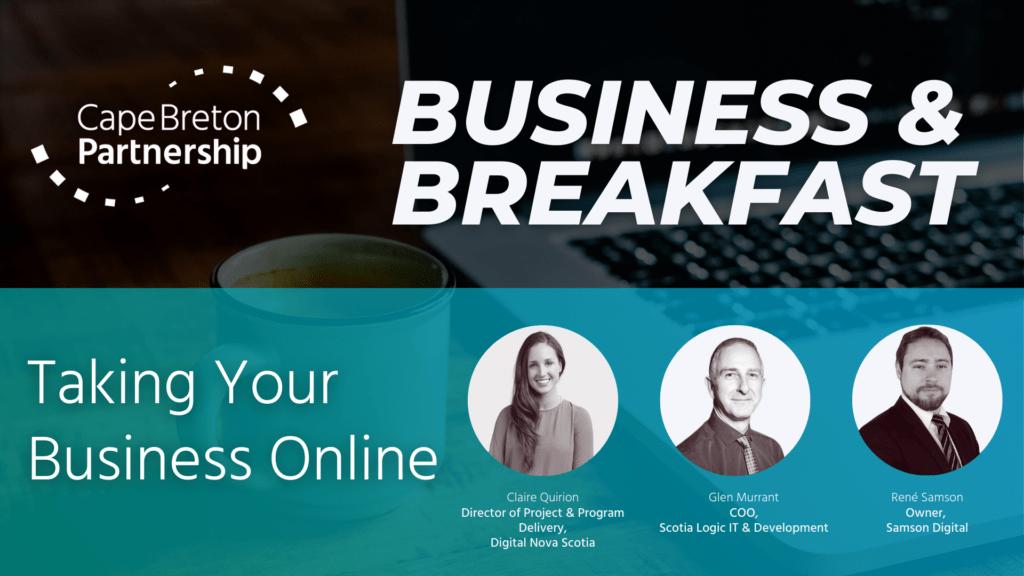 About Digital NS
Our organization began as the Software Industry Association of Nova Scotia (SIANS) and later became the Information Technology Industry Alliance of Nova Scotia (ITANS), before re-branding to be the Digital Nova Scotia that we are today! We're a non-profit organization that is dedicated to growing and developing Nova Scotia's digital technologies industry – facilitating connections, providing professional development and capacity-building opportunities, and promoting our digital sector. Originally incorporated in 1989, Digital Nova Scotia has been leading our industry for 30 years. To learn more, visit https://digitalnovascotia.com/.
About Scotia Logic
For over 30 years our technical team has been providing best-in-class IT services to businesses and government offices throughout Nova Scotia. Our services include General IT (hardware/software) troubleshooting and maintenance. To learn more, visit: https://scotialogic.ca/.
About Samson Digital
Here at Samson.Digital we are driven by innovation. We love to come up with new solutions for your business through a host of digital marketing strategies. Our main objective is to help you grow your online presence and to exponentially increase traffic to your website, converting to new customers. We help craft brands, logos and content which will give you a strong voice in the digital marketplace. To learn more, visit: https://samson.digital/.
COVID-19 Protocols
We are committed to the health and safety of our attendees. As such, attendance for this event is limited, so please register as soon as possible.
We further ask that if you feel unwell that you refrain from attending.
More Information
For more information, please contact the Cape Breton Partnership at info@capebretonpartnership.com or 902-562-0122.
Photography Disclaimer
The Cape Breton Partnership and its event partners reserve the right to photograph its events, and from time to time we use these photos in our publications. By registering for any of our events, you understand and acknowledge that your photograph may be taken and used, per the Cape Breton Partnership's discretion.