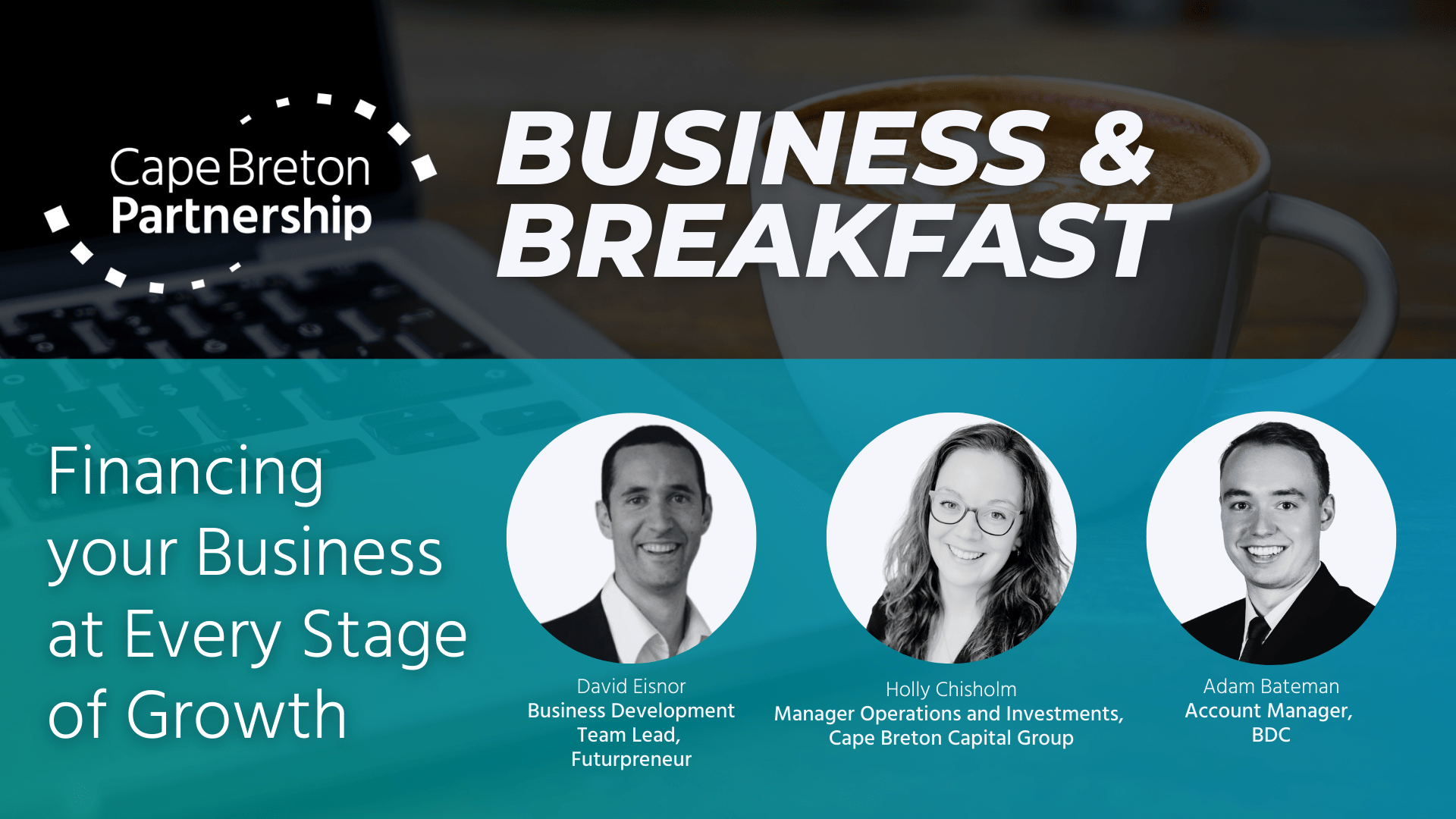 Host: Cape Breton Partnership
Location: Inverness County Centre for the Arts
Register / Tickets: Click Here
Start: Thursday September 15 @ 8:00am
End: Thursday September 15 @ 10:00am
---
Join the Cape Breton Partnership, BDC, Cape Breton Capital Group, and Futurpreneur for the next Business & Breakfast: Financing your Cape Breton – Unama'ki Business at Every Stage of Growth, to take place Thursday, September 15 at the Inverness County Centre for the Arts, from 8 a.m. – 9:45 a.m.
Agenda
8:00 a.m. – Welcome and Introductions
8:10 a.m. – Breakfast served
8:20 a.m. – Presentations Begin
This in-person event will feature discussions about the financing options available, no matter what stage your business is in. Each presentation will highlight the resources and supports available in the region for business owners at all stages and businesses of all sizes.
Pre-registration is required to attend.
Register Today!
All three representatives are available by appointment after the session to meet with individual business owners. Attendees may express interest in booking an appointment when they register for the session, can sign-up for an appointment in-person at the event, or can stop by during the drop-in hour between 11:30 a.m. – 12:30 p.m.
This event is part of the Cape Breton Partnership's Breakfast & Business series, bringing our local Unama'ki – Cape Breton business community together to hear from industry experts and professionals on a range of topics important to the success and growth of businesses of all sizes. To be notified of future events, news, and updates from the Cape Breton Partnership, click here and subscribe to our newsletter and updates.
DEADLINE TO REGISTER: THURSDAY, SEPTEMBER 8, 2022

About BDC
BDC is the bank for Canadian entrepreneurs. It provides access to financing, as well as advisory services to help Canadian businesses grow and succeed. Its investment arm, BDC Capital, offers a wide range of risk capital solutions. For more information, visit bdc.ca.
About Cape Breton Capital Group
The purpose of the Cape Breton Capital Group (CBCG) is to bring together a group of experienced Cape Breton entrepreneurs and investors to seek out investment opportunities that will help established businesses maintain local ownership and seed new companies based on Cape Breton Island. CBCG will focus on equity investments in businesses with growth potential, be it through expansion or innovation. The group of community minded investors will aim to provide investment and mentorship opportunities to prospective companies. To learn more visit CapeBretonCapital.com.
About Futurpreneur
Futurpreneur Canada has been fuelling the entrepreneurial passions of Canada's young enterprise for two decades. They are the only national, non-profit organization that provides financing, mentoring and support tools to aspiring business owners aged 18-39. Their internationally-recognized mentoring program hand matches young entrepreneurs with a business expert from a network of more than 3,000 volunteer mentors.
COVID-19 Protocols
We are committed to the health and safety of our attendees. As such, attendance for this event is limited, so please register as soon as possible.
We further ask that if you feel unwell that you refrain from attending.
More Information
For more information, please contact the Cape Breton Partnership at info@capebretonpartnership.com or 902-562-0122.
Photography Disclaimer
The Cape Breton Partnership and its event partners reserve the right to photograph its events, and from time to time we use these photos in our publications. By registering for any of our events, you understand and acknowledge that your photograph may be taken and used, per the Cape Breton Partnership's discretion.