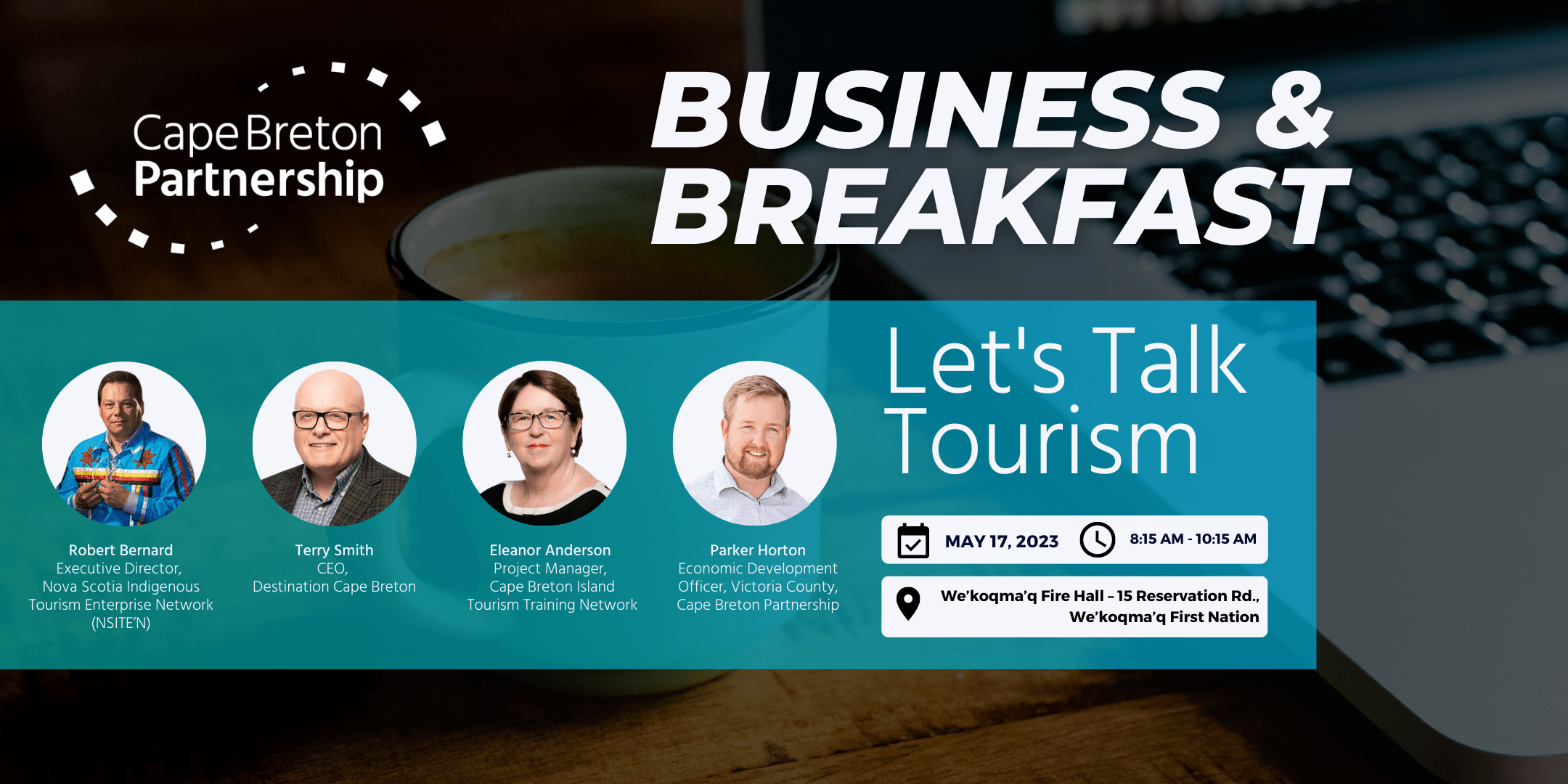 Host: Cape Breton Partnership
Location: 15 Reservation Rd. Whycocomagh, NS
Register / Tickets: Click Here
Start: Wednesday May 17 @ 8:15am
End: Wednesday May 17 @ 10:15am
---
Join the Cape Breton Partnership, The Nova Scotia Indigenous Tourism Enterprise Network, Destination Cape Breton, and Cape Breton Island Tourism Training Network for Business & Breakfast: Let's Talk Tourism, happening Wednesday, May 17, 2023 from 8:15 a.m. – 10:15 a.m. at the We'koqma'q Firehall.
This is your chance to hear from a panel of tourism-sector leaders and experts that support the tourism industry in various capacities across Unama'ki – Cape Breton.
Topics covered include: supports available this season for tourism operators, discussions about the challenges facing the sector and how we can overcome them as an Island, what allyship means in a tourism context, and how Indigenous culture plays a critical role in the future of tourism in Unama'ki – Cape Breton.
Pre-registration is required to attend.
This event is part of the Cape Breton Partnership's Business & Breakfast series, bringing our local Cape Breton – Unama'ki business community together to hear from industry experts and professionals on a range of topics important to the success and growth of businesses of all sizes.
Register Today!
COVID-19 Protocols
We are committed to the health and safety of our attendees. As such, attendance for this event is limited, so please register as soon as possible.
We further ask that if you feel unwell that you refrain from attending.
More Information
For more information, please contact the Cape Breton Partnership at info@capebretonpartnership.com or 902-562-0122.
Photography Disclaimer
The Cape Breton Partnership and its event partners reserve the right to photograph its events, and from time to time we use these photos in our publications. By registering for any of our events, you understand and acknowledge that your photograph may be taken and used, per the Cape Breton Partnership's discretion.