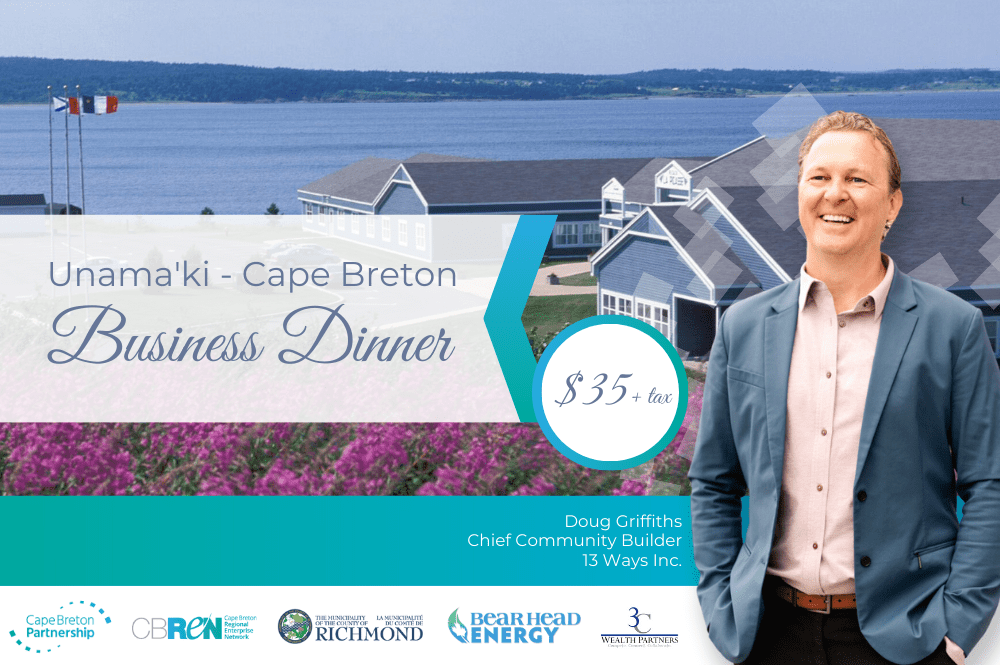 May 18, 2023
Cape Breton Island, NS – The Cape Breton Partnership and Municipality of the County of Richmond will be hosting the 2023 Unama'ki – Cape Breton Business Dinner, presented by Bear Head Energy, on June 22, 2023, at La Picasse Cultural Centre in Petit-De-Grat, Richmond County. The Business Dinner will be headlined with a keynote speech from Doug Griffiths, nationally renowned community strategist and author of 13 Ways to Kill Your Community.
Along with the Keynote Speech from Griffiths, the Unama'ki – Cape Breton Business Dinner will also include a networking reception presented by Rodney Thibeau of 3C Wealth Partners, full dinner, and an update from the Cape Breton Partnership. The update will feature an introduction to Martin Thomsen, the Economic Development and Innovation Officer for Richmond County and the Town of Port Hawkesbury who took on the position in early 2023 with the Partnership's Cape Breton Regional Enterprise Network.
"We are proud to be working with Richmond County and Bear Head Energy to bring this opportunity to network, learn, and share a meal to Unama'ki – Cape Breton's business community," says Cape Breton Partnership President & CEO Tyler Mattheis. "Doug Griffiths' message is one that helps us all take a look at the building blocks that make or break a community; ideas to build on and pitfalls to avoid. Whether you're a local business owner, community leader, dedicated volunteer, or are just passionate about your community, this is the perfect event for you."
Having served the Province of Alberta as an MLA for four consecutive terms from 2002-2015, holding past portfolios as Minister for the Department of Municipal Affairs and for Service Alberta, Doug Griffiths authored the best-selling 13 Ways to Kill Your Community in 2010 as a witty, fun, and informative practical approach to community building. Griffiths went on to found 13 Ways Inc. which facilitates success in building communities people want to live in and can prosper within.
Warden Amanda Mombourquette noted about Mr. Griffiths, "I've been working in the field of economic development for over 20 years, and have been fortunate to hear many inspirational speakers along the way. In my experience, Doug Griffiths delivers one of the most compelling and clear messages that I have heard yet – one that we can all relate to, and one that compels us to take action. If you have an interest in the long-term prosperity of our communities, this is an event you will not want to miss!"
Tickets for the Unama'ki – Cape Breton Business Dinner are now available for $35 + HST and can be purchased at: https://cb-business-dinner-june2023.eventbrite.ca. Tickets are limited to spacing, and early registration is recommended.
-30-
Media Contact:
Jeremy Martell, Director of Communications
Cape Breton Partnership
Jeremy@capebretonpartnership.com
(902) 631-5442
About the Cape Breton Partnership:
The Cape Breton Partnership is Unama'ki – Cape Breton's private sector-led economic development organization that supports companies and entrepreneurs by promoting our island as a great place to live, work, and invest; growing a culture that values and celebrates creativity, innovation, and entrepreneurship; and connecting entrepreneurs and companies to the resources they need to succeed. For more information, visit https://capebretonpartnership.com.