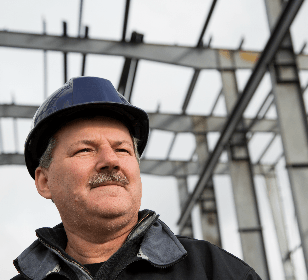 February 27, 2017
Cape Breton Island Building & Construction Trades Council strengthens the economy, builds skills, and gives back to the community
By Erin Elaine Casey
The Cape Breton Island Building & Construction Trades Council might be the biggest local organization you've never heard of.
But many Cape Breton residents have felt the positive effects of their efforts. Just last fall, carpenters responded to the Thanksgiving Day flood by holding a barbeque to raise money for Brookland School, which sustained devastating damage. The union doubled the money raised at the event and bought school supplies for the displaced students.
And the Trade Council's contribution to the economy is even more profound. With roughly 3,500 to 4,200 individual members at any given time, the Trades Council is involved in almost every major construction project in Cape Breton, from new builds to improvements in schools, hospitals, recreation facilities, and transportation and energy infrastructure. The Trades Council plays a major role in building  the economy, helps ensure the health and safety of its members, and gives back to the community through charitable donations and volunteering.
Jack Wall has been President of the Trades Council for four years. He's also the business manager and financial secretary for the Sheet Metal Workers' and Roofers International Association Local 56.
"The Council was organized just about 50 years ago this upcoming spring of 2017," he explains. "It was designed to help the construction industries, along with the Nova Scotia Construction Labour Relations Association (CLRA), have peace on the job, so you wouldn't have two or three different unions going out on strike. The Cape Breton Council is the only multi-trades union in the region — we have 15 unions under one umbrella. We all negotiate together."
Wall notes that Trades Council members are involved in 90 to 95 per cent of all commercial and industrial work in Cape Breton. This includes the Emera Newfoundland & Labrador Maritime Link project at Woodbine, an electrical transmission system integrating the Nova Scotia and Newfoundland and Labrador systems; the Donkin coal mine reopening; and the newly complete Membertou Sport and Wellness Centre.
"We're also in talks right now with Bear Head LNG to come up with an agreement for that project. That could employ a significant number  of tradespeople — anywhere from 800 to 1,600 is quite possible," says Wall.
Membership in the Trades Council includes tradespeople and apprentices from every skilled trade: sheet metal fabricators, roofers, bricklayers, carpenters, electrical workers, insulators, ironworkers, millwrights, labourers, operating engineers, painters, plumbers, steamfitters, pipefitters, boilermakers, elevator constructors, teamsters, and more.
The Trades Council maintains two collective agreements: one commercial and one industrial. Every three or four years, the unions get together and work with the CLRA, which represents all unionized contractors in Nova Scotia, to start the bargaining. "Our member unions come up with issues important to them, submit them, and we go through them all. Whatever articles everyone agrees on are brought forth," says Wall. In addition to the main body of the agreements, each union has its own appendix to reflect different skills, safety training, and concerns.
"It works very well," says Wall, "because contractors only have to negotiate one time — not 15 times. Everybody wins."
Clayton Bartlett is Special Projects Manager for Roclan, a division of Dora Construction, a contractor specializing in larger projects like the North Sydney Marine Terminal and the new Sydney fire station. "We have an advantage because we deal with every union at once," he says. "I think it benefits everyone here."
"I've invested a lot of years in the construction industry and the building trades are a big part of my history," Clayton continues. "I have never had an issue with the building trades that couldn't be solved in a cordial and respectful manner. It would be safe to say that I would consider many of them as friends."
Jack Wall is extremely proud of the working relationships between the Trades Council unions and the contractors they deal with. "If a contractor calls me and they need something, I try to help," he says. "That happens all the time with our contractors. That's the kind of relationship we have with them. And tomorrow they might call me and need three people who need certain qualifications — and I'll get those people trained and get them on the job site by Monday."
The Trades Council also supports advanced skills training and upgrading for its membership, and supports individual unions in ensuring that tradespeople get the training they need to be employable. Union locals are involved with Apprenticeship Nova Scotia, supporting apprentices either as graduates from community college or if they enter directly into the workforce. It usually takes three or four years to complete the education and 6,000 to 8,000 apprenticeship hours needed to earn your Red Seal certification. "All the locals go above and beyond to look after their members for trades training," says Wall. Many have their own training centres and work with the Nova Scotia Community College (NSCC) and the province of Nova Scotia.
And don't forget safety. "We spend a lot of money for safety training. A lot!" says Wall. "Hundreds of thousands of dollars if you were to add it all together every year. We individually bring the member in and figure out what they need. Contractors are responsible for this, but we try to help the contractor out and make the member more employable. We don't want to send a member out to a job without the proper training. Some of the contractors help pay for this, and for some of the unions it's over and above what the contractor offers."
The Trades Council doesn't just work for its members. They also support many community groups and projects. They've been a major sponsor for the Cape Breton Tradesmen hockey team for over 12 years, in partnership with the Cape Breton unionized contractors. They were also the original backers for Cape Breton's dragon boat team, the Cape Breastoners. "They needed a boat, so many years ago we gave them money to help buy a boat and uniforms. That was very fulfilling for us, because they're still going strong. The contractors have come on board with this as well. We've been sponsoring the dragon boat festival together for the last eight to ten years," says Wall.
In the last two years, Wall and local radio personality Tashia Lee have raised more than $10,000 for the Salvation Army red kettle campaign by visiting all the local building trades unions for donations.
"Every building trades union in Cape Breton is constantly sponsoring local events, and especially for kids we jump on board," says Jack. The union locals also make substantial donations to projects like the Northside Community Forum, Inverness Hospital, and Cape Breton Regional Hospital Foundation.
The benefits of keeping local people working are easy to see. Not only do Cape Breton tradespeople enjoy the privilege of earning a living here at home, but the money they earn stays here in Cape Breton, supporting families and circulating in the local economy. "For every hour they work," says Wall, "they're donating money back into the neighbourhood and the community. Sometimes, it's two- or threefold. The Trades Council is a really nice example of how labour and business can work together."