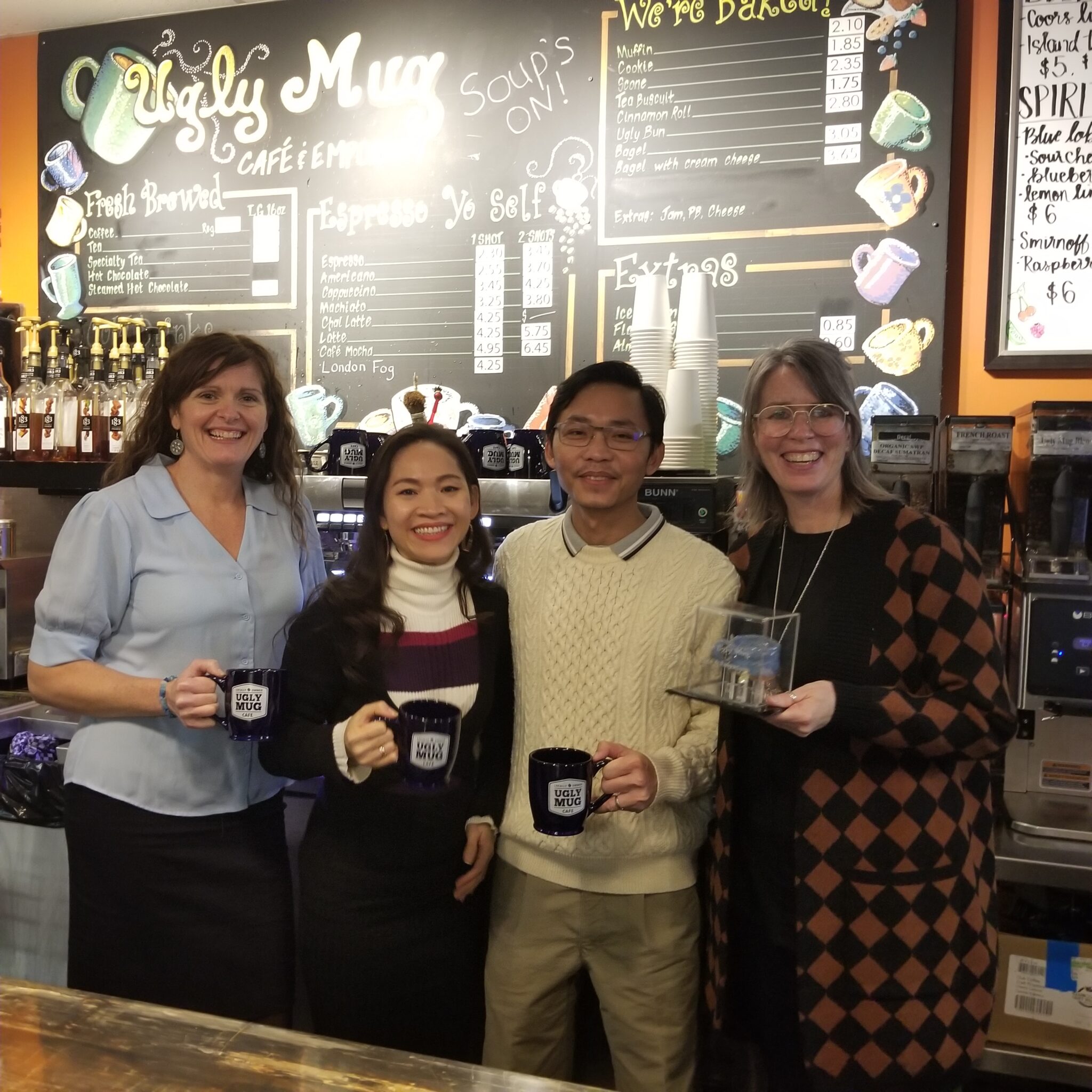 Ugly Mug Café founders Lori Latimer-Merlin and Tracey Hanratty pose with its new owners, Sang Pham and Julie Pham, who are set to take over Dec. 18.
December 16, 2021
Story by Carly Appleton, Communications Coordinator

When Lori Latimer-Merlin, a former government employee, and teacher Tracey Hanratty made the bold leap to make their business dreams a reality while coaching basketball together nine years ago, selling their dream one day was all part of the plan.
The Ugly Mug Café was the product of that successful partnership, and the Sydney café will soon take on new owners, as Hanratty and Latimer-Merlin are set to step down from the well-loved community coffee shop and boutique on Dec. 18, 2021.
Coffee connoisseurs and regulars, however, have no reason to worry about where they'll get their morning roast, because the Ugly Mug is in good hands (pun intended) as it changes ownership to the Pham family, who recently immigrated to Canada from Vietnam.
"The Ugly Mug was named by my niece, and after an 'ugly' mug that my 99-year-old grandmother made by hand in Arichat, which I still have to this day," says former owner Latimer-Merlin. "We both knew going into this journey that I had plans to retire and volunteer at 50, and that Tracey aspired to go back to teaching. We first met with the Cape Breton Partnership almost two years ago and created a description of our business and only shared with a handful of individuals that we were looking to sell."
Finding the right fit
While the pandemic added a challenging layer to the sale, causing an initial sale from an international entrepreneur to fall through, the two business-partners remained optimistic. They knew the right owner and fit could be found for their café, which has become like a second home to many in the tight-knit community of Sydney River.
"When the phone rang in May of this year, and it was the team at the Cape Breton Partnership letting me know that they had found someone interested in purchasing the business, we were beyond excited," says Latimer-Merlin, adding that it was the Partnership who made the match between Sang Pham, a recent Cape Breton University MBA graduate and former entrepreneur in Vietnam, who was looking to purchase a business and make Cape Breton his forever home.
"For us, it really came down to finding the right fit — an owner who cares about the community. We feel wholeheartedly that the Phams are the right fit."
And so far, it's been a perfect match.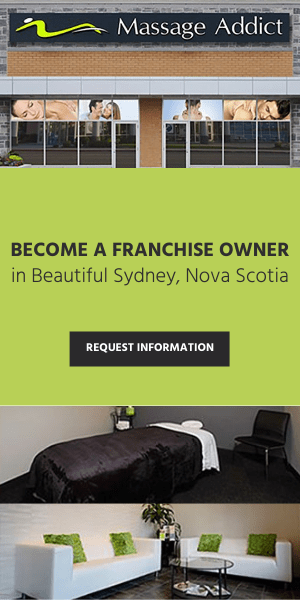 "Sang had attended a few of our events and information sessions about entrepreneurship and succession planning, and reached out to us looking for assistance in purchasing an existing successful business," says Tyler Mattheis, Acting President & CEO of the Cape Breton Partnership.
"Lan Zheng, our Business Growth Advisor, worked exceptionally hard to assist Sang and his team with the transaction, and to ensure that everyone was satisfied with the match and that they each met one another's expectations. This is a great example of when succession matching works and is beneficial for both parties."
Home at last
For Sang and his wife Julie, finding the Ugly Mug and being part of the community means the world to them and their young family.
"I want to get to know my customers the way Lori and Tracey have, I want to continue their legacy and leave a lasting impact on the community," says Sang.
The Phams are excited for the future and to continue the great work done by Lori and Tracey over the years to build the business, but they are excited to add their own little touches over time.
"We have future plans to add some traditional Vietnamese dishes to the menu, which we will slowly introduce," says Sang. "Thank you to the Cape Breton Partnership who helped me find the right business for my family and I to purchase, and to Lori and Tracey for spending valuable time with us to make sure we feel comfortable and that the transition goes smoothly."
Succession matching is just one of the services and supports the Cape Breton Partnership provides to the small local business community across the Island.
"If you are looking for assistance in either starting a business, already have an existing business, or are looking to expand and grow your business, our team of dedicated experts are ready and willing to help," says Mattheis. "From business planning to succession planning and matching, to name a few, our Economic Development Officers are located all across the Island to support Cape Breton – Unama'ki companies and entrepreneurs to continue making Cape Breton – Unama'ki a great place to live, work, and invest."
Current business opportunity
If you've ever dreamed of owning your own business in the 3-billion-dollar health and wellness industry, here's your opportunity. Massage Addict is currently seeking entrepreneurs to franchise their own Massage Addict location in Cape Breton – Unama'ki.
If you're ready to be part of a proven brand in a growing industry, visit massageaddict.ca/franchising/who-we-are, call 1-888-550-1080 x 112, or email MAfranchiseinfo@massageaddict.ca.
---
Elevate is Unama'ki – Cape Breton's business-focused publication brought to you by the Cape Breton Partnership. To evolve with our business audience, the publication has now moved from a print publication to fully online. Starting in 2022, our readers can expect to see Elevate articles appearing on both our website and on Saltwire.com.

---
About the Cape Breton Partnership
The Cape Breton Partnership is Unama'ki – Cape Breton's private sector-led economic development organization that supports companies and entrepreneurs by promoting our Island as a great place to live and invest; growing a culture that values and celebrates creativity, innovation and entrepreneurship; and connecting entrepreneurs and companies to the resources they need to succeed.
To learn more about how we can help you and your business and the FREE services we provide, please visit capebretonpartnership.com.