 June 5, 2020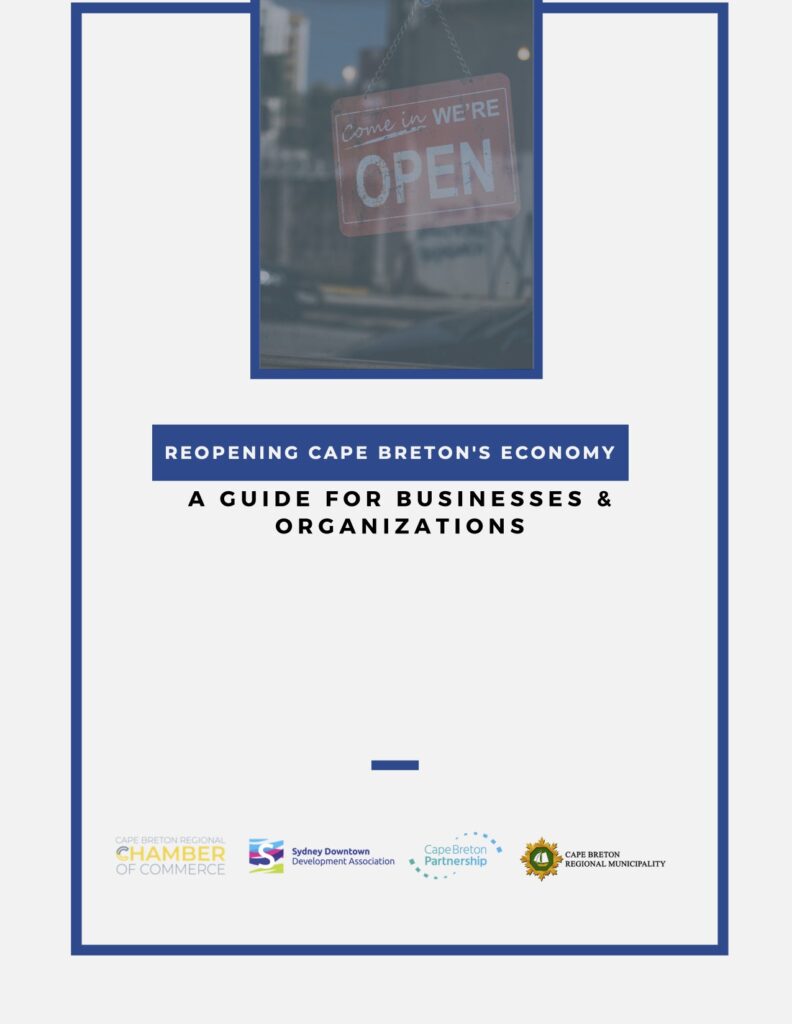 As Nova Scotia's economy begins to reopen today, several Cape Breton businesses and organizations are preparing to reopen their doors with the health and safety of employees, customers and clients top of mind.
In an effort to support the Cape Breton business community, the Cape Breton Regional Chamber of Commerce, Cape Breton Partnership, Cape Breton Regional Municipality, and the Sydney Downtown Development Association collaboratively developed Reopening Cape Breton's Economy: A Guide for Businesses & Organizations.
The document includes a clearly defined and detailed approach for businesses and organizations to safely reopen, checklists, resources and relevant contact information to assist with each phase of reopening.
Reopening Cape Breton's Economy: A Guide for Businesses & Organizations will be made available on each organization's website and shared via social media channels. 
As of today, June 5, 2020, most businesses in Nova Scotia required to close under the public health order can reopen.
When utilizing this guide, it is important to note that this is not a fully comprehensive guide to all possible responsibilities, obligations or actions that businesses may have to comply with. You are encouraged to review your sector's reopening plan if available. As sectoral plans become available through the Province of Nova Scotia, please ensure that you refer to these plans for specific guidelines and requirements outlined for your business type/sector. It is important for businesses to adhere to directions fromthe Province of Nova Scotia as they continue to provide reopening support and guidelines and/or new regulations for businesses to follow.
-30-
Media contacts:
Kathleen Yurchesyn
Cape Breton Regional Chamber of Commerce
902-578-4029 | kathleen@cbregionalchamber.ca
Michelle Wilson
Sydney Downtown Development Association
902-304-9996 | michelle@downtownsydney.ca
Megan Tonet
Cape Breton Partnership
902-202-4178| megan@capebretonpartnership.com
Christina Lamey
Cape Breton Regional Municipality
902-574-0178 | clamey@cbrm.ns.ca