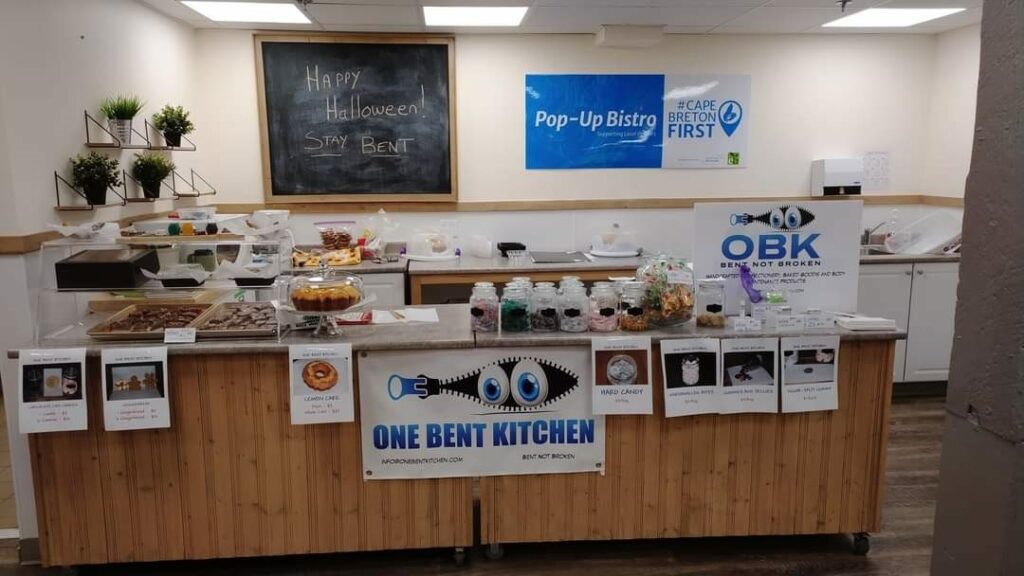 For Trevor MacLean of One Bent Kitchen, the Pop-up Bistro was an opportunity to turn his love of candy into a viable business.
March 18, 2022
Story by Carly Appleton, Communications Coordinator

If you have been to the Cape Breton Farmers' Market in downtown Sydney in the last few months, you may have noticed an exciting new addition to the market: the Pop-up Bistro.
Introduced in 2021, the Pop-up Bistro is a collaboration between the Cape Breton Partnership and the Cape Breton Farmers' Market. The initiative gives local food and beverage businesses the opportunity to try their hand at being a vendor at the market.
Since launching, the Pop-up Bistro has become much more to the local business community, helping local entrepreneurs grow their businesses and delighting customers with new local products.
A Great Learning Experience
For Paula Fortune, the Pop-up Bistro was the perfect opportunity to create something unique in her rural home of Belle Côte. Fortune and her husband Eric Rochefort are both trained chefs who have lived and worked in British Columbia and Alberta. Together, they created Salt Spray Farm.
"We are a family-owned and operated business," says Fortune. "We use all fresh ingredients and create delicious salad dressings that we are proud to share with all Cape Bretoners and visitors to the Island."
Fortune says that the Pop-up Bistro was just what she and her husband needed to introduce their products to the community.
"The Pop-up Bistro is a great initiative," she says. "It's a small time commitment, and it gives businesses like ours the chance to try out our dream and watch it become a reality."
Since Salt Spray Farm had their day at the market, they have seen a clear increase in social media traffic and interest around the Island. The bistro also gave Fortune and Rochefort the opportunity to introduce their products to other local businesses. Salt Spray Farms now offers its products at stores around Cape Breton, including Port City Grocery in Sydney, Marguerite Boutique Et Provisions in Chéticamp, Brook Village Grocery in Brook Village, and the General Store at the Cape Breton Farmers' Market.
"We've learned a lot about the process of food safety and nutritional testing, and now we're beginning to market and distribute our dressings," Fortune says. "It's been a great learning experience."
An Exciting Opportunity
For Trevor MacLean of One Bent Kitchen, the Pop-up Bistro was an opportunity to turn his love of candy into a viable business.
"One Bent Kitchen began as a hobby for me," says MacLean, who was a vendor at the Pop-up Bistro at the end of October 2021. "I am a candy lover at heart and wanted to share that with other people."
Famous for his Lemon Loaf, MacLean says that the Pop-up Bistro gave his passion project the boost it needed to start looking toward the future. Now he is gearing up for the cruise ship season and is excited for the chance to delight tourists and visitors with his yummy creations.
"This opportunity really allowed me to grow my hobby into a business and share my creations with the community," says MacLean. "Initiatives like the Pop-up Bistro are important for economic growth on the Island."
When asked what advice he would offer other hobbyist-turned-business-owners, he says, "I think it's important that if you have an idea or creation that you want to try out, go for it, even though it may seem scary at first. The reward is worth the effort."
New Growth in the Community
The bistro has brought a buzz of positivity to the farmers' market, with one business even signing on to become a weekly vendor.
"This experience has been very positive and beneficial for the market. It was a pleasure working with the Cape Breton Partnership and we appreciate their dedication and hard work in making this a big success," says Brenda Donahue, Chair of the Cape Breton Farmers' Market.
In its first six months, the Pop-Up Bistro was able to welcome 18 locally owned and operated small businesses into the market and give them an opportunity to showcase their products to market-goers.
"It was a win-win for both the market and the vendors who participated," says Donahue. "The fact that a number of vendors have asked to come back was a good indication they found it worthwhile. The feedback we received from both the vendors and the community has been outstanding."
Due to the success, the Market has decided to continue the Pop-up Bistro, allowing more local startups and small businesses to reach new customers and grow.
"This initiative helped us recognize that there is a need to provide space for startups as well as established small businesses who have been struggling during the pandemic. By continuing with the bistro, we will provide new and existing small businesses with access to new customers and the ability to test new products," Donahue says.
Another advantage to participating in the Pop-up Bistro is the networking component. New and existing small businesses can network with other entrepreneurs at the market and share ideas and knowledge.
"Running a small business is not for the faint of heart," adds Donahue. "We want to do whatever we can to help. Whether it's by sharing knowledge or providing advice, we must all work together to support our local economy and small business community."
To learn more about the Pop-up Bistro or if you are a startup or existing food and beverage small business interested in taking part, please contact the Cape Breton Farmers' Market at: cbfarmersmarket@bellaliant.com.
---
Elevate is Cape Breton – Unama'ki's business-focused publication brought to you by the Cape Breton Partnership. To evolve with our business audience, the publication has now moved from a print publication to fully online. Starting in 2022, our readers can expect to see Elevate articles appearing on both our website and on Saltwire.com.