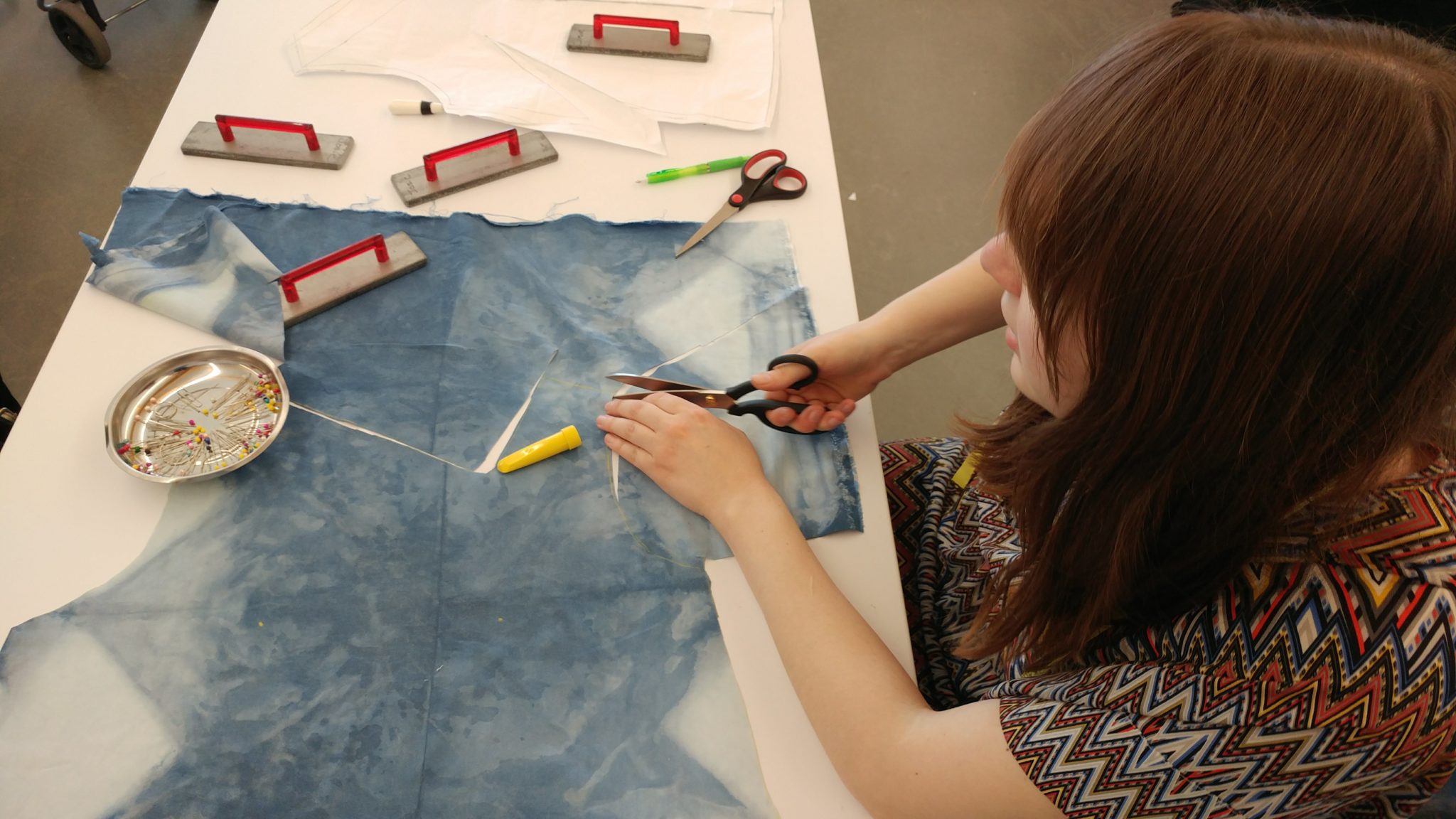 August 16, 2018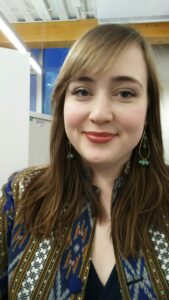 I just moved to Cape Breton from British Columbia one month ago. I am a designer and textile artist. I moved to Cape Breton because I was accepted to an artist's residency with Cape Breton Centre for Craft & Design at their new Customs House Artisan Incubator in Port Hawkesbury.
Before moving here, I had just received my BDes majoring in apparel design from Kwantlen University, but it was a long road to get there.
I think my upbringing had always led me to become a maker. I spent my childhood in McBride, a small town in Northern British Columbia. I feel very lucky to have had the childhood that I did. My childhood involved being outside and using your imagination to create things. The type of childhood that involved organic, uninhibited, unsupervised fun. The purest and most important aspects of childhood that are becoming too removed from us.
Growing up in a small town also exposes you to the humble aspects of culture and art. Too often we hold art on a pedestal as something that needs to be a statement. Something that needs to luxurious: big and loud and grandiose to be valid. I reflect and realise that so many people I knew were artists in their own rights. They may not have had a formal education or a title, but they had the will to create. They expressed identity and love through the things they created, and that is what art is.
My grandfather created hunting knives, my father created fishing flies, my grandmother knitted and sewed, my mother grew a garden and would can and pickle all sorts of things, my stepmother always had a home décor project on the go, or an old piece of furniture to recreate in to something new. Everyone I knew was creative! Though they would never say so, and I have them to thank for my creative values.
In high school, I never knew how visualize my life after I graduated. I just knew I liked to make things. I was never that keen on conventional art things like painting or drawing. I did those things just enough to visualise what I wanted to build. I came alive in home economics class, or woodshop class, where I could put my hands to something. The thought of university made me uneasy. I was never a bad student, but I wasn't really a bookish person either. I didn't know what to expect of it, because at that point in my life, I didn't know many people who had a degree. I decided on pursuing a degree in design because it seemed to be a happy medium to appeal to my creative desires and the working-class values I had grown up with. So, designit was!
I saved my earnings through high school, and worked full time for another year afterwards, saving the majority of my wages. I knew I would need to because furthering my education would involve moving to Vancouver, 800 km away from my home town. Pursuing that my education became the focal point of my life from then on.
Because I grew up in the working class, there was never a success story in my life of anyone who had a creative career. I always had this fear that an artistic career wasn't viable for me. I feel that my mentality really started to change last year when I got a scholarship to take an arts field school in Paris, France. Suddenly I was around all these artistic people who exposed me to a world I never even knew existed. I met people who were practicing artists and got to see that it wasn't such an impossible thing to do if you could find a way to get in contact with the right people and the right resources.
That field school gave me the confidence to own my creative ideas and not shy away from having my own aesthetic and vision. It was hugely important for me in creating my thesis project for my final year of university.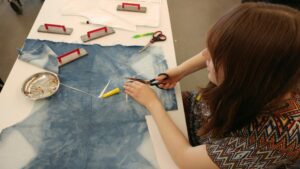 Flash forward to April of this year at my graduation show. It was happy times, but it was also bittersweet. I was so proud of all of my classmates, to see all of their beautiful work displayed. All of the countless dollars, hard work, sleepless nights, and tears we had put in. All of the sacrifices we had made to create something beautiful of our own creation and vision. I looked around at all of my classmates and couldn't help but feel sad. We had shared an adventure together, we were all on the same team, we helped each other grow and excel at our craft. But I realized that we were all about to find our own paths. I realized to that I had been so fixated on attending university for most of my life, I didn't know what was next for me.
This summer after I graduated, I was working part time in a restaurant while making and selling my art on the side, and trying very hard to find professional work in design. I applied to over 40 jobs and interviewed for 7 of them, but I always faced the conundrum of having the qualifications, but not enough experience to be deemed hireable.
I saw an advertisement for Cape Breton Centre for Craft & Design on Facebook one night, I bookmarked it at first. I looked at it twice before I opened the application form. Some part of me didn't really trust it, didn't really want to believe it. I don't think I had ever given anything from an online ad a chance.
One day, when I was feeling particularly let down after yet another rejection for a job I had really wanted, I opened the application, thinking, "what have I really got to lose?" I read the application, and I was shocked by its remarkably positive and approachable tone. It seemed to directly speak to people like me! People who use unconventional mediums, people who may be self-taught, or people who come from non-fine arts backgrounds. Most of all, what stood out is that Cape Breton Centre for Craft & Design wanted to help artists who want to exist in business and not just in academia.
You must understand, I had applied to other residencies, and many of them seemed to be looking for artists that are established professionals and very traditional in their mediums, and I never felt that I fit that mould.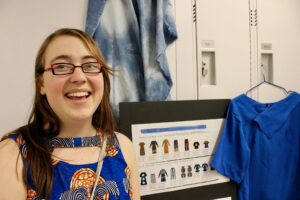 I sat at my computer and stared at the application, just thinking "How can this even be real!" I suddenly realized I wanted this so bad that I was afraid to start, because I was afraid to fail. So I just started drawing. I started churning out ideas of what to create. I completed the application little by little, to remain clear headed about it.
I went on to do a Skype interview with Cape Breton Centre for Craft & Design. It was the day before my formal convocation ceremony. It was so much all at once! I was grateful to have my family there to support me and help me prepare.
I found out about a week later that I had been accepted, I have never been so elated in my life! Truth be told, I was in a rough place. I'd had too much failure and not enough success, and I was just running out of stamina to bounce back from it anymore. I felt disheartened that I had worked so hard to get though university on my own, and it didn't seem to mean anything to anyone else. I was ready to give up. Vancouver is also an expensive city to live in. I had tried so hard, but I was broke. I was running out of savings, and my restaurant job couldn't pay the bills on its own. I had told myself that if I didn't find something better by the end of June, I would have to go back to my hometown. Cape Breton gave me a chance when I needed it most!
Cape Breton has been my light at the end of the tunnel, to prove to me that this has all happened for a reason. That even if my journey has had some stumbles, even if the path has been a zig-zag rather than a straight line, it doesn't mean that all is lost. And it has shown me that there are others out there who want to see me succeed.
So when I got the acceptance email, I phoned into my job at the restaurant and gave my notice. I called my landlord and gave them notice too. I called my mom and planned a date to move. I went down the street to the convenience store to ask for some boxes, and I got packing that same day. I messaged my friends and told them we needed to plan a celebration. It happened lightning fast, but I never felt a moment of doubt about the decision.
My parents were wonderful and supportive of the move. They drove nine hours and back in the span of three days to help me go through everything I owned. It was still hard for them, I can tell they were sad, especially with me moving so far away, but they were excited for me too.
My family has never been to the east coast, but now everyone is happy to have a reason to visit! My sisters ask me about the landscapes, and they ask for pictures of the sunsets. My parents are envious of the music that surrounds me, and I make sure to tell them all about the concerts I have been seeing. Everyone wants photos of Fred Penner next week, so I'm on a mission now.
I have been so overwhelmed by the kindness of everyone I have met in Port Hawkesbury so far. People have welcomed me into their homes and talked to me as if I am a familiar friend. In the Customs House, I have met people that are more than willing to share resources with me and help find ways to get my work out there. It is refreshing to see people invested in their community. I feel so happy to be here and optimistic about what I can bring to this community in return for all they have done for me.