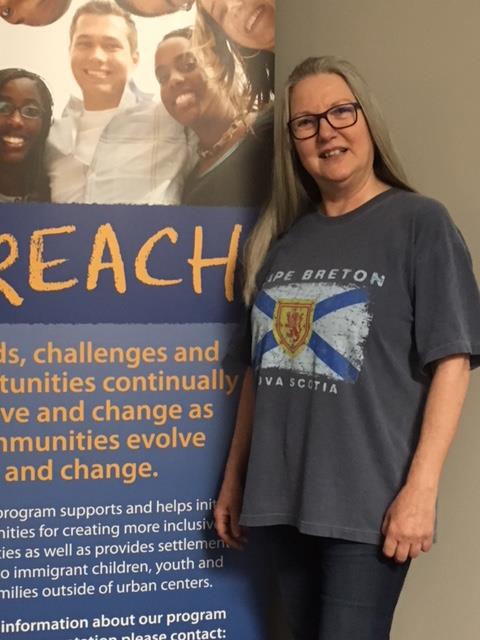 July 12, 2018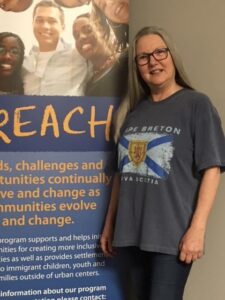 Meet Bridget Benz.
Bridget Benz and her husband (Joe MacHoll) were on the hunt for a property in northern Germany for a couple of years back in 2005 with no success. During their internet search, a property grabbed their attention on Cape Breton Island, Nova Scotia. At the time they had no clue where it was. They came for a visit in 2005 with the purpose of discovering what this place is all about. During that visit, they loved the island and bought the property.
Six years later in February of 2011, they moved permanently to Cape Breton Island and established two new businesses. One is a Bed & Breakfast run by herself called Fiddlers Lake, and the other is an IT Services Company run by her Husband called MacHoll.
When it was time for Bridget and her Husband to attain Canadian citizenship, they gave up their German passports/citizenship and became Canadians in 2015. When asked why did they stay in Cape Breton? Bridget's response was "Cape Breton Island is one of the most beautiful places on earth :-)"
So we followed up with another question, what do you love about Cape Breton? Bridget's response was "See my story 'Caprena". Caprena refers to Cape Breton and it is a story that was written as an assignment during her English class at YMCA's YReach Settlement Program, and it is followed by a reference to a song written by Robert Felix Quinn called, 'My love, Cape Breton (Caprena) and Me.'
____________________________________
"This homework was not an easy to do. I started to think what it is really important in life. What changed my life, which persons effected my life and my thinking?
Besides my dad, the first thought which popped in mind was a very nice lady. Let's call her Caprena. Caprena is not young anymore, but still alive. She is not that big. She is proud, full of inspiration and more than beautiful for her age.
I was first introduced to her in 2005. Back then I was not sure if I liked her. She was so different then the rest I knew. At that point I decided to wait what would happen to me when I was with her.
During the next years she showed me what life is all about. It's not about the material things. It's not important to have a lot of cars, big houses, a good job or some designer clothes to be happy. The easy things in life is what truly matters. Community, friends, satisfaction, nature, respect and acceptance. It was not new for me, I was raised that way, but it was buried somewhere, somehow in the passed.
Caprena opened me the way back into church once a week as a reminder not forget to be good in my little world. Therefore I met a lot of people and dipped deeper into the community. I learned that a lot of people here help each other, working as volunteers to bring in their knowledge and time or donate money to different organizations or people, no questions asked.
Furthermore Caprena wanted me to adopt her special lifestyle which was and still is a challenge for me. Be relaxed, stay calm, be patient. Do not rush, don't be too picky and very important to know: use the word disappointment only if something is really, really, truly bad. I should never use this world slightly.
To sum up I fell in love with Caprena and still love her and guess what:
Robert Felix Quinn wrote a song about her:
My love, Cape Breton (Caprena) and Me…
Sing me a song of your hills
Of mountains and waters so still
A song that will speak of the magic of three
My love, Cape Breton and me
Teach me the ways of your land
Where power and peace go hand in hand
It's all that I want in this life and it's free
My love, Cape Breton and me
Always your rivers are calling to me
I hear the sound of sweet melody
When we're apart and I feel so alone
Carry me home, carry me home
If my time could end perfectly
I know where I'd sant it to be
God's gift of heaven would be made up of three
My love, Cape Breton and me
It's all that I want in this life and it's free
My love, Cape Breton and me