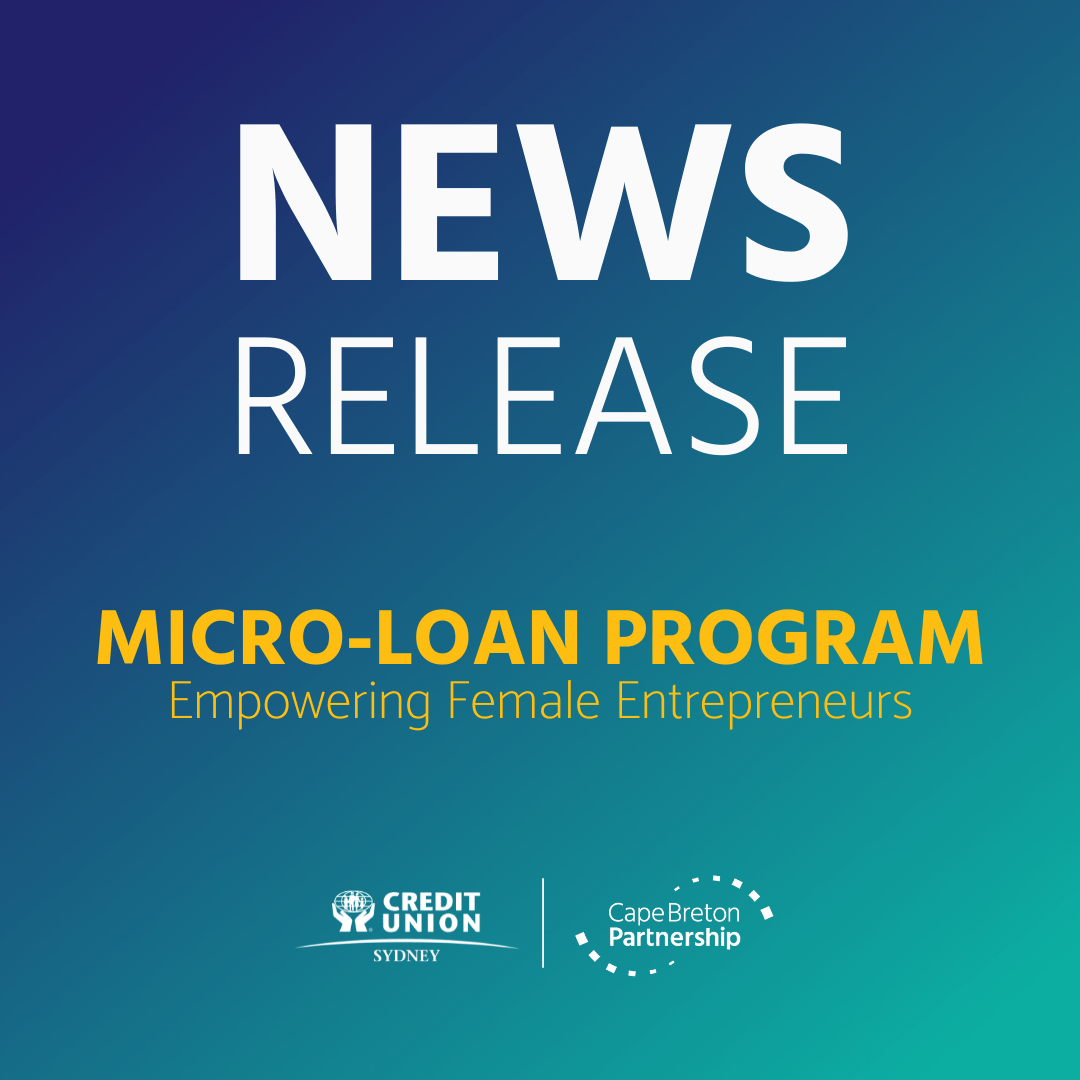 December 15, 2022
Cape Breton Island, NS – The Cape Breton Partnership, Sydney Credit Union, and Cape Breton Regional Chamber of Commerce are proud to announce that the latest round of the Micro-Loan Program is now accepting applications from Female Entrepreneurs in Unama'ki – Cape Breton. With a focus on supporting the development and expansion of emerging businesses, as well as driving new employment opportunities, the program aims to empower local female entrepreneurs and remove barriers known to deter new businesses from getting started.
As in past rounds of the program, applications will be accepted from any eligible entrepreneurs that identify as female based in Cape Breton – Unama'ki. All financial aspects of the loan will be managed by Sydney Credit Union and each application will be evaluated and considered on a case-by-case basis, following Sydney Credit Union's adjudication and due diligence process in making decisions to grant loans.
"We are pleased to enter into our third year working with the team at the Cape Breton Partnership for the Micro-Loan Program for Female Entrepreneurs," said Carol Ripley, CEO of Sydney Credit Union. "Our commercial lending team is enthusiastic about welcoming new applicants from Cape Breton – Unama'ki into the program and providing them with financial assistance and advice."
In addition to coordinating the program and acting as first point of contact for interested entrepreneurs, the Partnership will also be providing applicants with access to mentors, programming, and additional resources to encourage the growth and success of new businesses started through the program. Some available services will include business planning, support for export, immigration, economic research, introductions to external subject-matter experts, and more. A combined 15 entrepreneurs successfully accessed micro-loan financing and the available entrepreneurial supports through the first two rounds of the program in 2021 and 2022.
"Having seen the enthusiasm of many past participants in the Micro-Loan Program, we are very excited to be partnering with the Sydney Credit Union again to help offer this significant opportunity for Cape Breton – Unama'ki local female entrepreneurs," said Lan Zheng, CBRM Economic Development Officer employed by the Cape Breton Partnership. "We recognize that access to financing has traditionally been a barrier keeping many capable female entrepreneurs from pursuing their business plans, and this program is a great step in reducing that issue."
Under the Micro-Loan Program, female entrepreneurs from across Cape Breton – Unama'ki will be eligible to apply for a loan of up to $10,000, offered at a low interest rate, with zero percent interest for the first six months. Participants in the program will also receive a one-year membership with the Cape Breton Regional Chamber of Commerce.
" The Cape Breton Regional Chamber of Commerce is very excited to partner on this important initiative. Helping to remove barriers that women face when starting a business is key to ensuring we see more small businesses open across Cape Breton-Unama'ki," said Jenna Lahey, Chief Executive Officer of the Cape Breton Regional Chamber of Commerce. "We are looking forward to helping the recipients of these loans, with the Cape Breton Partnership, to access the supports they need in the business world in addition to the financial aspects."
The program will initially be available for three months, tentatively available until March 31, 2023, and will be considered for extension based on interest received from applicants. For more information about the program, including how to apply, visit https://capebretonpartnership.com/initiatives/micro-lending-program/.
-30-
Media contacts:
Jeremy Martell, Director of Communications
Cape Breton Partnership
902-631-5442
jeremy@capebretonpartnership.com
Pam Ellsworth, Community Relations & Marketing Manager
Sydney Credit Union
902-322-0030
pellsworth@sydneycreditunion.com