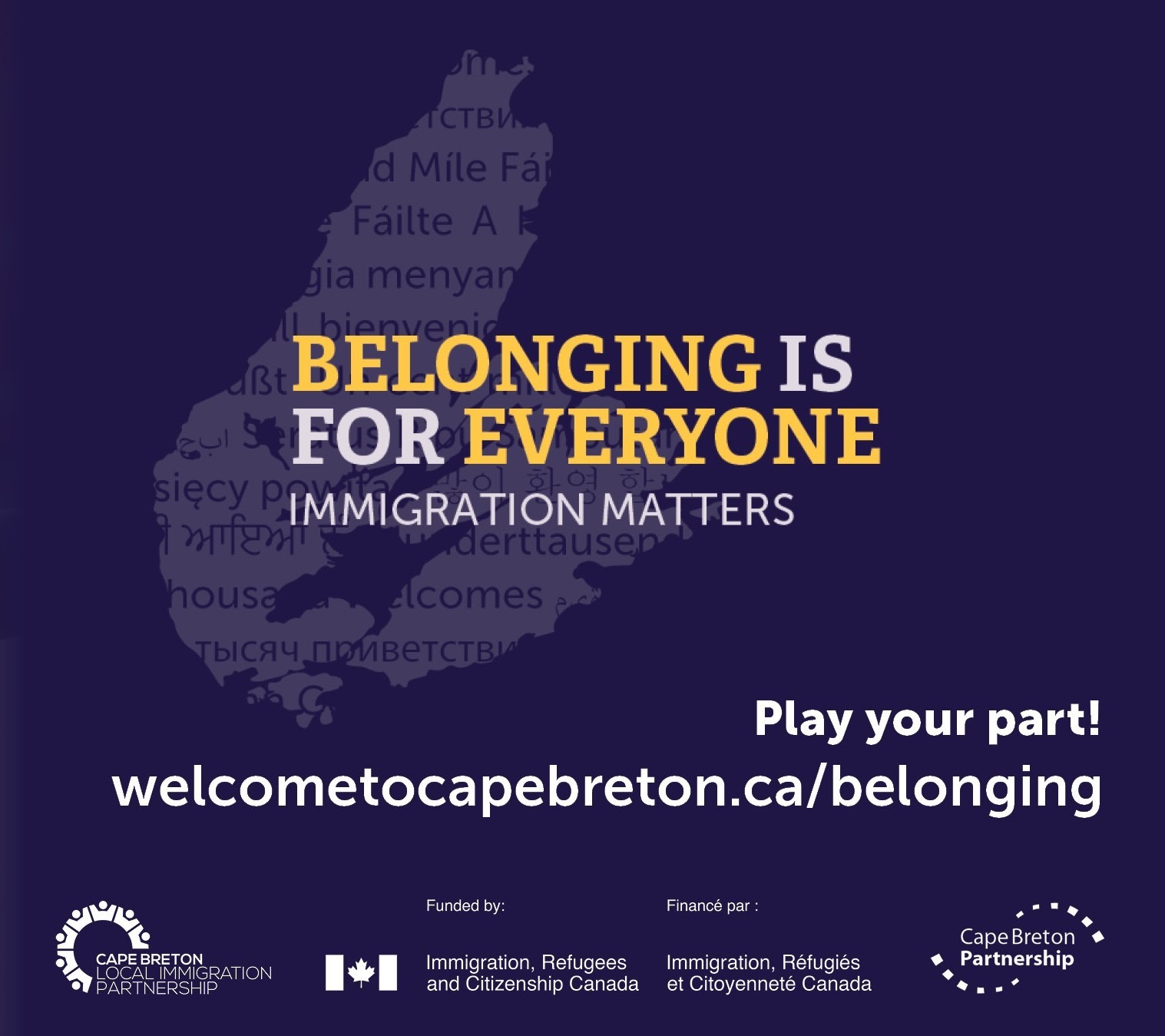 November 18, 2021
Cape Breton Island, NS – A new campaign focused on supporting welcoming and inclusive communities across Cape Breton – Unama'ki was launched today by the Cape Breton Local Immigration Partnership (CBLIP), an initiative of the Cape Breton Partnership. Belonging is for Everyone explores the roles that everyone can play to help newcomers feel that they belong and are part of the fabric of our communities.
"Immigration is vital to our economic future, and it is dependent on fostering welcoming communities to ensure that newcomers can feel that they belong—that this is home. A sense of belonging means connecting with the community and that is a vital part of what inspires newcomers to remain in Cape Breton – Unama'ki."

Carla Arsenault, President and CEO of the Cape Breton Partnership
According to Engage Nova Scotia's Quality of Life Index, Nova Scotians are caring, trusting and have a strong sense of belonging to their communities. These strong social connections provide valuable benefits for physical and mental health and have positive impacts across many sectors. Ensuring that long-term Nova Scotians and newcomers feel welcomed and valued, regardless of their background and birthplace, helps to create strong, cohesive communities.
The campaign will feature the faces of some of Cape Breton's newest citizens, including Amrinder Singh, a former Cape Breton University international student from India who has chosen to remain in Cape Breton.
"The main challenge for an immigrant is homesickness. It's not easy to leave everything and start a new life. That's why connecting, networking and meeting people is so important."

Amrinder Singh
Working closely alongside the Cape Breton Welcome Network, the campaign will also offer practical ways that longtime Cape Bretoners can help newcomers build that sense of belonging.
"We want to encourage everyone to get involved, to be part of helping newcomers in their community to feel at home. It can be as simple as exploring the neighbourhood together or hosting a meal for a new family. Every act matters, just as immigration matters."

Kailea Pedley, CBLIP Program Manager
Details on the Belonging is for Everyone campaign are available at: https://welcometocapebreton.ca/belonging.
-30-
Media Contact:
Jeremy Martell
Cape Breton Partnership
902-631-5442
Jeremy@capebretonpartnership.com
About the Cape Breton Partnership:
The Cape Breton Partnership is Unama'ki – Cape Breton's private sector-led economic development organization that supports companies and entrepreneurs by promoting our island as a great place to live and invest; growing a culture that values and celebrates creativity, innovation, and entrepreneurship; and connecting entrepreneurs and companies to the resources they need to succeed. For more information, visit https://capebretonpartnership.com.
About the Cape Breton Local Immigration Partnership (CBLIP):
The CBLIP is a collaborative initiative designed to foster welcoming communities that support the full participation of newcomers in the social, economic, political and cultural life of Unama'ki – Cape Breton. One of more than eighty Local Immigration Partnerships across the country, the CBLIP is sponsored by Immigration, Refugees and Citizenship Canada (IRCC) and administered by the Cape Breton Partnership. The initiative addresses the growing need for systematic community planning around immigration, settlement and retention. For more information, visit https://newtocapebreton.com/.