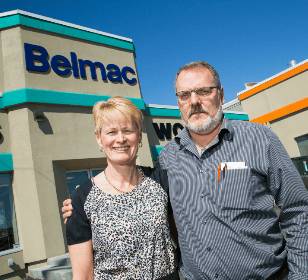 February 17, 2015
Sitting in the new administration office at 70 Dodd Street, Steven and Katherine van Nostrand reflect on the past year and the process of moving Belmac Supply Ltd. to their new location.
Initially, moving locations had not been considered as an option for the business. Their central location on Welton Street had allowed them to grow in a high profile area. As Belmac continued to flourish, their need for more space became apparent. Kubota, their tractor provider, required more space for sales and repairs, something that their building on Welton Street did not have. Plans for a much needed addition to the building were in motion when they were approached by Floyd MacCauly the previous owner of the Dodd Street building in January 2014.
The building size and price range that McCauly was offering was worth exploring, and the van Nostrands took a number of tours of the facility before making the decision to purchase the building.
"We did all our own drawings and measurements, envisioning the space as Belmac and imaging the possibilities that would be open to us with this space" says Steve.
"Steve's vision was a lot clearer than mine in the beginning months" explains Katherine. "It's difficult to imagine, but these administrative offices were once wash bays for the old dealership."
Once the renovations were completed the building was transformed from the dealership showroom and mechanic shop to a modern, wheel chair accessible building accommodating uniforms, lawn and gardening supplies and commercial tractor sales. It was important to the van Nostrands that Belmac maintained the integrity of a locally owned business serving the local community. With a staff of 26 employees, including a seamstress, they have spent the last 20 years building their loyalty and capacity to look after all of their customers' needs to the best of their ability.
Belmac Supply is a destination store for a wide range of Cape Breton's diverse work force. To stand out amongst their competition, Belmac has developed an operating philosophy that has grown with them in their past twenty years of operation.
"We try to identify categories and lines that are not being serviced well by other businesses in the area, and then find a manufacturer within that category that not only has a high profile, but a genuine interest in the satisfaction of consumers" explains Steve. "It makes it easier for us as the distributors when the manufacturer has a real interest in the needs of their consumers, and isn't solely concerned with the distribution and sale of their product."
Despite the challenges that are faced when moving a business, Katherine and Steve van Nostrand have had an excellent first month in their new location, even with losing a week and a half of business due to the move as well as unforeseen snow days.
Belmac has received a lot of visitors in their new location, noting many new faces along with the familiar ones.
"I think a lot of people had it in their minds that Belmac was a whole sale provider and only certain people were welcomed to shop," Katherine shared. "But everyone is welcome to drop by and enjoy the Belmac shopping experience we have to offer."
Prior to the move, they had a large amount of inventory that couldn't be displayed due to space restrictions. Katherine enjoys the large amount of space the building provides with the ability to move around and change the floor displays to showcase different products and seasonal supplies.
Belmac will be celebrating their move to Dodd Street with an official grand opening celebration that will take place the weekend of May 30, 2015. There will be a barbeque, promotions and giveaways, along with a visit from the Kubota Truck. With two acres of land and excellent parking, everyone is welcome to join the Belmac team in celebrating the new location and the start of the summer season.
For more information of Belmac visit their website or phone (902)539-6006.