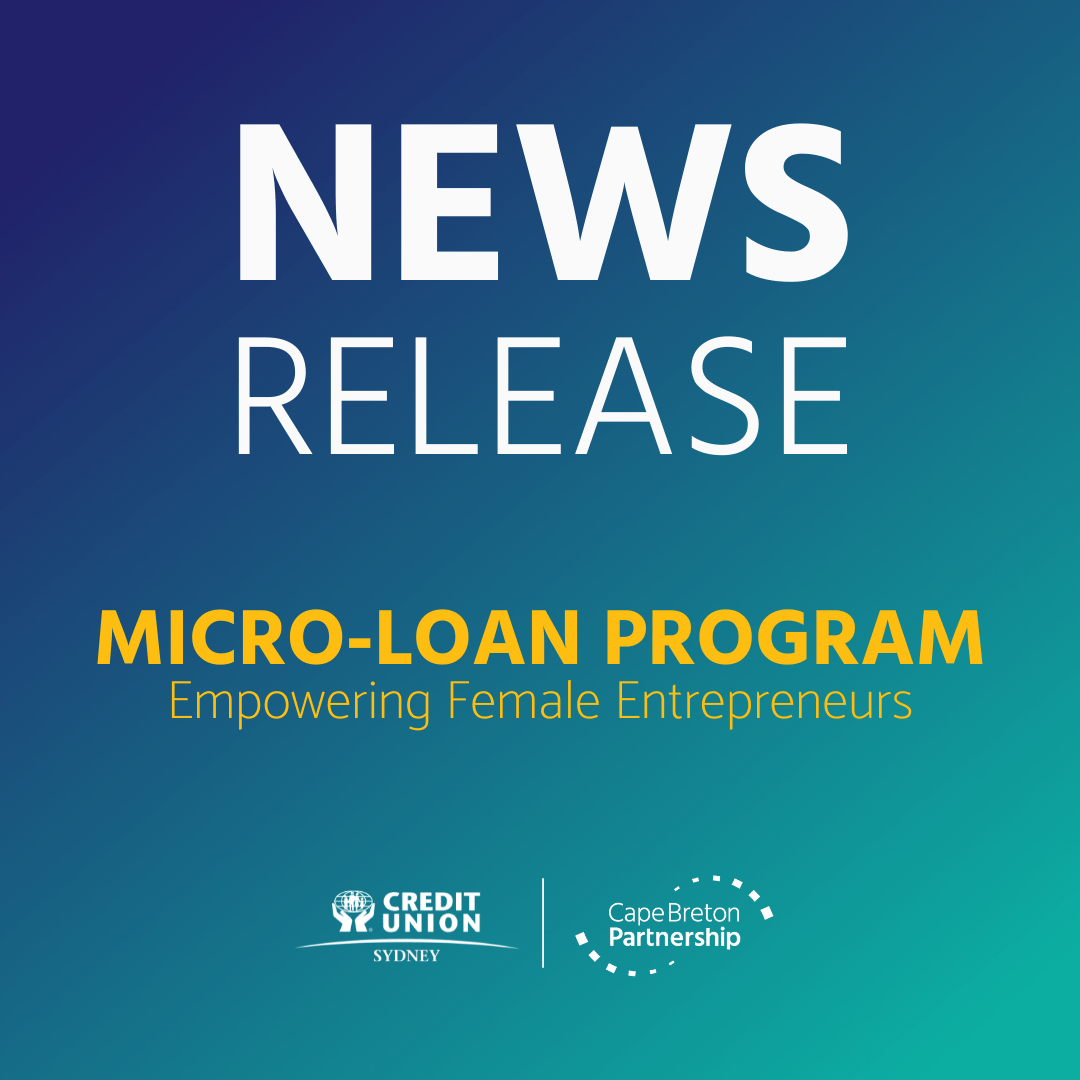 December 7, 2021
FOR IMMEDIATE RELEASE
Cape Breton Island, NS – The Cape Breton Partnership and Sydney Credit Union are excited to announce the renewal of the Micro-Loan Program for Female Entrepreneurs in Unama'ki – Cape Breton. The program places a focus on empowering local female entrepreneurs as well as creating new businesses and employment opportunities.
All financial aspects of the loan will be managed by Sydney Credit Union and each application will be evaluated and considered on a case-by-case basis, following Sydney Credit Union's adjudication and due diligence process in making decisions to grant loans. The loans will be offered at a rate of four percent, with zero percent interest for the first six months.
"We are pleased to be working with the team at the Cape Breton Partnership once again and look forward to assisting local female entrepreneurs with financial assistance and advice," said Carol Ripley, CEO of Sydney Credit Union. "Last year's Micro-Loan program was a great success, and our commercial lending team is enthusiastic about welcoming new applicants into the program."
In addition to coordinating and navigating the micro-loan program, the Cape Breton Partnership will provide access to mentors, programming, and additional resources that participating entrepreneurs might require such as business planning, support for export, immigration, economic research, and more.
"We are very excited to partner with Sydney Credit Union again, and to help bring this important initiative to our Island's female entrepreneurs," said Jenna Lahey, Workplace Inclusion Manager at the Cape Breton Partnership. "Additionally, this year we are proud to announce that we have revamped the program, setting aside 50 per cent of the loan funds available specifically for Indigenous female entrepreneurs across Cape Breton – Unama'ki."
For many female entrepreneurs, access to financing to build or grow a successful business is a barrier that the program hopes to help remove. The program has the support of female Indigenous entrepreneurs like Mariah Battiste, owner & founder of Sundaylace Creations in Eskasoni First Nation. "When times get tough, a small injection of cash, like a micro-loan, can help you survive the unexpected in business. It can provide just what you need to help move your business forward," said Battiste, who values the support the program is offering to Indigenous female entrepreneurs.
And moving forward is what the program is all about as the second round officially launches today, December 7, 2021. The program will run for three months, or until the program funds are allocated. For more information about the program and how to apply, visit https://capebretonpartnership.com/initiatives/micro-lending-program/.
-30-
Media Contacts:
Jeremy Martell
Cape Breton Partnership
902-631-5442
Jeremy@capebretonpartnership.com
Pam Ellsworth, Community Relations & Marketing Manager
Sydney Credit Union
902-322-0030
pellsworth@sydneycreditunion.com
About the Cape Breton Partnership:
The Cape Breton Partnership is Unama'ki – Cape Breton's private sector-led economic development organization that supports companies and entrepreneurs by promoting our island as a great place to live and invest; growing a culture that values and celebrates creativity, innovation, and entrepreneurship; and connecting entrepreneurs and companies to the resources they need to succeed. For more information, visit https://capebretonpartnership.com.
About Sydney Credit Union
Sydney Credit Union is a progressive, full-service, cooperative financial institution with more than 11,000 members and over $275 million in assets. When you open an account at Sydney Credit Union, you uniquely become both a member and an owner. As such, our relationship with all of our member/owners is based on our commitment to empower you to make the best decisions for your financial well-being. For more information, visit https://www.sydneycreditunion.com/Home/.