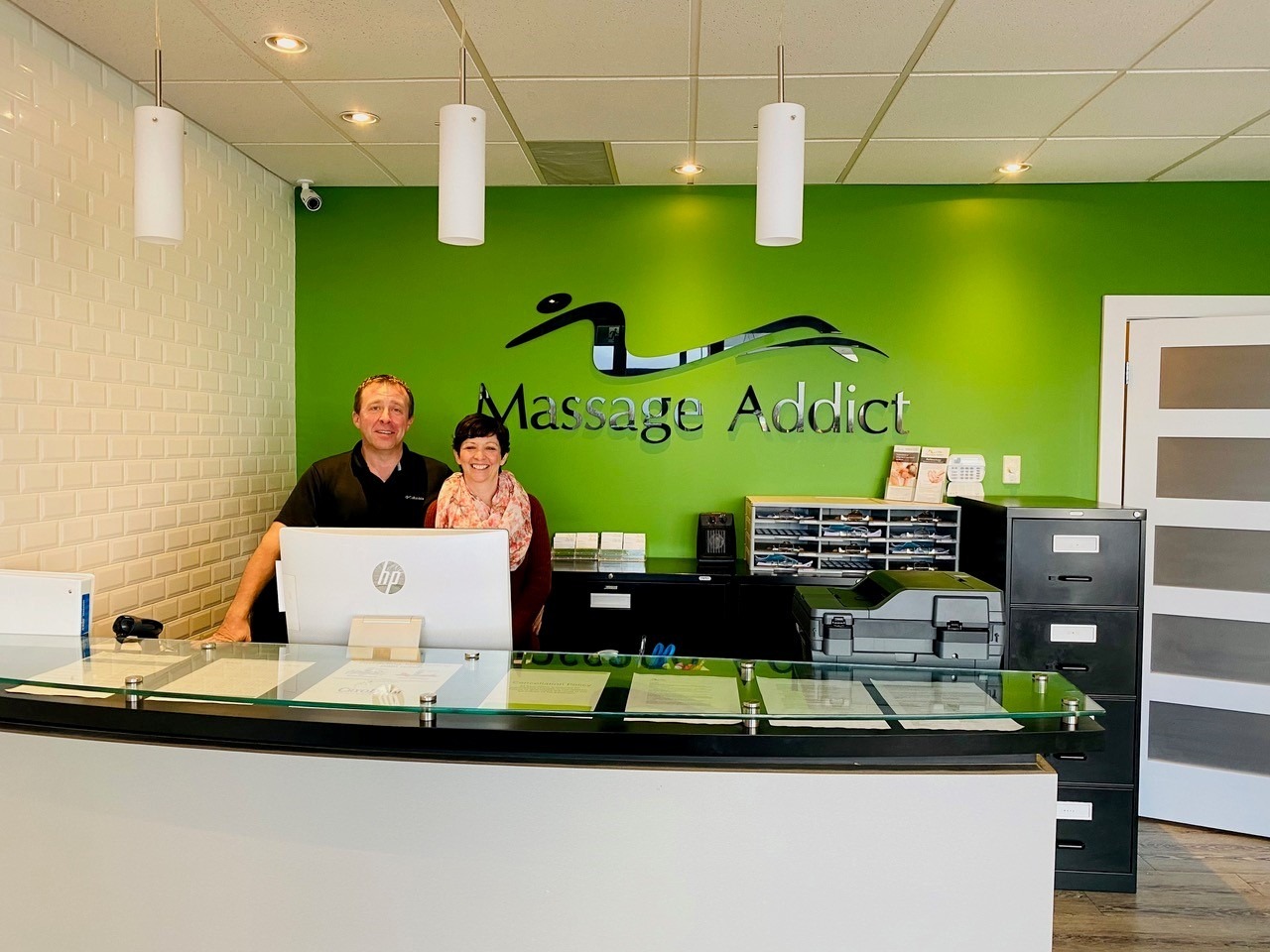 Troy and Judy Hulme at the helm of the Massage Addict location in Sydney River.
January 20, 2022
Story by Carly Appleton, Communications Coordinator

The opportunity to own your own franchise in Sydney River, NS
It was always a dream for Troy and Judy Hulme to move back home to Cape Breton Island. After living and working in Halifax for many years, Troy for the Navy and Judy for the federal government, an excellent opportunity presented itself – the opportunity to own and run their own Massage Addict franchise.
"It was my dream to own a franchise, and I looked into several, but not many offered the terrific support Massage Addict did," said Troy.
As a franchise owner, you are paired with a Business Advisor who is available to you whenever you need support. From the very beginning, through the building/ renovation stage, through to opening and after, their dedicated team of advisors are available to provide support.
So what made them decide to take the leap and venture into the healthcare industry?
"We were clients of the Massage Addict location in Sackville and we always had a great experience, so when one of the massage therapists told me about the opportunity in Sydney River, I immediately looked into it," says Troy. "Within the next few days, we met with Massage Addict and the decision was made."
The initial discussion with Massage Addict took place in the fall of 2015, and their location was built and ready to open on June 7, 2016.
"The franchise was wonderful throughout the process, we couldn't have done it without their ongoing support," said Judy.
What began as Troy's dream, has been made a reality thanks to Judy's business acumen and background.
"Troy took on a new job as a Marine Engineer from home that he really enjoys, so I stepped in to run the business," adds Judy.
In addition to the business being "pandemic-proof", and as an essential service, it provides a great opportunity for therapists to treat clients, without the extra work of booking appointments, doing laundry, or processing insurance.
"It's a great model, because therapists can come in and do what they love and that's to treat their clients, and I worry about running the business," she adds.
In addition to the many benefits, the membership model provides owners with excellent guaranteed monthly revenue, which allows the ability to offer benefits to therapists – such as medical and dental. The model gives clients the opportunity to commit to a monthly membership, which in turn lowers the cost of each individual massage.
"We currently have eight therapists with us, and we've had upwards of 14 in the pre-pandemic days," says Judy. "There is great potential in this business for a chiropractor, acupuncturist, or a reflexologist.
So why the decision to sell now when things have been going so well?
"Judy would like to retire and it was always our plan to build it, run it for a few years and then sell it," says Troy. "Now is the time for an energetic new owner to step in and continue what we started."
"We want someone to take over who is passionate about the community of Sydney River, about providing good paying jobs to the therapists, who in turn provide exceptional care to clients," says Judy.
When asked if they have any advice for the new owners, they say, "Embrace the support from the organization. Stay in regular contact with your business advisor and maintain relationships with massage schools and recruit new graduates."
About the community of Sydney River
The Sydney River Massage Addict is located at 45 Keltic Drive in the picturesque community of Sydney River. Centrally located in a major retail district of Sydney at one of the primary entry and exit points into the urban centre, the community is named after the river itself, also known historically as the Spanish River. This business location serves a population of approximately 133,000 people. Personal services, including massage therapy, is the third largest spending retail segment in this Primary Trade Area with more than $120M in 2019. A healthy 4.4 per cent growth in this segment is projected by 2024, and an additional 4.7 per cent of growth is projected by 2029 when more than $130M in spending is expected.
Sydney River boasts many amenities, and is home to a strong performing convenience sector that is anchored by Walmart and Sobeys, along with a cluster of local home furnishing retail businesses. With a total of 428,945 sq. ft. of occupied retail space, and a well- balanced inventory of branded to local independent retailers with high sales productivity, Sydney River is an ideal location for this successful Massage Addict franchise to continue its growth and success.
---
Current business opportunity
If you've ever dreamed of owning your own business in the 3-billion-dollar health and wellness industry, here's your opportunity.
Massage Addict is currently seeking entrepreneurs to franchise their own Massage Addict location in Cape Breton – Unama'ki.
If you're ready to be part of a proven brand in a growing industry, please contact:
Michael Mutsaerts
VP Franchise Development
Massage Addict Incorporated
1-888-550-1080 x 112, or email MAfranchiseinfo@massageaddict.ca.
A previous informational webinar is available here: https://register.gotowebinar.com/rt/135747225389892109
---
Elevate is Unama'ki – Cape Breton's business-focused publication brought to you by the Cape Breton Partnership. To evolve with our business audience, the publication has now moved from a print publication to fully online. Readers can expect to see Elevate articles appearing on both our website and on Saltwire.com.

---