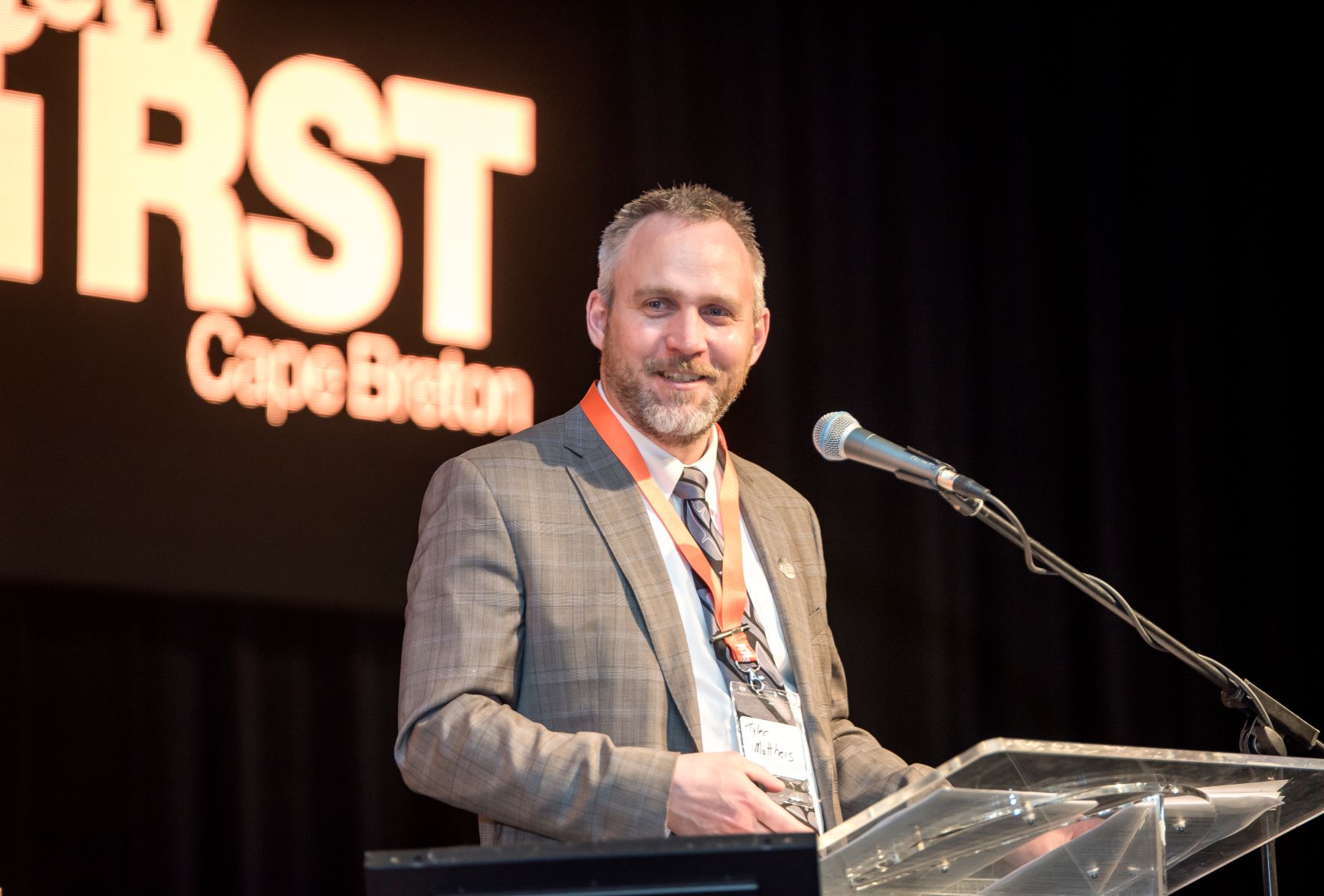 Cape Breton Partnership President & CEO Tyler Mattheis addresses attendees of the 2022 Safety First in Cape Breton Symposium. Photos by Anita Clemens.
May 24, 2022
Story by Carly Appleton, Cape Breton Partnership

On Wednesday, May 4, 2022, Membertou Trade & Convention Centre came to life as the Cape Breton Partnership, along with event partners and sponsors at the Department of Labour, Skills and Immigration (LSI) and WCB Nova Scotia hosted the 10th Safety First in Cape Breton Symposium, and the first in-person symposium since the pandemic began.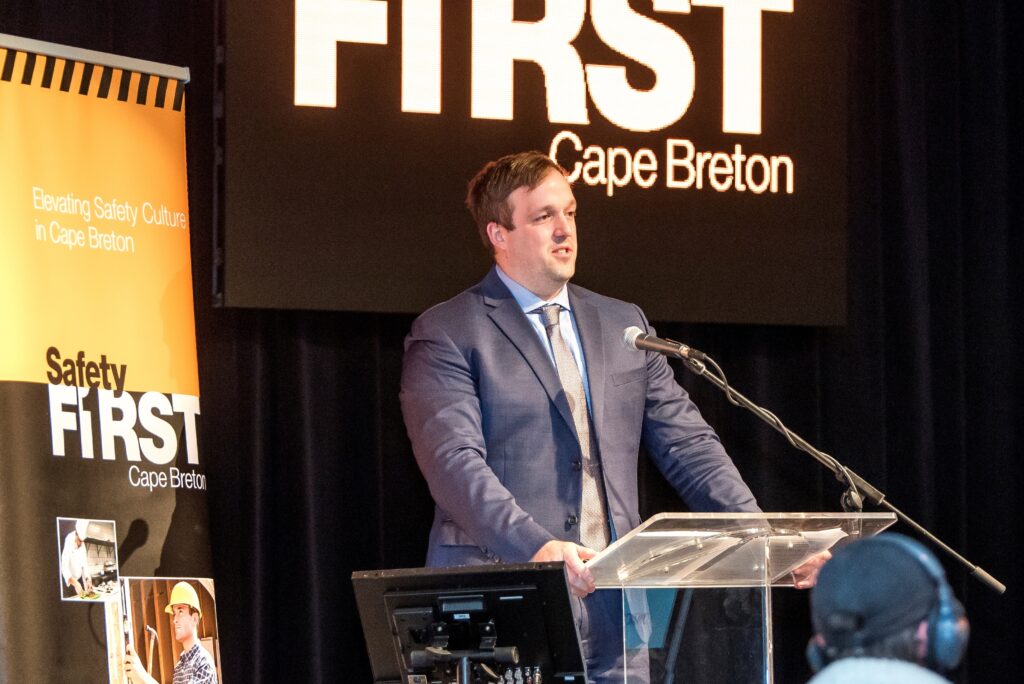 The day was filled with learning and discussion, featuring inspirational words from the Honourable Brian Comer, Minister Responsible for Mental Health and Addictions, keynote speaker Pamela MacLean, who presented Fearless Organizations – Promoting Psychological Health in our Workplaces, updates from both LSI and WCB Nova Scotia, three rounds of interactive breakout sessions, the 2022 Safety First Awards, and real stories of workplace tragedy and incidents from Joe Legge, a volunteer speaker and workplace tragedy survivor with Threads of Life, and David Seaboyer of Foreshore Property Specialists.
"It was terrific to be able to hold this event in person, "said Kelly Johnston-Noseworthy, Relationship Manager at WCB Nova Scotia, and Co-Chair of the Safety First in Cape Breton committee. "All of us have faced challenges in the past two years and, while some safety processes and practices have changed and evolved, one thing has remained clear – workplace health and safety has never been more important than it is right now. Being able to hold this in-person was a great chance for the Safety First Network to see first-hand the variety of industries that the network supports, and provide an engaging and interactive experience for attendees."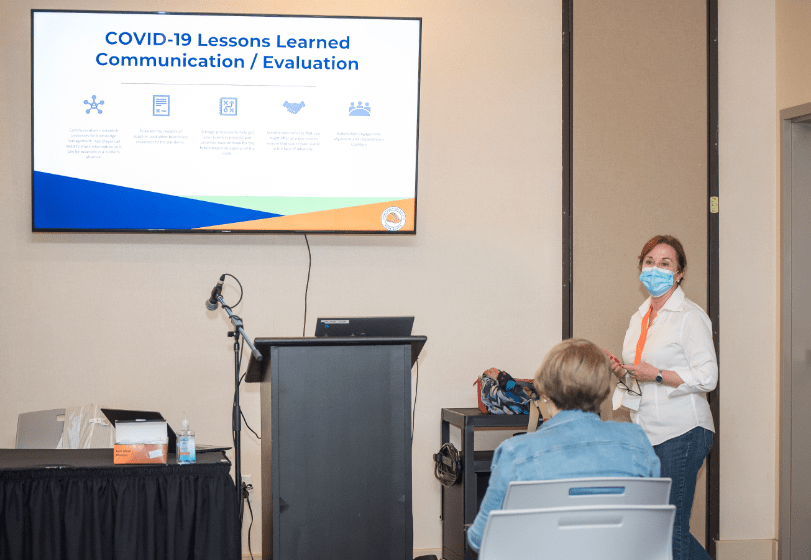 In addition to focusing on mental health and a variety of topics around wellness and physical safety, attendees were able to take in two stories of workplace tragedy. The stories taught attendees about the profound consequences that so many have to endure after a workplace tragedy, such as permanent injury, the loss of a loved one, and what the consequences are for a business or organization.
"We were so honoured to have Joe Legge share his touching and impactful story as a survivor of a very serious workplace incident," said Blaise MacNeil, Safety Advisor with the Nova Scotia Department of Labour, Skills and Immigration and Co-Chair of the Safety First in Cape Breton committee. "We were also grateful to have David Seaboyer present virtually to us about a workplace incident that occurred in 2018 and resulted in the death of Michael Wile, for which his company SiteLogic was found responsible."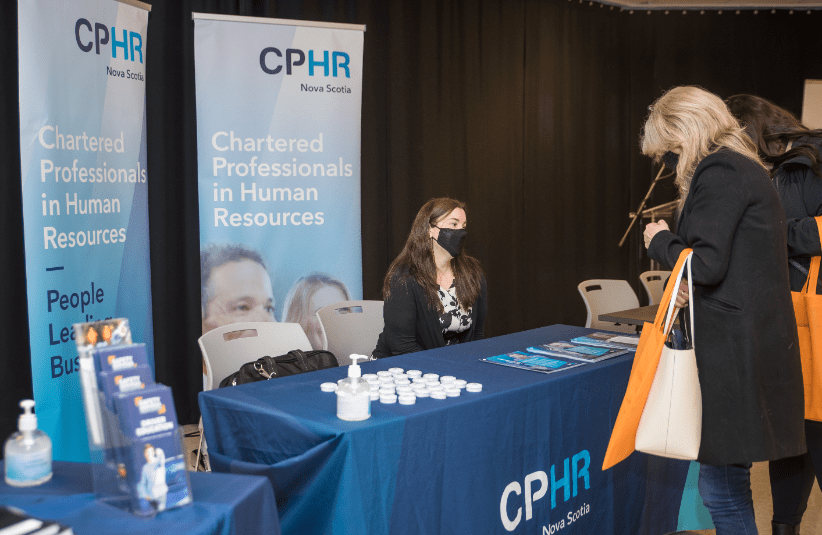 As a result of his sentence, Seaboyer was required to present the facts of the case as part of his sentencing requirements to workplaces around the province. While his requirements are now complete, he agreed to share his story at this year's symposium to continue spreading awareness about how safety negligence can lead to tragedy.
MacNeil concluded, "The reality is that nobody ever thinks a workplace tragedy will happen to them, but it's stories like Joe's, Michael's, and David's that we hope underscored the importance of following and adhering to workplace safety protocols. The bottom line is that protocols are in place to prevent incidents and we all must do our part to make Cape Breton – Unama'ki the safest place to do business."
To learn more about the Safety First in Cape Breton Network, please visit www.safetyfirstcapebreton.com.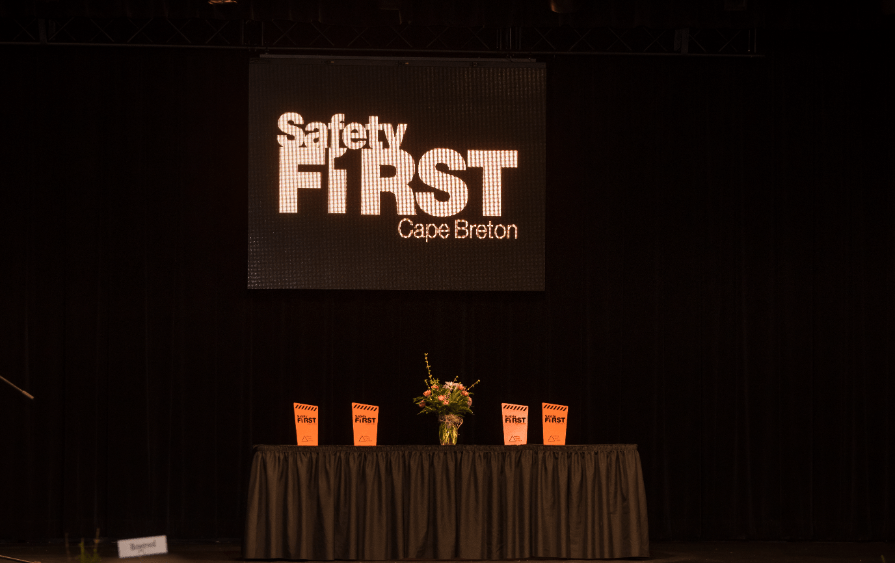 ---
Elevate is Cape Breton – Unama'ki's business-focused publication brought to you by the Cape Breton Partnership. To evolve with our business audience, the publication has now moved from a print publication to fully online. Starting in 2022, our readers can expect to see Elevate articles appearing on both our website and on Saltwire.com.