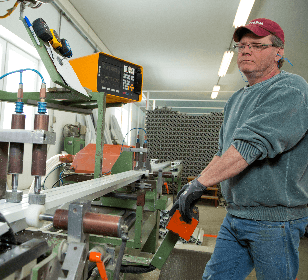 October 25, 2016
PolyTech Windows and Doors Keeps Quality and Comfort at Home
Nestled quietly outside the small village of Baddeck, PolyTech Products Ltd have been manufacturing a superior quality product for clients across Atlantic Canada since 1988. PolyTech's windows and doors offer you a European design that ensures you the utmost beauty, efficiency and performance for your home or office.
PolyTech's European Style windows and doors are manufactured locally in Baddeck and shipped to residential and commercial clients across Nova Scotia and the rest of Atlantic Canada.  PolyTech's windows combine contemporary beauty with easy operation, low maintenance and excellent ventilation, the unique mulit-point locking system ensures that the units are pulled tight to give maximum protection from water, air and noise infiltration.   Longevity is one of PolyTech's number one priorities and to achieve their goal each window is custom manufactured so it fits right the first time and their windows are subject to testing that simulates 100 years of operation.
The European design and style of the windows and doors made by PolyTech are ideal for handling Cape Breton's fluctuating climate. Their durability and efficiency of their products is what makes PolyTech so unique and gives them the ability to continue to offer the highest-quality Windows and Garden doors in Atlantic Canada.
Organization and teamwork are what keeps operations running smoothly at the Baddeck manufacturing facility. In 1995 the company had four fulltime employees and now there are 13 employees at the facility working both in the office and out on the floor. With the addition of more staff PolyTech is able to fulfil more custom orders and it allows production to continue effortlessly.
PolyTech has also made a concerted effort to adopt more environmentally friendly manufacturing process and recycles their waste whenever possible. Instead of throwing away the excess material that was been cut to shape and build custom windows and repurpose it to make profiles. The adoption of the green initiative has significantly reduced the waste being shipped out of the facility and given new life to otherwise useless materials.
Trends within the home building and commercial residence construction come and go more often the one might think. PolyTech has been working closely with a reliable team of architects, clients and Natural Resource Canada to stay on top of industry design and efficiency trends. For example, PolyTech has expanded their product line to include colored window exteriors so customers have options besides the traditional white borders. Another example is PolyTech's recent addition of their True Entrance Door System that operates on the similar tilt and turn system as their widely popular windows.
PolyTech's headquarters remains in Baddeck, but they have a secondary show room in Darmouth that was built to serve the Halifax, Bridgewater and Annapolis Valley areas of the province.
For more information about PolyTech visit their website at www.polytechproducts.com. Visitors are also welcome to stop into their showroom at 8819 Highway 105, Baddeck NS or 41 Williams Avenue, Burnside Industrial Park, Dartmouth.