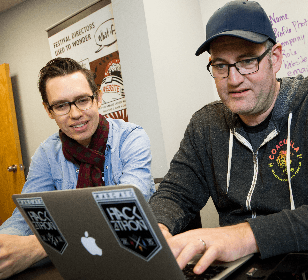 February 5, 2017
Marcato Goes Global
Contributed by the Cape Breton Partnership
The key to creating a successful product or business is to first identify a problem or gap within a particular industry, and then by using resources at your disposal and adding a little creativity, you can develop an innovative solution. The most important part of any entrepreneur's problem solving process is ensuring their solution is both accessible to potential customers and profitable. Marcato co-founders Darren Gallop and Morgan Currie have accomplished just that. They successfully established their company becoming world-class leaders within their niche market, the event management industry.
Marcato Digital Solutions essentially builds festival management software, over the years the company  expanded to cater to a diverse group of clients that manage massive amounts of logistics management. Darren and Morgan's team have developed a web-based platform with a series of custom packages that give their clients the ability to organize all of the behind the scenes elements of an event including accommodations, transportation, volunteers, security, vendors, etc. that go into a major festival, conference or event.
Darren's original idea for Marcato was going to be a tour management platform, which was derived from his experience  in 2006 managing a roster of artists and dealing with the logistical side of their travel and press. The idea grew when Morgan, who was developing a similar product in his role with Celtic Colours was pulled into the mix.
As the idea for the business started to take shape in 2007 and 2008, Morgan and Darren were able to narrow down their product by combining their respective logistical experience managing a tour and planning a festival.
"There was more appetite in the festival space that had people wanting to spend money to solve logistics problems," said Darren Gallop, Founder and CEO of Marcato. "So we just focused on the festival space initially, and then a couple of years ago we started broadening out to other types of events not just music festivals."
Fast forward to 2017 and Marcato now has clients in 27 different countries. Their applications are being used to manage over 200 world class organizations, including some recognizable festivals and events like Coachella, Osheaga, CMA Fest, Iceland Airwaves, X Games, Pride Toronto, the CMA Awards, and many more.
Technology is the foundation on which Marcato was born. Darren and his team capitalize on their ability to embrace change in order to follow industry trends and stay relevant.
"We have used the evolution of technology to our advantage," says Darren. "The job descriptions of people planning events has evolved and has required them to start thinking more creatively. There are a lot more responsibilities and expectations that you didn't have before and there are a lot more requirements to generate an overall positive experience for your attendees."
Marcato operates as a problem solving machine, providing support to their clients who work in high stress, fast paced environments. Most times support is provided through in house mediums like phone calls, email, skype, etc. However,  for some of the bigger events organizers will pay for a special service that has Marcato representatives onsite ready to help in critical moments.
Marcato has 16 people on staff, most of whom are under the age of 40, something which Darren is proud to acknowledge.
"We don't recruit with the intention of hiring young people, we are looking for talent, but the reality is that the age bracket and what we see in applications shows an imbalance between younger and older people," explains Darren. "The people that are willing to work really hard and long hours and that understand and follow current trends on software, social media and website design typically are young people."
So why is it important for Marcato to provide work for young people? "Ultimately, it's more like we really need young people. We need people in their 20s who are fresh and eager. But we also need people in their 30s and 40s who still have that drive, but also have that experience and know what they are doing. We need that diversity and I think going forward this company, and a lot of others need that balance."
2017 is expected to be a big year for Marcato with festival season just around the corner and with the recent launch of a new upgrade to their programming called, Marcato Live. Festival season kicks off with Coachella, a massive festival that takes place over two weekends in April, from there the festival line up just keeps going straight through until late fall.
Darren also acknowledges that geographically, Marcato is ideally set up in the Atlantic Time Zone so they can serve most of their clients in a fairly normal work day. By utilizing technology and making themselves accessible, it doesn't matter if Marcato is based here in Cape Breton, or across the ocean in London. What matters is how customers access the product and how Marcato delivers their service.
"It wasn't as much of a choice [to start a business in Cape Breton], it was more that we were already living here. If I am thinking of doing something, I am never thinking of where I need to move to do that," says Darren. "I think that decision to live here is because we were living here, the business was an afterthought for us. It was never we are starting this company where is the best place to do that, it's we live in Cape Breton, let's start a company."