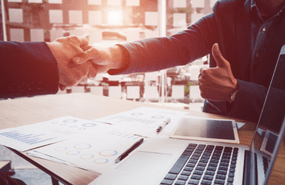 The Cape Breton Partnership's Business Planning Service enables entrepreneurs to take their ideas and turn them into professional and well-rounded documents for use in business start-up activities, business expansions, loan applications, program applications, and many other uses.
Our proven system provides guidance, asks common questions that banks and investors often ask, and allows you to go through the process in a secure online environment.  Once you've answered a series of questions, our Business Planning Advisor takes your answers and works with you to make them into an easy-to-understand final product.
Some of the services and activities we can assist with include:
Succession Planning;
Development of Business & Marketing Plans;
Budgets;
Funding and Wage Subsidy Applications;
Business Advisory Services;
Introductions with Other Service Providers;
and More!
We help entrepreneurs create over 100 business plans every year. Let us help you with your business plan today by filling out the below form!
---
This project is made possible by the Cape Breton Partnership's collaboration with Cape Breton – Unama'ki's First Nation and Municipal partners through both the Cape Breton Regional Enterprise Network and the CBRM Regional Enterprise Network.