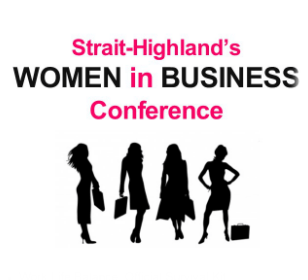 March 4, 2015
Despite the stormy weather, sixty women of diverse backgrounds and professions in Cape Breton, came together at the Port Hawkesbury Civic Centre to attend the Strait-Highlands Women in Business Conference on Friday February 13, 2015.
Eleven business administration student volunteers from the NSCC Strait Campus were invited to partake in the discussions and offer their insights as up-and-coming professionals. While taking notes and keeping speakers on time these young women were given the opportunity to participate and share first-hand experiences with women from a variety of professional networks and community organizations. Work life balance, networking 101, marketing advice for privately owned businesses and funding opportunities for individuals looking to expand their skills were among topics that garnered interest throughout the day.
Abbey Bowles of Antigonish, a first year student at NSCC, found these sessions helped her become familiar with the region.
"They helped me learn more about many of the different businesses around Cape Breton that I previously hadn't heard of and the range services they provide," shared Abbey. "The variety of sessions from the day allowed me to see what resources are available for me as a new young professional."
One session that was a particular hit among the students was 'Networking 101' with NSBI's Tara Milburn. Some of the students noted that they have not had much experience or opportunities for networking and really valued Tara's advice for making connections and building a personal network of mentors, coaches and supporters.
Colynda Pelley, another first year student really took to Tara's advice. "Before today I hadn't realized the importance of networking," said Colynda "Not only is it a crucial part of work life but it can help you create new opportunities in your personal life along with your career."
Conference attendees as well as family and friends welcomed home keynote speaker Deborah Gillis, CEO of Catalyst. A native of Port Hood, passionate womens' rights activist and business leader, Gillis shared her journey of professional success and obstacles she faced in a male dominated environment. Gillis also spoke about the power that role models, male and female, had in building her career.
As soon-to-be professionals, Gillis' speech resonated with many of the NSCC students in the room. Carissa Gillard, a second year NSCC student, felt that Gillis' speech helped her realize how important it is that women work together for universal success. "We as women need to start looking out for one another instead of trying to outdo each other in certain situations. This is especially true in the work place where women can face a lot of discrimination," explained Carissa.
"I will now try to be more supportive and helpful towards women in my future workplaces instead of basing decisions on first impressions. We may have to face unexpected challenges and we don't need fellow women creating more obstacles."
A noteworthy statistic from Gillis' keynote address is that by 2028, women will own more than half of the world's businesses, and be in control of the discretionary spending of the majority of organizations. Conferences such as Strait-Highlands Women in Business are crucial in helping women consider leadership while encouraging young professionals such as Abbey, Colynda and Carissa.