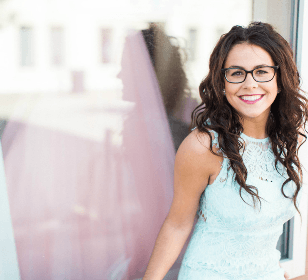 January 28, 2015
At 25 years old Brittany Woodworth is already making her mark by as an award winning entrepreneur, she is the owner of Timeless Moments dress shop in downtown Sydney.
Brittany has always had an entrepreneurial spirit, and participated in Junior Achievement programs through high school to develop her business skills. She had dreamed of owning her own business one day, but didn't realize how close she was to achieving this dream.
A graduate of St. Francis Xavier University Brittany returned home to Cape Breton after receiving her degree in business and leadership management. Following her graduation Brittney started a work term placement with the Downtown Sydney Development Corporation. It was during her work placement that Brittney made a key connection with Michelle Wilson, then owner of Timeless Moments who hired her to work in the dress shop.
After selling her first dress, Brittany was hooked. She and Michelle began discussing the idea of Brittany buying the shop. Fast forward to a year later and Brittany was the brand new owner of Timeless Moments.
During this last few months Brittney has brought new life into the store and moved locations to accommodate the influx of business and show off her expanding inventory. "It's amazing the impact and difference moving to a bigger location has had on the business," describes Birttney. "With the bigger space we were able to put more thought into the design and now it has the feel of a real dress shop with a bigger floor and more space for appointments."
Named Young Entrepreneur of the Year at the Sydney Chamber of Commerce Business Excellence Awards, Brittany has a lot of fresh ideas to keep up with the latest trends in formal wear. Brittany's vision as a business owner is to give her customers the best dress shopping experience possible.
"Prom and wedding days are a big day for girls and women, and I'm grateful for being a part of the process," says Brittney. "When I'm helping someone find their dress, it's never about the sale, it is always about the experience and making them happy and confident in their choice. If they are happy then I am happy."
Timeless Moments has gained a lot of momentum on social media over the last few months. The Instagram account had a record gain of 350 followers in one week and now has over 2,300 local and national followers. The Facebook page has experienced great growth as well, and Brittany is pleased to have another venue to communicate with interested customers.
"We have recently started posting photos of ourselves on the accounts, it lets the girls get to know us and develop a sort of friendship so they can have an even more personalized experience before they enter the shop," says Brittney.
The future is looking bright for Brittany and the Timeless Moments staff, including a new Partnership with Hind Hart Studios to showcase Cape Breton's beautiful landscapes with mock wedding photography.
"Cape Breton has some of the most beautiful locations for weddings we want to show our clientele that this natural beauty is ready and available for their wedding day, while also showcasing some of the shop's dresses that compliment the scenery," says Brittney.
Brittney knows that she is incredibly lucky to be able to be her own boss in the town she grew up in, supported by her friends and family. She encourages young people who are thinking of starting a business to just get out there and make it happen.
"We need more young people here to step out on a limb and take the leap into the business world. The longer you think about doing it, the less likely you will," explains Brittney. "It can definitely be scary at times, but it's worth that risk. It is a never-ending job, but being able to step back and say 'This is mine' is just so rewarding."
Owning a dress shop may not have been her original plan, but Brittney cannot imagine being anywhere else.
"I believe Sydney has so much potential, and I'm happy to be a part of it. If we can continue to build our economy by buying local and helping each other out it would be exactly what Cape Breton needs, every little thing matters."
Be sure to check out Timeless Moments at the upcoming Bridal Show at the Membertou Trade and Convention Centre on February 22, 2015.
Visit Timeless Moments online to check out their store hours or to make an appointment.