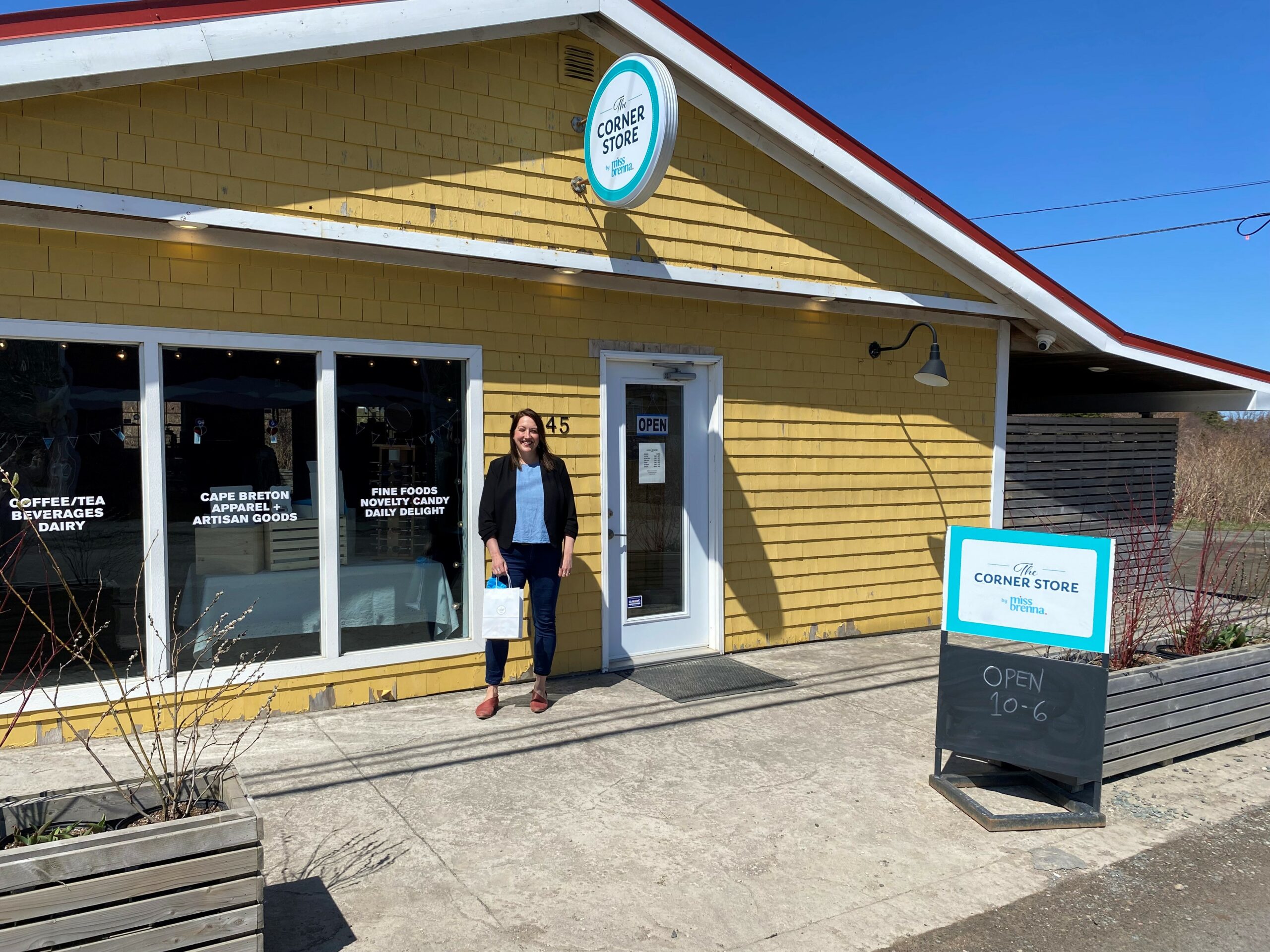 August 10, 2023
Story by Carly Appleton, Communications Coordinator

If you're passing through the bustling village of Inverness, N.S., you may have noticed a new shop in town – The Corner Store by missbrenna, located on the corner of Central Avenue and Broad Cove Banks Road.
For Brenna MacNeil, her dream shop at 15645 Central Ave. is the culmination of her creativity and the nostalgia of generations of her family growing up close to the corner that is now home to her new brick-and-mortar store. From apparel with MacNeil's own Cape Breton-style designs, to cards with beautiful photography, Italian goods, and so much more, there is something for everyone at the carefully curated Corner Store by missbrenna.
When MacNeil began designing apparel nine-and-a-half years ago as a way to keep her creativity flowing during her maternity leave, she never imagined that one day she would be cutting the ribbon to open her own shop in her hometown of Inverness.
"I just have to look at my daughter Lucinda to know when this really all began," says MacNeil, who owns and operates The Corner Store by missbrenna with her husband, Brandon.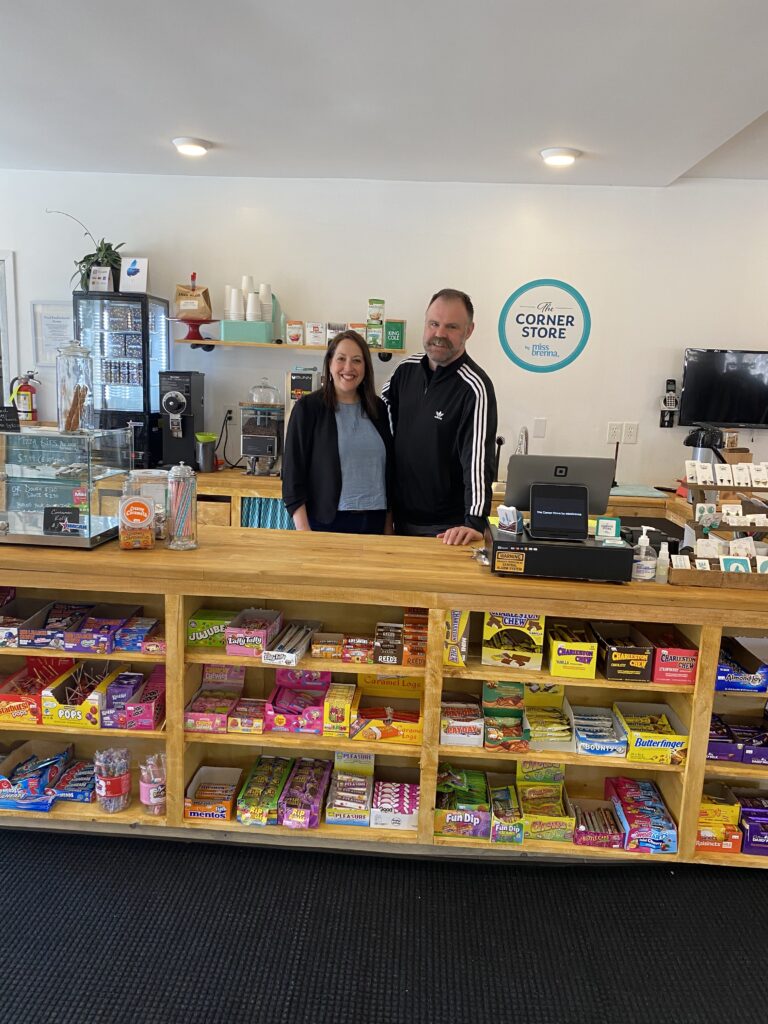 "I was on maternity leave from my role at Dalhousie University as a graphic designer and had created cards for a long time," she continues. "I used to take photos of scenery and glue them onto cards and sell them at a local shop, and then I went on to self-publish a book called 'twentythree' in February of 2011."
The book, 'twentythree,' was created as a coffee table book and included question-and-answer style cards, along with MacNeil's own photography that was sold at both the Farmers' Market in Halifax and Inverness.
"When I was selling the book, it became clear that the Cape Breton photography that I had included was really well received and popular, so I thought I would design a Cape Breton calendar for people to enjoy the beautiful scenery here," adds MacNeil.
It was after the success of her first calendar that MacNeil began designing her first pieces of apparel.
"I developed a colour palette of gray, green, and black and then took my designs to the Mabou Farmers' Market, and every time I ordered t-shirts with the 'I Love Cape Breton' design, they sold out," says MacNeil.
A corner store is born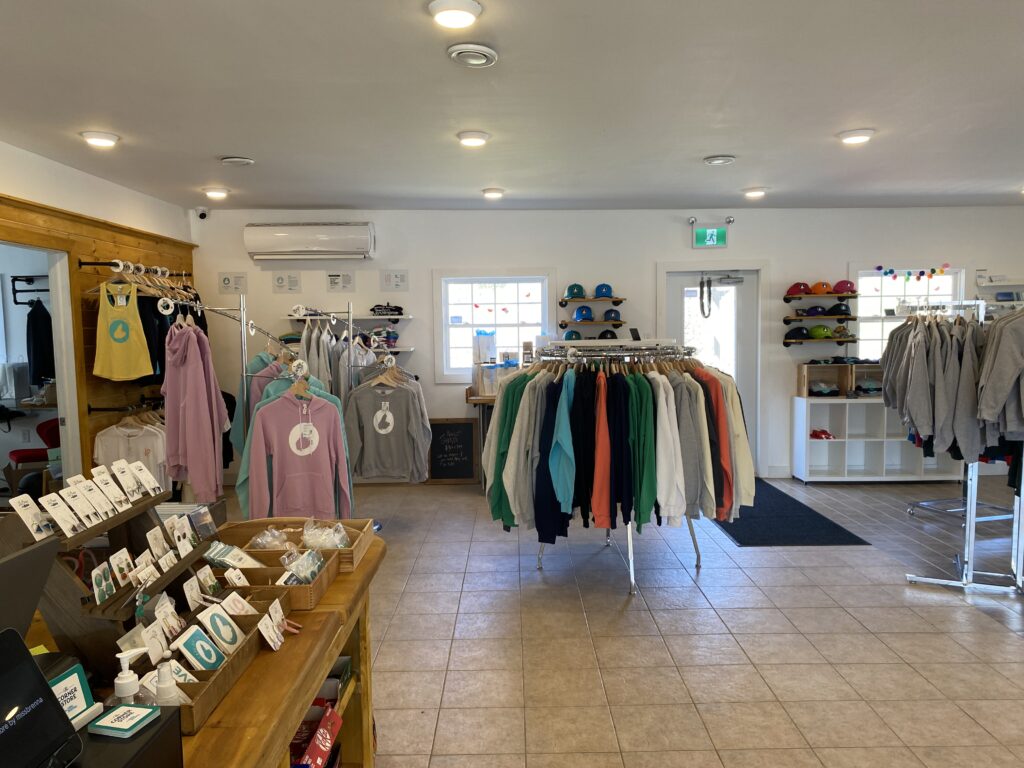 So how did The Corner Store by missbrenna end up on Central Avenue? It's quite the story, which MacNeil shares with a smile.
"It seemed like the ideal location, but it wasn't for sale at the time," says MacNeil. "I found out who the owner was, and I went to visit him at his home in town, and shared with him my brand and plans of what I wanted to do."
The owner was willing to listen to MacNeil's story, her passion for the community and her dream for the building and was quickly on board to sell her the place that is now home to her shop.
Before she opened the doors to her new shop, The Corner Store by missbrenna saw a spike in popularity during the pandemic when Chef Mary Janet MacDonald launched her Facebook Live cooking show, 'Tunes and Wooden Spoons,' wearing a "Cape Breton Crew" apron designed by MacNeil.
"I had gifted her an apron because she purchased some Christmas gifts from me for her grandkids," says MacNeil. "I honestly thought when the pandemic hit, business would slow down considerably, but once Mary Janet wore it on her show, I was flooded with orders. People from all over with a connection to the Island were buying them."
While she has had the support of the entire community behind her and her family's new venture, it hasn't come without its challenges.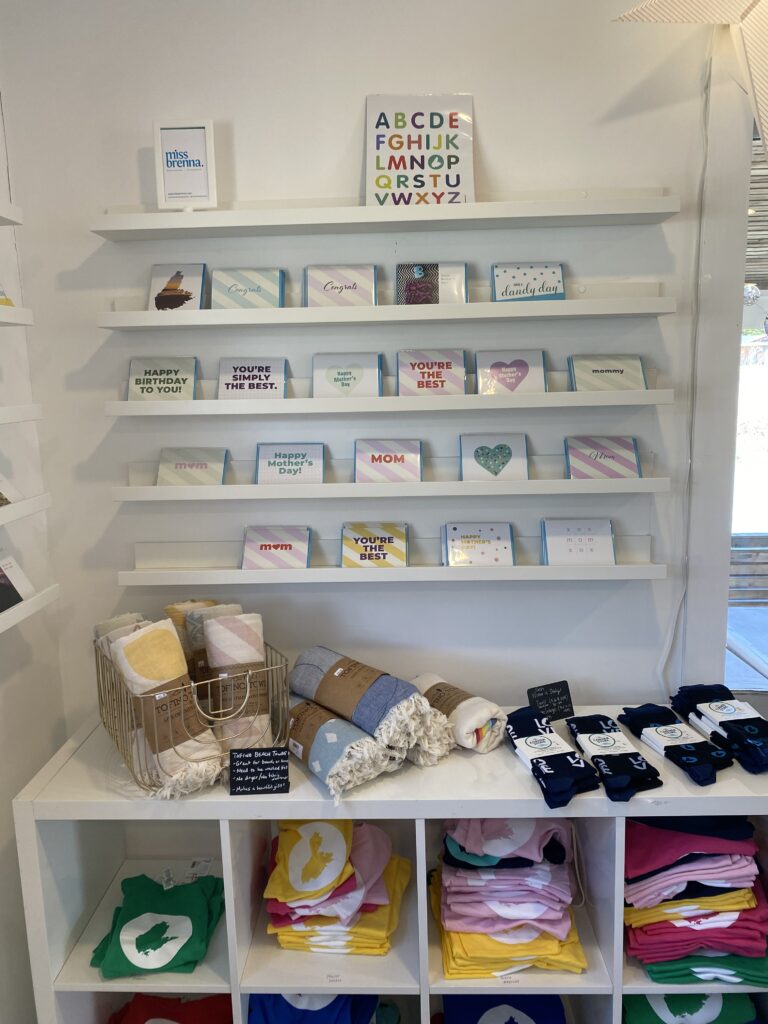 "The most difficult part has been navigating owning a business in its first year. The ebbs and flows of what is popular and when it is trending, introducing new products, knowing when and how much to order, as well as determining how we can support our community and give back," says MacNeil.
Thankfully, MacNeil was able to get some support through the Micro-loan Program for Female Entrepreneurs, offered by the Sydney Credit Union and the Cape Breton Partnership. The team at the Cape Breton Partnership and Sydney Credit Union worked with MacNeil one-on-one to approve her application and loan to help put The Corner Store by missbrenna on the map.
"The Micro-Loan Program allowed me to take a chance on a couple of new products that I was interested in carrying but didn't have all of the funds for," says MacNeil. "It allowed me to take a calculated risk and enhance our offerings. The payoff was so worth the time investment, and the application process afforded me the opportunity to look at my own business with a more critical eye than I had before. That, in itself, was a factor in a more successful launch."
Supporting women in business
Under the Micro-Loan Program, female entrepreneurs in Unama'ki – Cape Breton will be eligible to apply for a loan of up to $10,000; offered at a low-interest rate and with zero per cent interest for the first six months by applying to one of the two participating Credit Unions: East Coast Credit Union or the Sydney Credit Union.
Participants in the program also receive a one-year membership with either the Strait Area Chamber of Commerce or the Cape Breton Regional Chamber of Commerce, and a one-year membership with the Centre for Women in Business.
"We were so happy to be able to launch the third round in January 2023, which is still accepting applications until all of the funds are allocated," says Lan Zheng, economic development officer at the Cape Breton Partnership and lead contact for the Micro-Loan Program for Female Entrepreneurs.
"Seeing women entrepreneurs get the support they need to build businesses across Unama'ki – Cape Breton is why this program is so important and we are proud to have The Corner Store by missbrenna be part of it," says Zheng.
The Micro-Loan Program for Female Entrepreneurs was not the only help MacNeil had along the way. Business development services, InRich and Savvy Lemon, worked one-on-one with MacNeil to build her business plan and take her through the necessary steps to prepare her application for funding.
"Everyone that supported us along this journey has been terrific," says MacNeil. "The Cape Breton team at Invest Nova Scotia was also a great support by providing advice and directed us to the Credit Union."
The Corner Store by missbrenna is open Tuesday to Friday from 10 a.m. to 6 p.m.; Saturday from 10 a.m. to 4 p.m.; and Sunday from noon – 4 p.m.
MacNeil describes owning her store as a dream come true and can't wait to see what the years ahead has in store for her.
"For me the best is yet to come. I have my dream shop in my hometown, and there is nothing more rewarding than interacting with our customers and being a welcoming place for the community," says MacNeil.
To learn more about The Corner Store by missbrenna, visit www.missbrenna.com, and to learn more about the Micro-Loan Program for Female Entrepreneurs, please visit https://capebretonpartnership.com/initiative/micro-lending-program-female-entrepreneurs/.
---
Elevate is Unama'ki – Cape Breton's business-focused publication brought to you by the Cape Breton Partnership. To evolve with our business audience, the publication has now moved from a print publication to fully online. Starting in 2022, our readers can expect to see Elevate articles appearing on both our website and on Saltwire.com.

---
About the Cape Breton Partnership
The Cape Breton Partnership is Unama'ki – Cape Breton's private sector-led economic development organization that supports companies and entrepreneurs by promoting our Island as a great place to live and invest; growing a culture that values and celebrates creativity, innovation and entrepreneurship; and connecting entrepreneurs and companies to the resources they need to succeed.
To learn more about how we can help you and your business and the FREE services we provide, please visit capebretonpartnership.com.