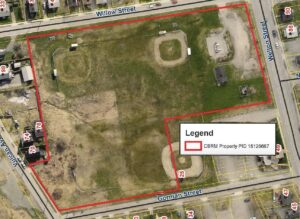 The Cape Breton Regional Municipality is seeking Expressions of Interest for the redevelopment of the former ballfield property on Welton Street, Sydney. The property contains approximately 5 acres of land and is centrally located on the main commercial artery of Sydney.
Expressions of Interest will be reviewed and the Municipality will determine which proposal(s) will positively impact the community in providing better services as a result of a new use on the property, and which proposal(s) demonstrate the greatest benefit for the Municipality, balanced with economic and social development objectives of the Municipality.
Development proposals consisting of commercial development and/or a mix of affordable and for-market housing will be given the highest priority.
Expressions of Interest will be accepted until Monday, February 27, at 2:00 pm AST.
Download Request for Expression of Interest Document
Access Nova Scotia Procurement Tender Details