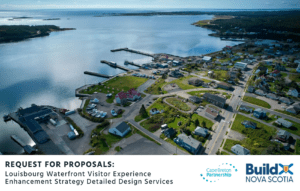 Cape Breton Partnership is seeking proposals with support from Build Nova Scotia to provide Detailed Design Services for the Louisbourg Waterfront Visitor Experience Enhancement Strategy. Successful proponents will work with partners to revitalize a community hub for the Louisbourg waterfront—creating a new centre for visitor information, public space, and community gathering for locals and visitors.
*Note: All submissions are to be delivered electronically (by email) to procurement@buildns.ca by tender closing date, 2:00 p.m. on January 20, 2023.
*Update: The above closing date has been updated to note the extension to January 20, 2023.
For more information, contact:
Doug Waugh, P.Eng
902-240-9276
doug.waugh@buildns.ca
Download Request for Proposals Document
View Province of Nova Scotia Tender Listing