Tourism Seasonality and Labour Project
---
The Cape Breton Partnership and Destination Cape Breton Association are working to connect tourism-based businesses to training opportunities, tools and wage subsidies provided by the Tourism Industry Association of Nova Scotia (TIANS) and Nova Scotia Tourism Human Resource Council (NSTHRC), with support from the Nova Scotia Department of Labour & Advanced Education (LAE).
TRAINING OPPORTUNITIES
Upcoming In-Person Training Opportunities
The Cape Breton Partnership and Destination Cape Breton Association are excited to announce that both the Nova Scotia Best Customer Service Workshop (1-Day Workshop, February 18) and the Experienced Tour Guide Training (3-Day Course, February 19-21) are officially sold out! To register for the waitlist for either training opportunity, to be notified about future training opportunities, or to find out more information, please contact Tyler Mattheis at tyler@capebretonpartnership.com or 902-562-0122.
Click on the below promotional images for further details on these training opportunities: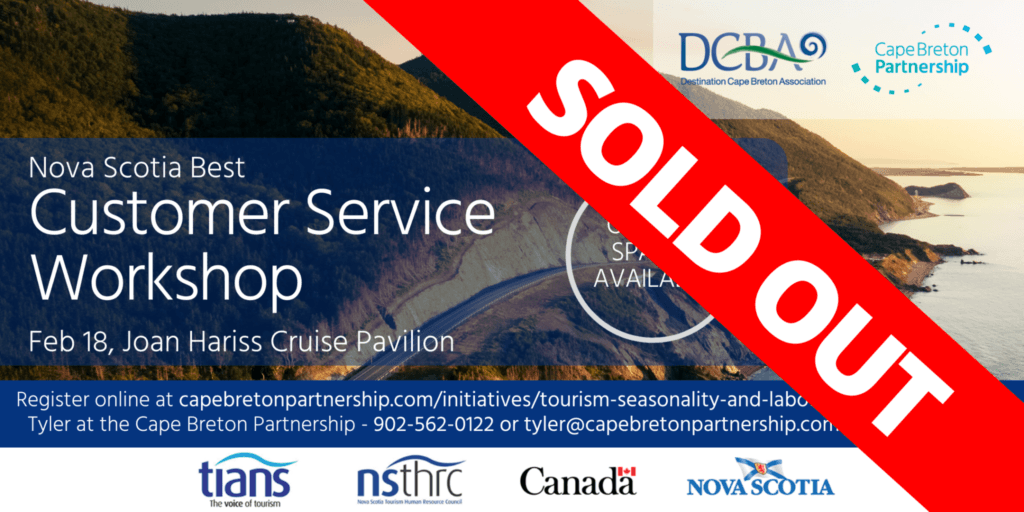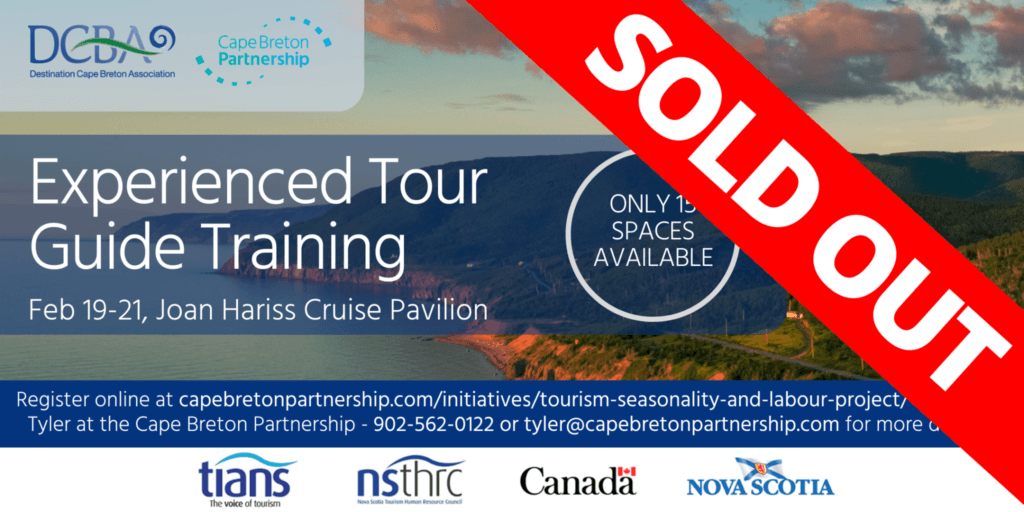 ---
TOURISM BUSINESS WORKSHOPS
Cost: FREE!
NSTHRC offers an extensive family of  service excellence training workshops which are interactive in design and have been developed for supervisors, managers and front line employees.
The premise for the programs is that good service, provided by knowledgeable staff will encourage repeat business.
A variety of workshops are available in four main categories:

General Training, which includes workshops like Nova Scotia BEST Service Excellence, Time Management and Tourism WHMIS
Front Line Training with sessions like "Sales Powered by Service"
Supervisor Training including "Managing Service Excellence"; and
Management/Owner-Operator Training that features the "Business Builders Series Workshops"

A full list of workshops is located on the NSTHRC Training Programs website.
Contact us to find out what workshops are happening, or to arrange for a workshop for your staff or a group of businesspeople in your area.
---
ONLINE AND MODULE-BASED TRAINING
Normally at least $25/module, these modules are FREE as a result of this program.
emerit.ca is the most comprehensive industry-developed training available anywhere in the world! All emerit products and programs are based on industry-defined standards, and are recognized across Canada.
emerit resources aim to reduce employee turnover, promote a skilled labour force, and improve quality of service by ensuring that employee knowledge and performance are consistent with the appropriate emerit National Occupational standards. 

Time requirement: each module can usually be completed in less than an hour while some might be slightly over the hour.

The occupations with available online training include:

Bartender (6 modules available)
Event Co-ordinator (6 modules available)
Food & Beverage Server (6 modules available)
Front Desk Agent (5 modules available)
Heritage Interpreter (4 modules available)
Housekeeping Room Attendant (4 modules available)
Line Cook (7 modules available)
Reservation Sales Agent (6 modules available)

Full list of modules available is here:  http://emerit.ca/home
Contact us for your free module codes today!
---
National Occupational Certification

FREE as a result of this program.
Tourism Certified Manager and Tourism Certified Supervisor programs available.
---
E-Cornell

Through TIANS partnership with e-Cornell, the costs of these courses would be drastically reduced and will be assessed on a case by case basis by TIANS.
Under this project some courses can actually be offered for free if an individual is willing to pay the $699 for the next course (regular pricing is $1,057/course)
As part of the online offerings, there are over 60 individual courses and 16 professional certificate programs available in a wide array of hospitality disciplines including but not limited to foodservice, leadership and management development, marketing, finance and revenue.
Contact us to take advantage of this opportunity for you and your employees today!
---
TOOLS
HUMAN RESOURCES (HR) TOOLKIT
Cost – FREE
The HR Toolkit is a comprehensive resource for creating a HR strategy and implementation plan. The HR Toolkit contains guides, templates, tools, and tips for developing internal policies, recruitment plans, and optimizing resource allocations. It comes with 24 customizable templates such as job offer letters, training plans, employee manuals, wellness surveys, job descriptions, and much more. The kit also includes 39 tools including interview checklists, staffing reminders, and other HR forms that make managing people that much easier.
HR Toolkit – Interactive Tool – Recommended

Contact us today to request your free interactive HR Toolkit

HR Toolkit – Just the Forms

You can access just the templates and tools (Microsoft word documents) through our website.
---
WAGE SUBSIDIES
CO-INVESTMENT WAGE SUBSIDY PROGRAM
The Co-investment wage Subsidy Program involves the business absorbing operational costs of extending their season and in exchange receiving wage support from the program.

320 person-weeks of extension are available in total across Nova Scotia

Contact us to request your short application form today!