Please note that the Creative Works Project Call for Artists has closed.
Please stay tuned for further information and future offerings.
---
The Cape Breton Partnership is happy to share that we are accepting expressions of interest from local Cape Breton – Unama'ki artists, from any Creative Sector discipline, for Creative Sector Project Artists. This initiative has grown from the two creative sector job creation programs held in 2020, Growth and Transitions: A Pandemic Perspective and Creative Sector Education for Cape Breton∙Unama'ki Communities.
About the Call for Artists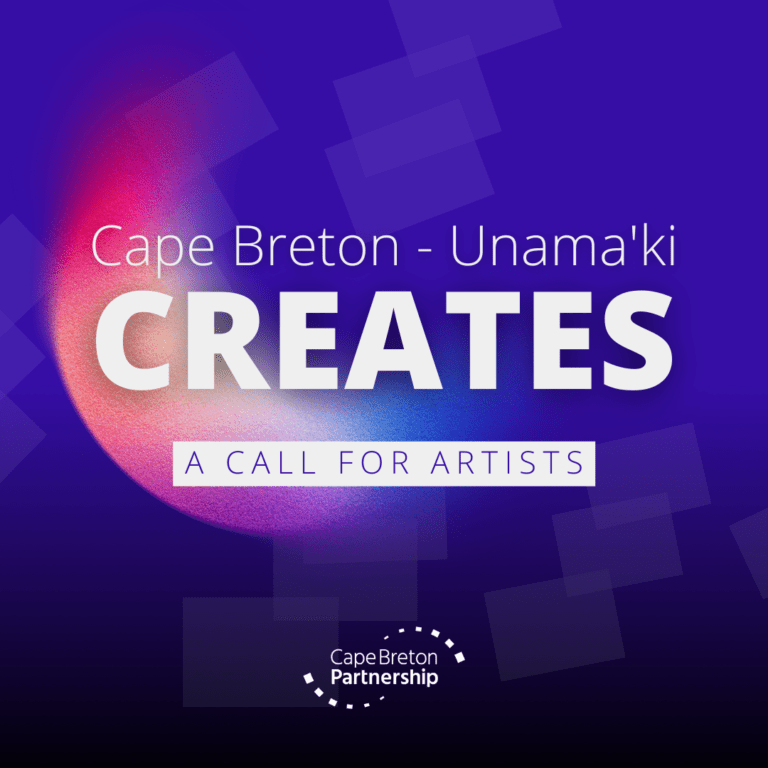 This initiative will provide the opportunity for Cape Breton – Unama'ki artists to submit artistic proposals to augment and improve their careers as professional artists; showcase their creative works or utilize their talents with educational projects; enhance community engagement with arts and culture; and document their artistic work for reflection and archival purpose. As many artists working in Cape Breton – Unama'ki's creative sector have been severely affected due to the COVID-19 crisis, this project will allow artists from multiple disciplines to regroup and work full time on creative projects while building a deeper connection between the creative sector and the communities of Cape Breton – Unama'ki.
In collaboration with creative sector organizations across Cape Breton – Unama'ki, the Cape Breton Partnership is recruiting artists to work as Creative Sector Project Artists for a six-month paid project term in participation with this project from March 2022 to September 2022.
Creative Sector Project Artists will work independently in their area of expertise, develop a new body of work (or expand upon an existing body of work), or develop and implement educational projects. All proposals should demonstrate how it will develop the career of the artist and provide a tangible and quantifiable benefit to the Cape Breton – Unama'ki community. The final works will be presented in-person, or virtually, through exhibition, installation, performance, etc, within Cape Breton – Unama'ki communities.
Funding for the Creative Works Project is provided by the Job Creation Partnership (JCP) through Employment Nova Scotia. Wages are based on each applicant's specific circumstances and status with Employment Insurance (EI) and/or Canada Emergency Response Benefit (CERB).
Applications are now closed for this program.
For More Information
If you have any questions, please contact Bill Culp, Creative Economy Development Officer for the Cape Breton Partnership, at bill@capebretonpartnership.com.
---
This project is made possible by the Cape Breton Partnership's collaboration with Cape Breton – Unama'ki's First Nation and Municipal partners through both the Cape Breton Regional Enterprise Network and the CBRM Regional Enterprise Network.