Reopening Cape Breton
---
---
Reopening the Cape Breton Economy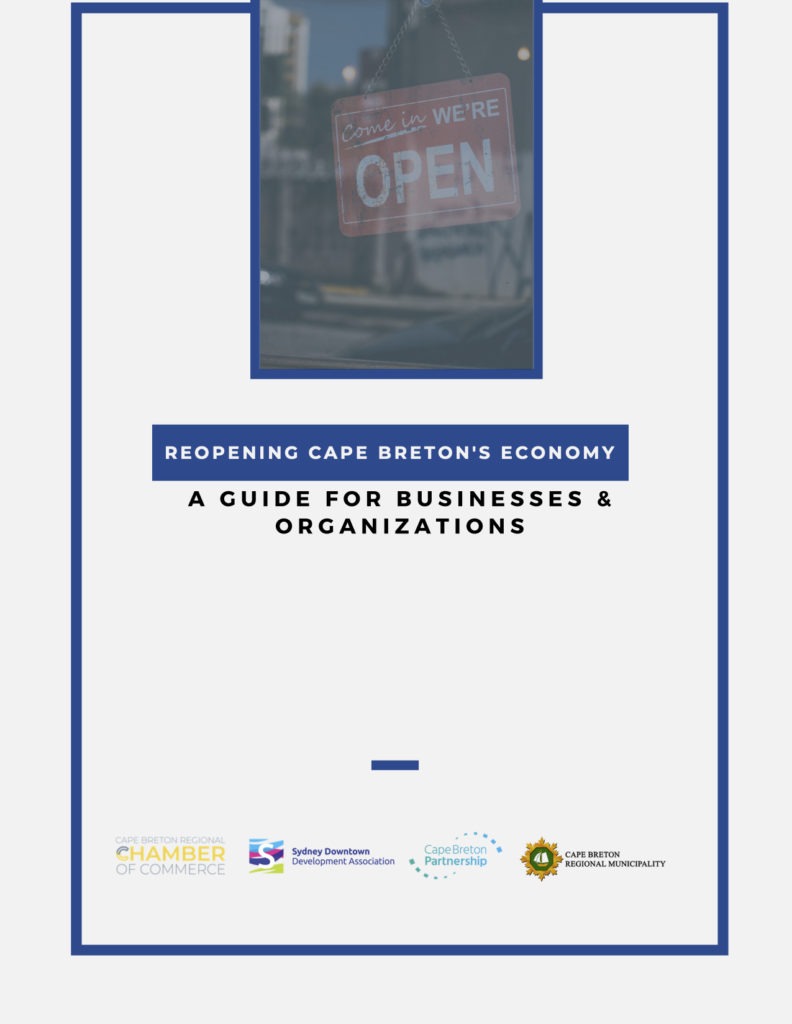 As you prepare to reopen your business or revamp your operations amid the ongoing COVID-19 pandemic, there are a number of changes and challenges to consider. The Cape Breton Partnership, the Cape Breton Regional Chamber of Commerce, the Cape Breton Regional Municipality and the Sydney Downtown Development Association have collaborated to prepare a guide designed to provide guidance, or access to guidance, for business owners and senior managers responsible for re-establishing their operations while ensuring the health and safety of operators, employees, customers and the general public is at the forefront. The following guide has also been reviewed by the Province of Nova Scotia.
VIEW REOPENING CAPE BRETON'S ECONOMY GUIDE
Virtual Adviser Program
Does your business need help solving a problem as a result of COVID-19?
Get one-on-one support from an experienced business adviser. The free Virtual Adviser Program powered by BoomersPlus.com and supported by the Cape Breton Partnership will match you with a seasoned professional to help you solve a unique challenge your business is facing during this difficult time. The program is available to businesses operating in Cape Breton.
VIEW DETAILS ON VIRTUAL ADVISER PROGRAM
Masks Mandatory in Most Public Indoor Spaces
The provincial government has announced that masks will be mandatory in most indoor public places starting July 31. Indoor public places include:
retail businesses
shopping centres
personal services businesses such as hair and nail salons, spas, body art facilities, except during services that require removing a mask
restaurants and bars, except while you are eating or drinking
places of worship or faith gatherings
places for cultural or entertainment services or activities such as movie theatres, concerts, and other performances
places for sports and recreational activities such as a gym, pool, or indoor tennis facility, except during an activity where a mask cannot be worn
rental halls or rooms for special events such as conferences and receptions, faith gatherings, weddings and funerals, and arts and culture events
municipal or provincial government locations offering services to the public
common areas of tourist accommodations such as lobbies, elevators and hallways
common areas of office buildings such as lobbies, elevators and hallways, but not private offices
public areas of a university or college campus such as a library, student union building or common areas of a faculty building, but not classrooms, labs, offices or residences
train or bus stations, ferry terminals, and airports
Masks are mandatory for drivers and passengers on:
municipal transit buses and ferries
school buses
motorcoaches (except those that provide charters or tours)
community transit vehicles
private taxis and shuttles
Children under two are exempt, as well as three- and four-year-olds when their caregiver cannot get them to wear a mask. People with a valid medical reason for not wearing a mask are also exempt.
VIEW FREQUENTLY ASKED QUESTIONS
Provincial Supports
Province of Nova Scotia: Preparing to Reopen
Nova Scotia is preparing to reopen the province safely. As more businesses, organizations, services and public spaces reopen, we need to work together to prevent the spread of COVID-19 and help keep everyone safe. The Province of Nova Scotia has developed an online portal to provide information that businesses and individuals can use to prepare as the province moves toward re-opening and easing restrictions.
The online portal includes information for:
Businesses and organizations required to close;
Businesses and organizations not required to close;
Employees;
Keeping workplaces safe; and
Keeping customers safe.
Next Steps to Reopen Nova Scotia
The Province of Nova Scotia has announced the next steps toward reopening the province. Effective June 5, most businesses required to close under the public health order can reopen. Businesses must follow protocols in the plan that is tailored to their sector. This includes following public health protocols to ensure physical distancing, increased cleaning and other protective measures for staff and customers.
The following can open if they are ready and choose to do so:
restaurants for dine-in, as well as takeout and delivery
bars, wineries, distilleries and taprooms
lounges are not permitted to reopen at this time
personal services, such as hair salons, barber shops, spas, nail salons and body art establishments
fitness facilities, such as gyms, yoga studios and climbing facilities
veterinarians
Other health providers can also reopen on June 5, provided they follow protocols in their colleges' and associations' plans, as approved by public health. These include:
dentistry and other self-regulated health professions such as optometry, chiropractic and physiotherapy
unregulated health professions such as massage therapy, podiatry and naturopathy
Existing public health directives around physical distancing and gathering limits remain in place. People must keep two metres apart and not gather in groups of more than five.
Small Business Reopening and Support Grant
Eligible businesses, non-profits, charities and social enterprises will be able to access the new Small Business Reopening and Support Grant, a $25 million fund that will provide grants to help them open safely and business continuity vouchers for advice and support to become more resilient in the coming months.
The Small Business Reopening and Support Grant provides funding for small businesses, non-profits, charities and social enterprises that were ordered to close or greatly reduce operations because of the Public Health Order or were greatly impacted by orders to stay home.
The program helps small businesses affected by COVID-19 by providing a grant and a business continuity voucher for advice and services from a business consultant. Funding includes a:
one-time grant of up to $5,000 to help your business safely reopen
business continuity voucher of up to $1,500 for advice and services to help your business adapt to and become more resilient in a COVID-19 world
The grant is intended to help businesses reopen and adapt to COVID-19, not to replace lost revenues.
July 2020 Update: The application deadline for the Small Business Reopening and Support Grant has been extended to Friday, July 17. To date, the program has supported over 3,200 small Nova Scotia business across the province to safely reopen, with grants of up to $5,000 totaling more than $9.7 million.
NSBI Business Readiness
Nova Scotia Business Inc. (NSBI) has developed a webpage to provide helpful resources to help businesses in Nova Scotia as they begin to reopen and recover from the impacts of COVID-19. The resources are intended to be used as guides and references as business owners work to protect their employees and their customers.
The webpage includes updated information on federal and provincial funding assistance, business readiness guides, a business call to action, and a list of Nova Scotian companies that are producing PPE.
Workplace COVID-19 Prevention Plan
The Government of Nova Scotia has created a workplace prevention plan to help guide businesses in preparing their own plan.
Social Distancing Best Practices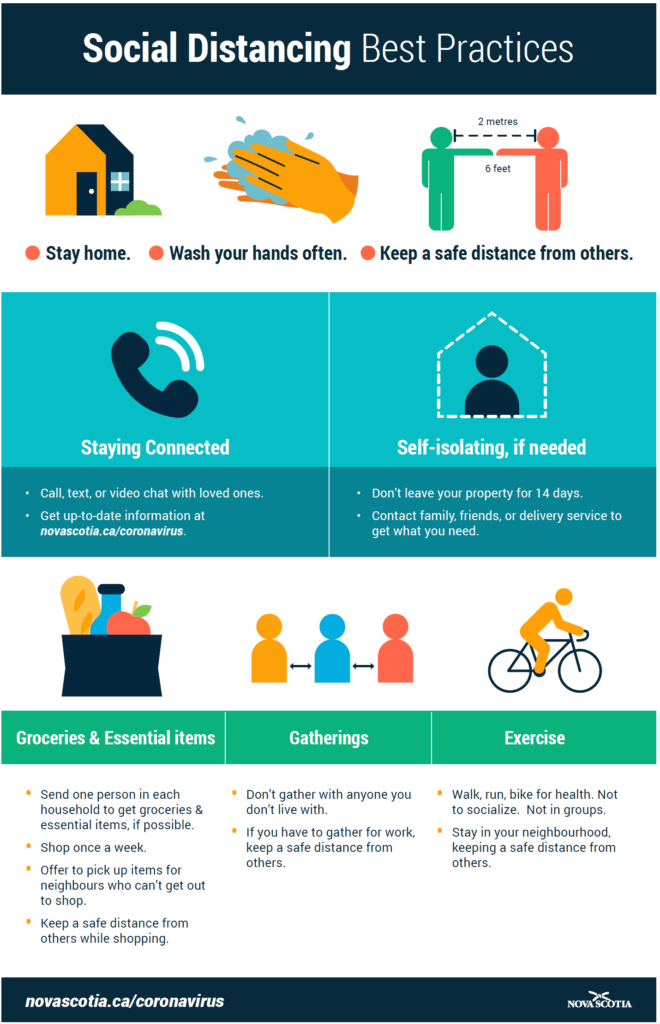 The Government of Nova Scotia has created a best practices poster for social distancing and guidelines to live by in order to keep safe and healthy while social distancing.
The poster is available in English, French, Mi'kmaw, Arabic, and Chinese.
Communities, Culture and Heritage COVID-19 Stakeholder Guidance
The NS Department of Communities, Culture and Heritage has developed guidelines to provide a framework to help arts, events and culture organizations and businesses develop plans to safely reopen. All businesses, organizations and employees need to follow the Health Protection Act Order and public health directives to limit the spread of COVID-19.
Each organization, event or business is responsible for creating a plan that outlines what they're doing to prevent the spread of COVID-19. Your plan needs to be customized for your organization. Consider how your organization can effectively control the spread of COVID-19. You may need to change workflows or how you interact with customers, artists, performers, suppliers and clients.
This document is designed to help you create a COVID-19 prevention plan and begin to offer services to the public.
This document includes examples of the types of information you should include but may not capture everything that applies to your situation. You know your venue, event and organization best.
Federal Supports
People Outside Safely Together (POST)
The Government of Canada has partnered with the People Outside Safely Together (POST) Promise program, an initiative launched today by Canadian private-sector organizations to help businesses across the country reopen safely.
The "POST Promise" is a voluntary commitment that business owners and managers can make by following five key public health actions that will help prevent the spread of COVID-19:
Maintaining physical distance
Washing and sanitizing hands
Cleaning and disinfecting regularly
Staying home if unwell and self-monitoring for symptoms
Practicing respiratory etiquette (including wearing a mask when physical distancing is difficult)
By displaying the "POST Promise" logo, participating businesses can reassure customers that they are doing their part to help protect Canadians' health and safety.
Navigating Federal Supports
The Government of Canada has developed an online tool to help businesses navigate the different federal supports available to businesses.
Regional Relief and Recovery Fund (RRRF)
The Government of Canada has announced the $962 million Regional Relief and Recovery Fund to address gaps left by other support measures. The Atlantic Canada Opportunities Agency (ACOA) and the Atlantic Association of Community Business Development Corporations (CBDCs) are distributing the RRRF in Atlantic Canada, which will include just over $110 million to be allocated in the region:
$66.75 million through ACOA to support:

Small and medium-sized businesses that provide products and services to other businesses; and
Organizations that provide support services to businesses.

$43.3 million through the Atlantic Association of CBDCs to support main street businesses such as restaurants and retailers in small, rural and remote communities across the region.
The RRRF is complementary to existing federal programs, you must first apply for other federal support measures such as the Canada Emergency Business Account benefit, the Wage Subsidy benefit and the Commercial Rent assistance for small businesses, among others.
Large Employer Emergency Financing Facility (LEEFF)
The Government of Canada is offering bridge financing for big Canadian businesses across all sectors through the Large Employer Emergency Financing Facility (LEEFF). The following details are available:
Will provide support to eligible employers with annual revenues of more than $300 million;
Open to large commercial businesses in all sectors, except those in the financial sector, as well as certain not-for-profit businesses like airports that have revenues of $300 million or more a year;
Eligible businesses must be looking for financing of $60 million or more, have significant operations or workforce in Canada, and not be involved in ongoing insolvency proceedings.
Other Supports
Business Recovery & Optimization Program
This program is offered by CEED (Centre for Entrepreneurship, Education and Development) in partnership with the Cape Breton Regional Chamber of Commerce. It is designed to help business owners create an effective plan to recover from organizational crises, specifically the current effects of the global pandemic we are all doing our best to navigate through. This program is currently exclusive to members of the Cape Breton Regional Chamber of Commerce.
To participate, you must apply to the program through the application link below. Six businesses will be selected to take the program in this summer cohort. During the program, the selected businesses/entrepreneurs will work in a group of 6 with other non-competing business owners, collaborating to explore the root of your organizational challenges and pivoting your business model to overcome threats and embrace opportunities.
Throughout the 4 weeks, you will also receive 1 on 1 support from a Business Advisor to help answer your specific questions and provide guidance. This program includes:
2 x 60-minute advisory sessions
4 x 30-minute advisory sessions
CCOHS Sector-Specific Tip Sheets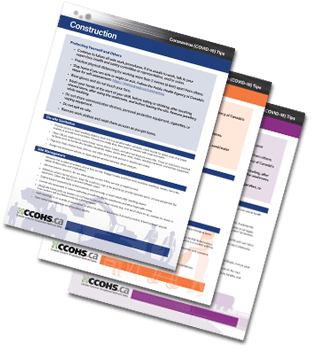 The Canadian Centre for Occupational Health & Safety has developed a variety of free tip sheets as guidance while operating during a pandemic, including the coronavirus disease (COVID-19) pandemic. Each document offers health and safety tips and good practices, for both employers and workers, specific to each industry or sector. Organizations and businesses can adopt this guidance to protect their workers and prevent the spread of infections. The tip sheets cover a range of occupations and industries from construction and trucking to healthcare and daycares.
Tourism HR Canada
Tourism HR Canada has developed the Covid-19 Tourism Workforce Recovery Toolkit, a practical, no-cost, web-based program that includes tools, downloadable content and presentations, all designed to give tourism operators the knowledge resources they need to rebound and succeed. The curated content presented in the COVID-19 Tourism Workforce Recovery Toolkit leverages myriad public-domain academic and business sources. The Toolkit is dynamic and will be updated and amended on a regular basis to reflect new information and market changes.
Reopening Canada's Economy: A National Guide for Business
As businesses prepare to reopen or revamp their operations amid the ongoing COVID-19 pandemic, there are numerous issues and challenges to consider. The Canadian Chamber of Commerce's Canadian Business Resilience Network has developed a toolkit designed to provide guidance, or access to guidance, for business owners and senior managers responsible for re-establishing their operations while ensuring the health and safety of operators, staff, customers and the general public is at the forefront.
The Canadian Chamber of Commerce's Canadian Business Resilience Network has also developed a collection of rules and regulations that are in place according to federal and provincial/territorial jurisdictions. Information includes when and which businesses are allowed to open, an array of health and safety measures, social distancing standards, occupancy limits and more.
Road to Retail Recovery Playbook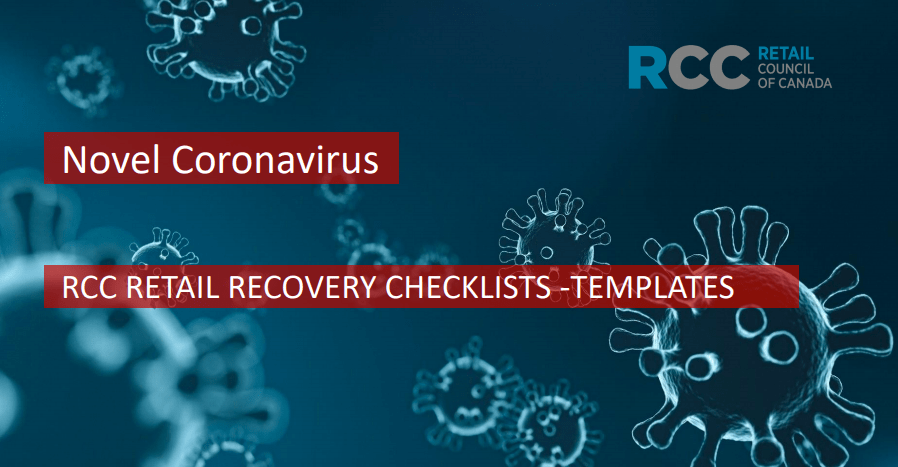 The Retail Council of Canada has developed a Road to Retail Recovery Playbook document to provide members with a perspective on global practices from retailers around the world on operating their business during the COVID-19 pandemic. These materials were compiled through a scan of practices observed from companies in countries that have started to emerge from the government-imposed restrictions on the essential, non-essential and restaurant sectors. These materials are intended to provide retailers with a framework for key considerations and relevant global practices as they operate businesses in today's challenging environment.
These are not intended to be legal advice or to replace local health and government guidelines. The COVID-19 crisis is rapidly evolving and there are different considerations for retailers in different regions and sub-sectors of the retail industry. Readers should consult the applicable laws & regulations, and guidelines issued by federal & provincial health and labour authorities, to make the best decisions for their respective businesses.
VIEW ROAD TO RETAIL RECOVERY PLAYBOOK
VIEW RETAIL RECOVERY CHECKLIST TEMPLATES
Pandemic Relaunch Toolkit, Resources for Restaurants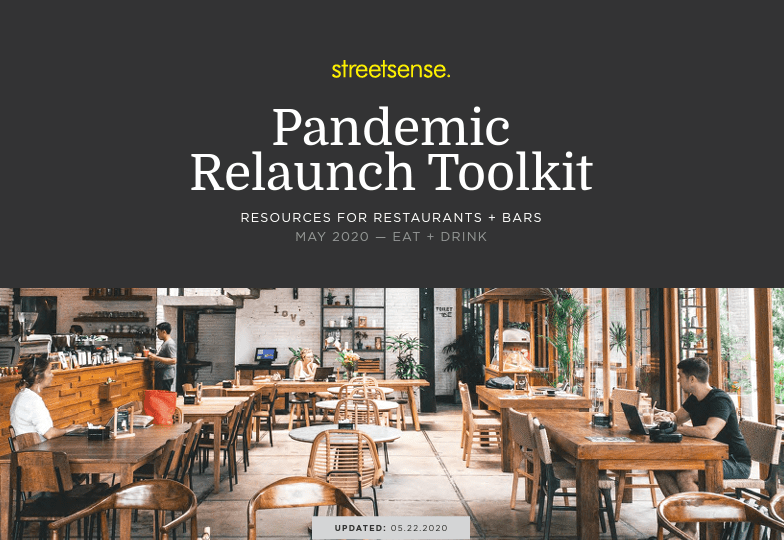 Streetsense has developed a toolkit designed to help clients and industry contacts understand, plan, and mitigate the impacts of the COVID-19 pandemic. The toolkit contains clear and concise resources for managing capital and planning for relaunch.
Reopening Best Practices for Restaurants
Informed by lessons learned from those operating during the pandemic so far, Restaurants Canada has developed a Reopening Best Practices document to provide information that restaurants and similar establishments can implement to comply with requirements from government in Physical Distancing, Cleaning and Sanitation, and Health & Personal Hygiene.
Event Safety Alliance Reopening Guide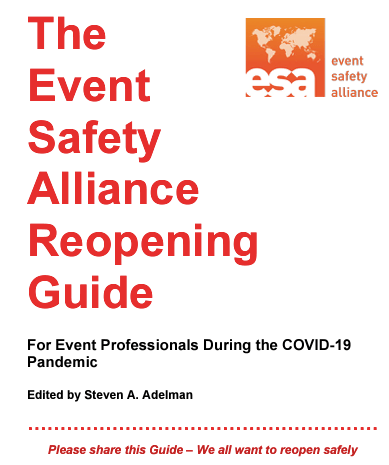 The Event Safety Alliance had developed a Reopening Guide as a collective work by event industry professionals to help its peers who are planning to reopen during the coronavirus disease (COVID-19) pandemic.
TIANS Safety and Prevention Measures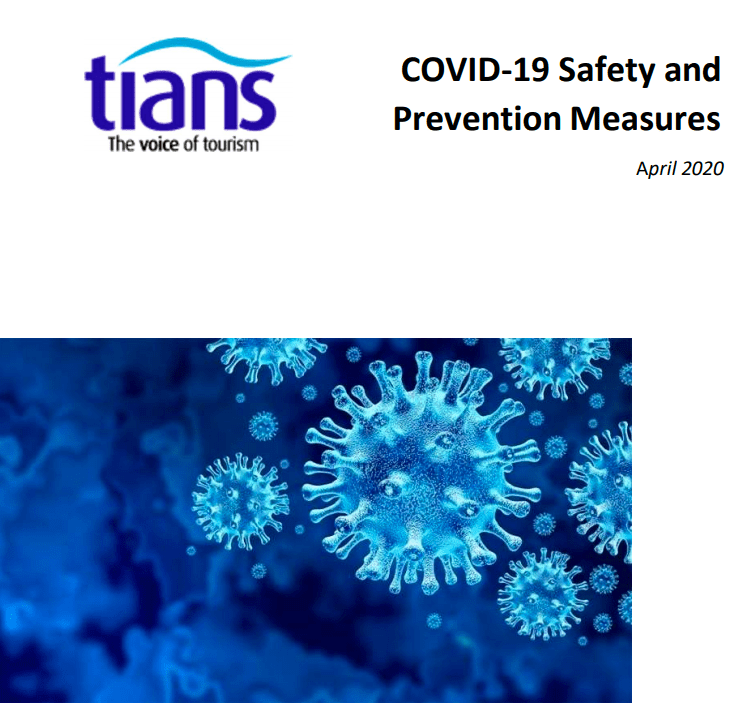 The Tourism Industry Association of Nova Scotia has also developed a Safety and Prevention Measures document to guide businesses in protecting workers, their families, and the community from possible infection and illness.
Hospitality Reopening Guidance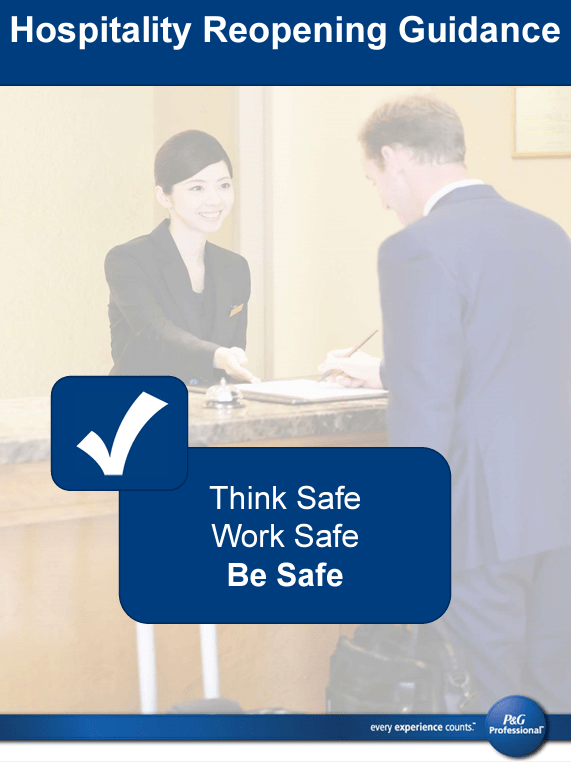 P&G Professional developed a document to provide cleaning and disinfecting information, guidelines, and hygienic practices that may be necessary to reopen a hospitality establishment during COVID-19.
Safe Work Practices in the Nova Scotia Construction Industry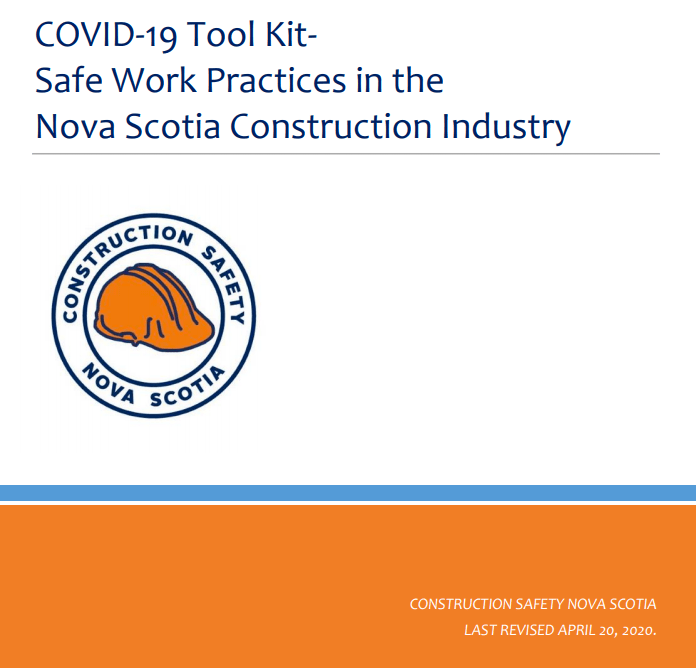 Construction Safety Nova Scotia has developed a tool kit is to provide recommendations and resources to the construction industry for operating safely during the COVID-19 pandemic in accordance with Nova Scotia's Health Protection Act.
---