Health and Safety Resources
---
---
Health Protection Act Order
The Province of Nova Scotia has released the Order By the Medical Officer of Health Under Section 32 of the Health Protection Act. This Order details the specific requirements for residents and businesses to follow during the current COVID-19 Pandemic.
Several updates have been made to this order since first coming into effect in July of 2020, and remains in effect currently. This order includes several details and requirements around the need for social distancing, how many individuals can be in immediate proximity to each other, and how this affects businesses, events, and personal gatherings.
Health Protection Act Order updated as of January 11, 2022.
VIEW FREQUENTLY ASKED QUESTIONS ON ORDER
LEARN MORE ABOUT JOINING THE CDL RAPID TESTING CONSORTIUM
When worn properly, non-medical masks can reduce the risk of transmitting the virus. Your mask can be a commercial non-medical mask or a homemade mask that covers your nose and mouth. A face shield can't be worn instead of a non-medical mask (face shields protect your eyes, but don't protect other people).
Using a mask alone isn't enough to prevent the spread of COWearing a mask can help prevent the spread of COVID-19 and other respiratory illnesses. A mask helps stop droplets spreading when someone speaks, laughs, coughs or sneezes (including someone who has COVID-19 but has no obvious symptoms). Check the requirements for wearing a mask and how to choose and take care of a mask to help prevent the spread of COVID-19.
For more guidance on mask wearing CLICK HERE
Get vaccinated
Vaccines reduce the likelihood of severe illness. When you get vaccinated, you also reduce the risk of passing on COVID-19 to your community. You can get a COVID-19 vaccine if you're 5 or older. You can book an appointment for yourself or someone else (like a parent, grandparent or child). You can also book an appointment if you're eligible for an additional dose or booster dose.
Maintain healthy habits
Maintaining good hygiene helps prevent the spread of COVID-19. This includes washing your hands often, coughing and sneezing into your elbow, and cleaning surfaces.
Wash your hands
Wash your hands often with soap and water for 20 seconds. Then dry your hands completely. Use hand sanitizer when you can't use soap and water.
It's important to wash your hands:
after blowing your nose, coughing or sneezing
after visiting a public place or touching surfaces outside of your home
before and after preparing or eating food
after handling waste, touching dirty laundry or using the bathroom
when your hands look dirty or feel dirty
If soap and water are not available, and your hands are not visibly dirty, use an alcohol-based hand sanitizer with at least 60% alcohol. Use enough to cover the fronts and backs of both hands and between all your fingers. Rub your hands together until they feel dry.
Cough and sneeze etiquette
Cover coughs and sneezes with a tissue. Throw the used tissue in the garbage and wash your hands or use an alcohol-based hand sanitizer immediately.
If you don't have a tissue, cough and sneeze into your elbow, not your hand.
Avoid touching your eyes, nose and mouth. If you need to touch your face, wash your hands first. Washing your hands will help keep the virus off your hands so you don't spread it to other people.
Clean and disinfect regularly
Viruses can live on surfaces for several days. You can reduce the number of germs and reduce your risk of infection by cleaning and disinfecting every day.
You should clean the surfaces and objects you touch most frequently at least once a day, or more if needed.
Clean and disinfect things like doorknobs, light switches, railings, toilets and tabletops every day. Wash with soapy water first. Then disinfect with household cleaning products, following the directions on the label.
If household cleaning products are not available, you can make a diluted bleach solution following the instructions on the bleach label. Or you can make a solution with 5 mL of bleach per 250 mL of water, or 20 mL per litre.
You need to mix a fresh batch of the bleach mixture every day for it to work properly.
Disinfect phones, remote controls, computers and other handheld devices with 70% alcohol or wipes.
Canadian Centre for Occupational Health & Safety: COVID-19 Tips and Resources
The Canadian Centre for Occupational Health & Safety has developed a variety of free tip sheets as guidance while operating during a pandemic, including the coronavirus disease (COVID-19) pandemic. Each document offers health and safety tips and good practices, for both employers and workers, specific to each industry or sector. Organizations and businesses can adopt this guidance to protect their workers and prevent the spread of infections. The tip sheets cover a range of occupations and industries from construction and trucking to healthcare and daycares.
---
Workplace COVID-19 Prevention Plan
The Government of Nova Scotia has created a workplace prevention plan to help guide businesses in preparing their own plan.
---
Social Distancing Best Practices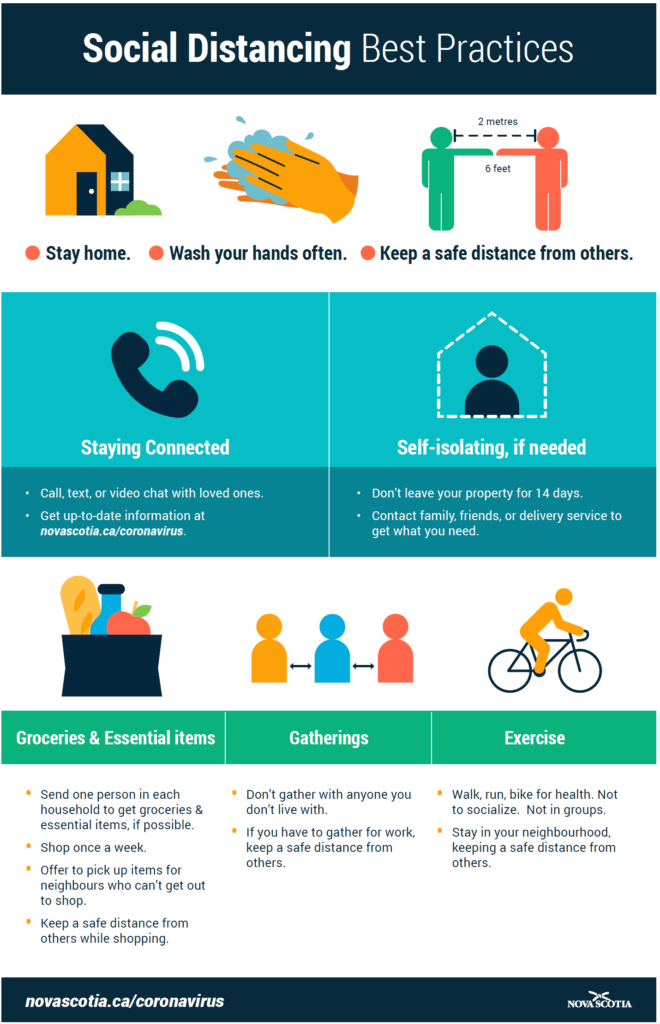 The Government of Nova Scotia has created a best practices poster for social distancing and guidelines to live by in order to keep safe and healthy while social distancing.

The poster is available in English, French, Mi'kmaw, Arabic, and Chinese.
---
Mental Health Commission of Canada: How am I doing?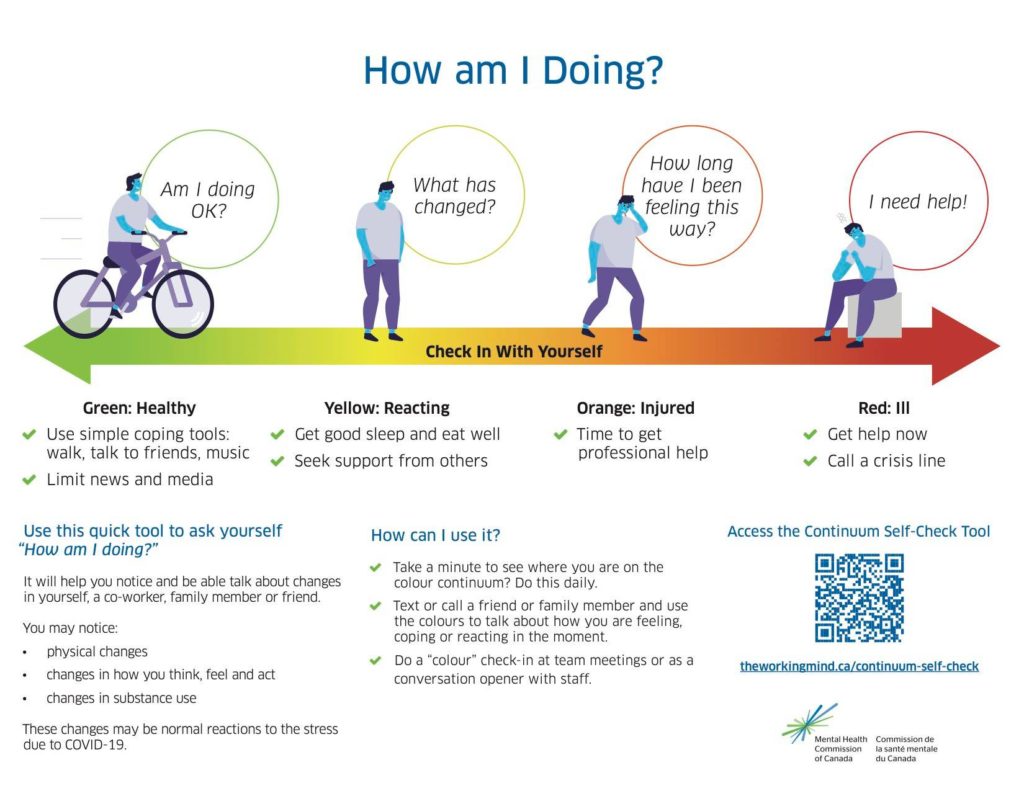 The Mental Health Commission of Canada has developed a resource poster for individuals to assess how they are doing, and some tips on how to cope.
---
NS Labour Standards Code
The NS Labour Standards Code provides job protection for employees who are unable to perform work due to an emergency as defined under the Code. Emergency includes a direction or order of a medical officer − or a public health emergency declared − under the Health Protection Act. Emergency leave extends to individuals who need to care for a family member affected by an order or direction under that Act. Those who have specific questions about pay, job security and layoffs should contact the department's Labour Standards Division.
---
Workers' Compensation Board of Nova Scotia
The COVID-19 pandemic has meant a shift in the way many of us work and will continue to transform how we focus on workplace safety over the months ahead. The Workers' Compensation Board has a number of materials available online to help employers communicate work safety during the COVID pandemic.
---
Safe Work Practices in the Nova Scotia Construction Industry
Construction Safety Nova Scotia has developed a tool kit is to provide recommendations and resources to the construction industry for operating safely during the COVID-19 pandemic in accordance with Nova Scotia's Health Protection Act.
---
Build Right Nova Scotia Prevention measures Guide
Build Right Nova Scotia has developed a COVID-19 Safety and Prevention Measures Guide to help businesses and employees ensure safe work procedures are developed and followed in relation to working during the pandemic.
---
Rapid Response Platform
As Canada's industries return to work, there is an increased demand for PPE. The Rapid Response Platform automatically matches supply with demand, simplifying supplier discovery during the procurement process.
---
Public Health Agency of Canada Toolkit
The Canada Mortgage and Housing Corporation has compiled a thorough Frequently Asked Questions list around understanding Mortgage Payment Deferral for Canadian homeowners. Homeowners facing financial stress may be eligible for a mortgage payment deferral up to 6 months to help ease the financial burden and application can be made at any time during this outbreak.
---
Tourism Industry Association of Nova Scotia
The Tourism Industry Association of Nova Scotia has also developed a Safety and Prevention Measures document to guide businesses in protecting workers, their families, and the community from possible infection and illness.
---
Hospitality Reopening Guidance
P&G Professional developed a document to provide cleaning and disinfecting information, guidelines, and hygienic practices that may be necessary to reopen a hospitality establishment during COVID-19.
---
Getting your workplace ready for COVID-19
The World Health Organization (WHO) has created a global COVID-19 Dashboard, which shares the progression of the virus globally. They have also developed technical guidance and advice for how to live with and manage the novel Coronavirus.