Health and Safety Resources
---
---
Health Protection Act Order
The Province of Nova Scotia has released the Order By the Medical Officer of Health Under Section 32 of the Health Protection Act. This Order details the specific requirements for residents and businesses to follow during the current COVID-19 Pandemic.
Several updates have been made to this order since first coming into effect. This order includes several details and requirements around the need for social distancing, how many individuals can be in immediate proximity to each other, and how this affects businesses, events, and personal gatherings.
VIEW FREQUENTLY ASKED QUESTIONS ON ORDER
VIEW THE EMPLOYER ASSESSMENT TOOL TO DETERMINE HOW THE ORDER AFFECTS YOUR BUSINESS
---
Masks Mandatory in Most Public Indoor Spaces
The provincial government has announced that masks will be mandatory in most indoor public places starting July 31. Indoor public places include:
retail businesses
shopping centres
personal services businesses such as hair and nail salons, spas, body art facilities, except during services that require removing a mask
restaurants and bars, except while you are eating or drinking
places of worship or faith gatherings
places for cultural or entertainment services or activities such as movie theatres, concerts, and other performances
places for sports and recreational activities such as a gym, pool, or indoor tennis facility, except during an activity where a mask cannot be worn
rental halls or rooms for special events such as conferences and receptions, faith gatherings, weddings and funerals, and arts and culture events
municipal or provincial government locations offering services to the public
common areas of tourist accommodations such as lobbies, elevators and hallways
common areas of office buildings such as lobbies, elevators and hallways, but not private offices
public areas of a university or college campus such as a library, student union building or common areas of a faculty building, but not classrooms, labs, offices or residences
train or bus stations, ferry terminals, and airports
Masks are mandatory for drivers and passengers on:
municipal transit buses and ferries
school buses
motorcoaches (except those that provide charters or tours)
community transit vehicles
private taxis and shuttles
Children under two are exempt, as well as three- and four-year-olds when their caregiver cannot get them to wear a mask. People with a valid medical reason for not wearing a mask are also exempt.
VIEW FREQUENTLY ASKED QUESTIONS
Canadian Centre for Occupational Health & Safety: COVID-19 Tips and Resources
The Canadian Centre for Occupational Health & Safety has developed a variety of free tip sheets as guidance while operating during a pandemic, including the coronavirus disease (COVID-19) pandemic. Each document offers health and safety tips and good practices, for both employers and workers, specific to each industry or sector. Organizations and businesses can adopt this guidance to protect their workers and prevent the spread of infections. The tip sheets cover a range of occupations and industries from construction and trucking to healthcare and daycares.
---
Workplace COVID-19 Prevention Plan
The Government of Nova Scotia has created a workplace prevention plan to help guide businesses in preparing their own plan.
---
Social Distancing Best Practices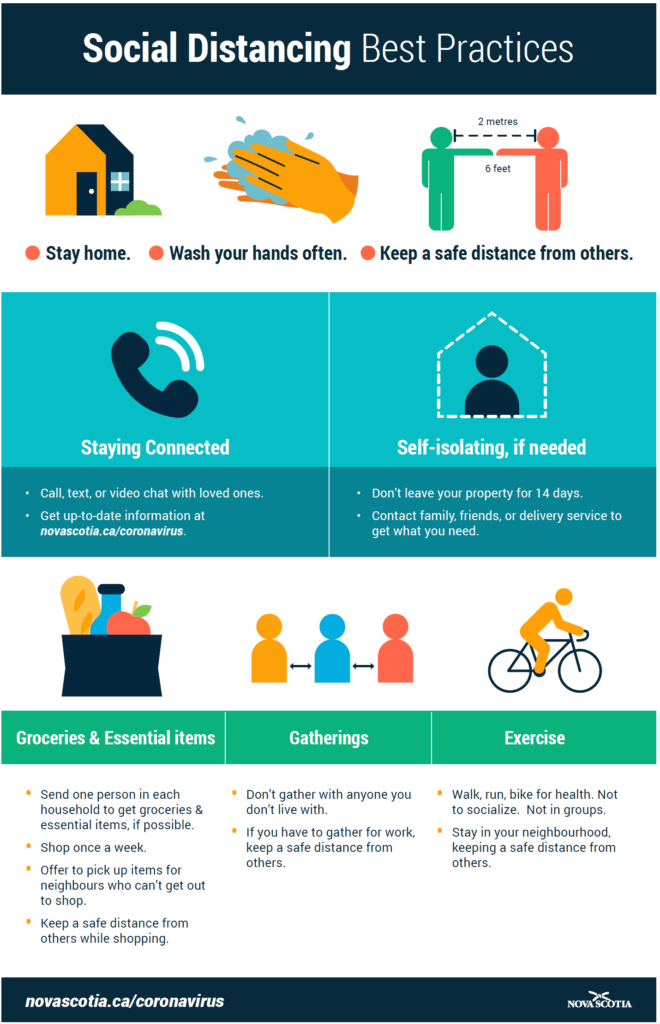 The Government of Nova Scotia has created a best practices poster for social distancing and guidelines to live by in order to keep safe and healthy while social distancing.

The poster is available in English, French, Mi'kmaw, Arabic, and Chinese.
---
Mental Health Commission of Canada: How am I doing?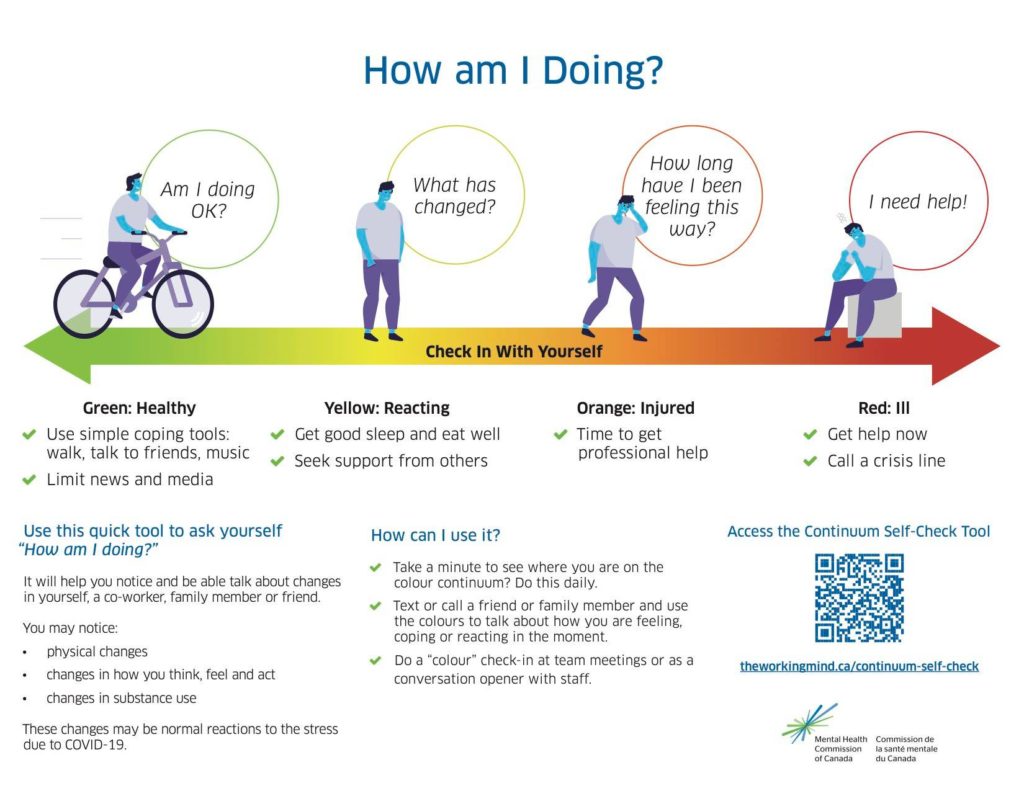 The Mental Health Commission of Canada has developed a resource poster for individuals to assess how they are doing, and some tips on how to cope.
---
NS Labour Standards Code
The NS Labour Standards Code provides job protection for employees who are unable to perform work due to an emergency as defined under the Code. Emergency includes a direction or order of a medical officer − or a public health emergency declared − under the Health Protection Act. Emergency leave extends to individuals who need to care for a family member affected by an order or direction under that Act. Those who have specific questions about pay, job security and layoffs should contact the department's Labour Standards Division.
---
Workers' Compensation Board of Nova Scotia
May 3-10 is Safety and Health Week – a time to focus on the importance of preventing injury and illness in the workplace, at home and in the community. The COVID-19 pandemic has meant a shift in the way many of us work and will continue to transform how we focus on workplace safety over the months ahead. The Workers' Compensation Board has a number of materials available online to help employers communicate work safety during the COVID pandemic.
---
Safe Work Practices in the Nova Scotia Construction Industry
Construction Safety Nova Scotia has developed a tool kit is to provide recommendations and resources to the construction industry for operating safely during the COVID-19 pandemic in accordance with Nova Scotia's Health Protection Act.
---
Build Right Nova Scotia Prevention measures Guide
Build Right Nova Scotia has developed a COVID-19 Safety and Prevention Measures Guide to help businesses and employees ensure safe work procedures are developed and followed in relation to working during the pandemic.
---
Rapid Response Platform
As Canada's industries return to work, there is an increased demand for PPE. The Rapid Response Platform automatically matches supply with demand, simplifying supplier discovery during the procurement process.
---
Public Health Agency of Canada Toolkit
The Canada Mortgage and Housing Corporation has compiled a thorough Frequently Asked Questions list around understanding Mortgage Payment Deferral for Canadian homeowners. Homeowners facing financial stress may be eligible for a mortgage payment deferral up to 6 months to help ease the financial burden and application can be made at any time during this outbreak.
---
Tourism Industry Association of Nova Scotia
The Tourism Industry Association of Nova Scotia has also developed a Safety and Prevention Measures document to guide businesses in protecting workers, their families, and the community from possible infection and illness.
---
Hospitality Reopening Guidance
P&G Professional developed a document to provide cleaning and disinfecting information, guidelines, and hygienic practices that may be necessary to reopen a hospitality establishment during COVID-19.
---
Getting your workplace ready for COVID-19
The World Health Organization has created a guide to getting your workplace ready for COVID-19 with tips on preventing the spread and managing risks when organizing meetings and events.